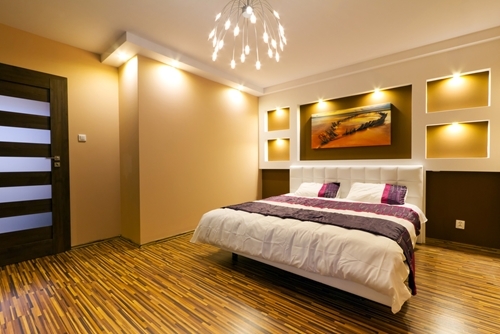 People tend to think of rooms as having four walls, when there are actually six. The floor and ceiling are very much a part of a decorating scheme. If they don't complement the walls, the overall look of a room design will suffer.
Starting first with the floors, there's a wonderful selection of hardwoods, decorative tiles and finishing touches like stenciled borders available to home decorators. But if they go beyond the surface beauty of flooring, homeowners can add an important functional feature - electric floor heating.
Having warm floors and the radiant heat that circulates evenly throughout a room can be accomplished with the flick of an electric switch. Installation is compatible with many surfaces so homeowners can choose the flooring type they want and still have the advantage of a heating system without ducts located throughout the room.
Looking Upward
Now, to the other end of the decorating spectrum. The ceiling could rightly be called a room's fifth wall, which should be integrated into the color scheme. Including the ceiling with a coordinating color, or continuing a motif used elsewhere in the room, will give the space a finished look that doesn't have to end at ground level.
"When designing spaces, think of the entire room three-dimensionally. If left untreated or ignored, then the emphasis will be on the ceiling … it will become the big white elephant," Nashville interior designer Beth Haley told HGTV. "[But] the ceiling should be the icing on the cake."
Making a Connection
Generally, a bright white ceiling works well in a room with modern architecture or when used to match white doors and window trims. But in other cases, many interior designers agree that brightness draws attention to the ceiling in a way that doesn't meld naturally with the rest of the room.
Continuing the wall color onto the ceiling is especially effective where there is no crown molding installed to act as a transition. Home design expert Cindy Lee Bergersen wrote on Hamptons.com that painting the walls and ceiling the same color eliminates the distraction of a color shift. The result is that the walls will seem higher in what she called "a seamless room without borders."
A simple stencil design on the ceiling and walls where they meet is another way to bring the two together. In rooms with cathedral ceilings and high windows, homeowners can add some architectural interest by installing cornices or valances.
---