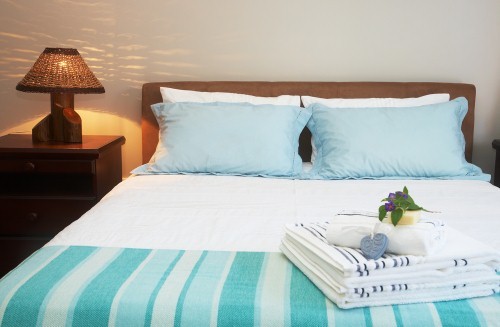 With winter storms threatening as early as late October, one thing's for sure - you're going to want to be warm and toasty come Thanksgiving, and your guests will too. Don't cut corners or wait 'til next year to cozy up your guest room. Now's the perfect time to get to the drawing board and start designing the ideal space, one that your friends and family will look forward to returning to time and time again.
But don't risk allergies and bad air quality by just cranking up the forced hot air! Instead, try a few creative and eco-friendly options that'll keep your guests heated and happy throughout even the coldest of nights. Consider these awesome options.
Radiant heat
One of the most popular of green heating options available, radiant floor heating is an energy-efficient way to stay warm through the winter. These systems use all natural convection currents to spread heat throughout your floor and up into the room, effectively heating the space from the ground up. Working well with a variety of floor styles, radiant heat systems are a great way to stay warm without putting a drain on the environment or exacerbating your utilities bill.
Fireplace
What's cozier than a fireplace? Instead of sticking to radiant heat, why not amp up the comfort with a gas or wood-burning fireplace. Who wouldn't want to stretch out before a set of flickering flames with a good book or mid-afternoon nap? Another awesome rustic option might be to install a wood burning stove. Either is sure to make an aesthetic and heated mark on the room's ambiance.
Cozy quilts
What's a guest bedroom without a set of quilts. While a comforter and flanel sheets are great additions and sure to keep your guests toasty throughout the night, a handmade or stylish quilt adds a lot of character to a room. Place one on the bed, but also drape quilts over furniture, like chairs or loveseats, where your guests may spend time.
Towel warmer
There's no reason to limit your heating options to the bedroom. Equip your guest bath with plenty of warmth as well. Radiant floor heating makes the perfect pairing with heat conducting tile, but why not install set of towel warmers as well? These bars are sure to keep towels primed for when your guests get out of the steamy shower!