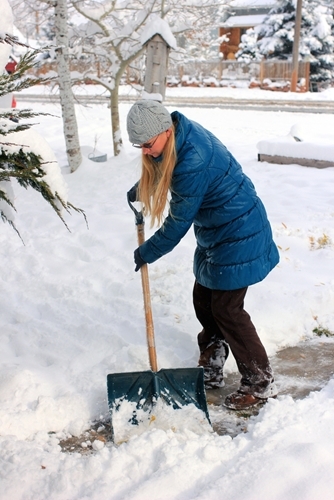 While many homeowners spend their time and energy removing snow and ice from their property so they can ensure their own safety, many areas of the country require them to shovel, sand and treat their driveways, sidewalks and walkways to ensure no one else gets hurt.
In 2010, the Massachusetts Supreme Judicial Court ruled that property owners statewide can be held liable for any injuries caused by snow or ice on their land. Each city and town enforces the law differently and requires individuals to clear the snow within a certain amount of time after the storm has ended.
For instance, according to MLRealtyNE.com, home and business owners in Boston have three hours after a storm has ended to clear their property. In order to comply with the law, they must clear a path at least 42 inches wide on their sidewalks. Additionally, they're responsible for snow and ice removal even if it was moved onto the property by a city plow. 
Property owners are also prohibited from throwing snow onto the street or neighboring properties.
Those who don't comply may be fined. The amount of the fine depends on the city. 
"If the sidewalk is not clear or safe for pedestrians, then tickets will be issued," Lisa Timberlake, from Boston's Inspectional Services Department, told The Boston Globe. "As far as we're concerned, we're not out there trying to issue tickets, we're just trying to make sure that folks are safe."
While treating surfaces with salt, sand or another ice melt product isn't too difficult, shoveling snow can be hard, especially if the snow has accumulated. In fact, according to Yahoo!, a shovel filled with snow can weigh as 16 pounds. An individual shoveling a driveway, walkway or sidewalk can lift nearly 2,000 pounds in as little as 10 minutes.
Shoveling can also be dangerous, especially for individuals who are out of shape or at an increase risk for a heart attack, such as those with heart disease, high blood pressure or elevated cholesterol levels . Snow removal can also cause other injuries such as muscle strains and back injuries.
Regardless of the snow removal laws near you, there are ways to ensure you and anyone else walking or driving on your property stays safe when there's snow or ice on the ground. Some homeowners choose to install driveway heating systems to keep surfaces clear in any weather. They can even be turned on from in the comfort of a warm, safe home!
Other ways to keep paved surfaces clear during the winter include hiring a professional plow surface, paying someone else to shovel and purchasing a snow blower.
---