Lake Zurich, Ill., May 23, 2019 ⎯ According to a recent industry report, a particularly harsh winter helped drive sales of snow melting systems in the first quarter of this year.
WarmlyYours, a manufacturer specializing in radiant heating products like electric floor warming systems, released their "Q1 2019 Industry Report" today. This report analyzes the sales of radiant heating products within the wider context of the national housing and remodeling markets. One of the primary conclusions drawn in the report was that electric snow melting sales seemed to be in direct response to the frigid temperatures and record setting snow falls of the 2018-2019 winter.
According to the report, first quarter sales of WarmlyYours's snow melting products increased 174% from the previous year. Julia Billen, owner and president of WarmlyYours, said that these increased sales were almost certainly a direct response to the severity of the winter.
"When a winter is as bad as this one was, people tend to consider installing a snow melting system," said Billen. "At a certain point, it's not even really about the convenience of not having to shovel and it starts to be about the safety and security that a snow-free surface can provide. It's about the peace of mind that snow melting gives you."  
The fastest growing snow melting products were the 208V and 277V cables at 391.7% and 222.6% growth respectively. These products are typically used in commercial applications for walkways, stairways, and ramps. While all snow melting products showed growth, the 240V (up 179%) and 120V (up 165.8%) snow melting mats had the second fastest growth.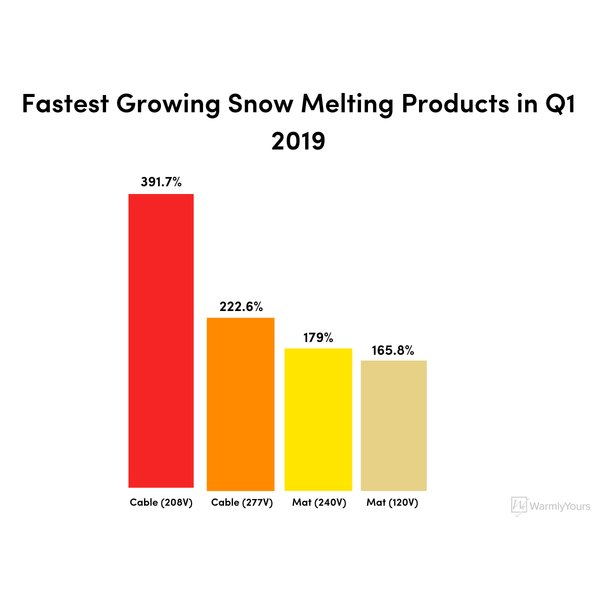 Also according to the report, in the first quarter of this year, the most popular applications for snow melting were: walkways (34.6%), ramps (22.8%), and patios (7.7%). This represents one of the first times that driveways (4.4% in Q1 2019) were not in the top three applications. In 2018, driveways made up 29.8% of snow melting jobs. According to Billen, this shift in application-type lines up well with the growth of interest in commercial products, as those projects are typically walkways and accessibility ramps which need to be free of snow and ice for liability reasons.
"We're finding that more and more commercial contractors are turning to electric snow melting systems for spot heating areas that are crucial for a business and must remain clear in the wintertime—like a loading dock or even just the entranceway," said Billen. "Electric has a huge advantage over hydronic systems in these smaller scale applications because it doesn't require pumps or boilers and once it's installed there's essentially no maintenance."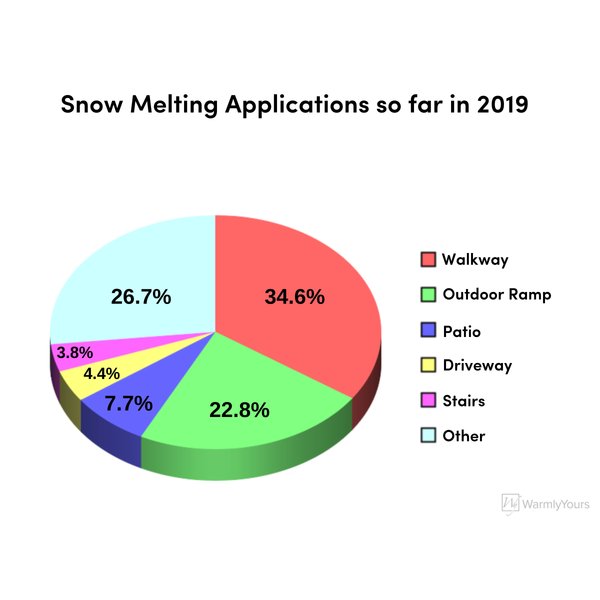 ###
To read the full report, click here.
Hi-res images are available upon request.
About WarmlyYours Radiant Heating: 
For over 20 years, WarmlyYours Radiant Heating has offered the industry's most innovative solutions in radiant heating technology, from our flagship floor heating systems and radiant wall panels to snow melting systems, as well as comfort products, including towel warmers, mirror defoggers, shower floor and bench heating, and countertop heaters. With locations in the United States and Canada, WarmlyYours provides unrivaled personalized customer support from start to finish, featuring measuring and design services, 24/7 technical support, and our No Nonsense™ Warranty.
For more information, visit www.WarmlyYours.com.
Media Contact:
Cameron Witbeck  
Marketing Communications Manager  
590 Telser Rd, Suite B  
Lake Zurich, IL 60047 
cwitbeck@warmlyyours.com  
P: (800) 875-5285 ext. 878
---
Tell us About your Project
Our team of Radiant Experts is ready to help! Just tell us a little about yourself and your project to get started.
---
Did you find this post helpful?
Let us know by giving it some applause.
---
---