2021 has started off with an extremely strong increase in WarmlyYours radiant heating product sales, which hit growth levels not seen since the recovery from the Great Recession.
The rapid increase was set against continued uncertainty concerning the COVID-19 pandemic. The pandemic has had a significant impact on nearly every single aspect of modern life. Radiant heating is no exception, as more and more people have spent significant amounts of time and money on home improvement projects, many of which have included radiant heating.
Nationally, the housing market, typically a bellwether for radiant heating sales, continues to be frustrated by supply issues as home prices have reached exorbitant levels in many areas of the country.
In this report, we'll take a closer look at the performance of radiant heating product sales and analyze the impact that the national housing and remodeling markets are expected to have on future sales.
Radiant Heating Sales Growth in the First Quarter
Consolidated sales for WarmlyYours were up an astonishing 21.7% in the first quarter when compared to prior-year-period. This is the largest single quarter increase in well over a decade — essentially since the recovery from the Great Recession. The largest volume increase came from the US where sales were up 14.9% but Canada also had an impressive increase (up 52%).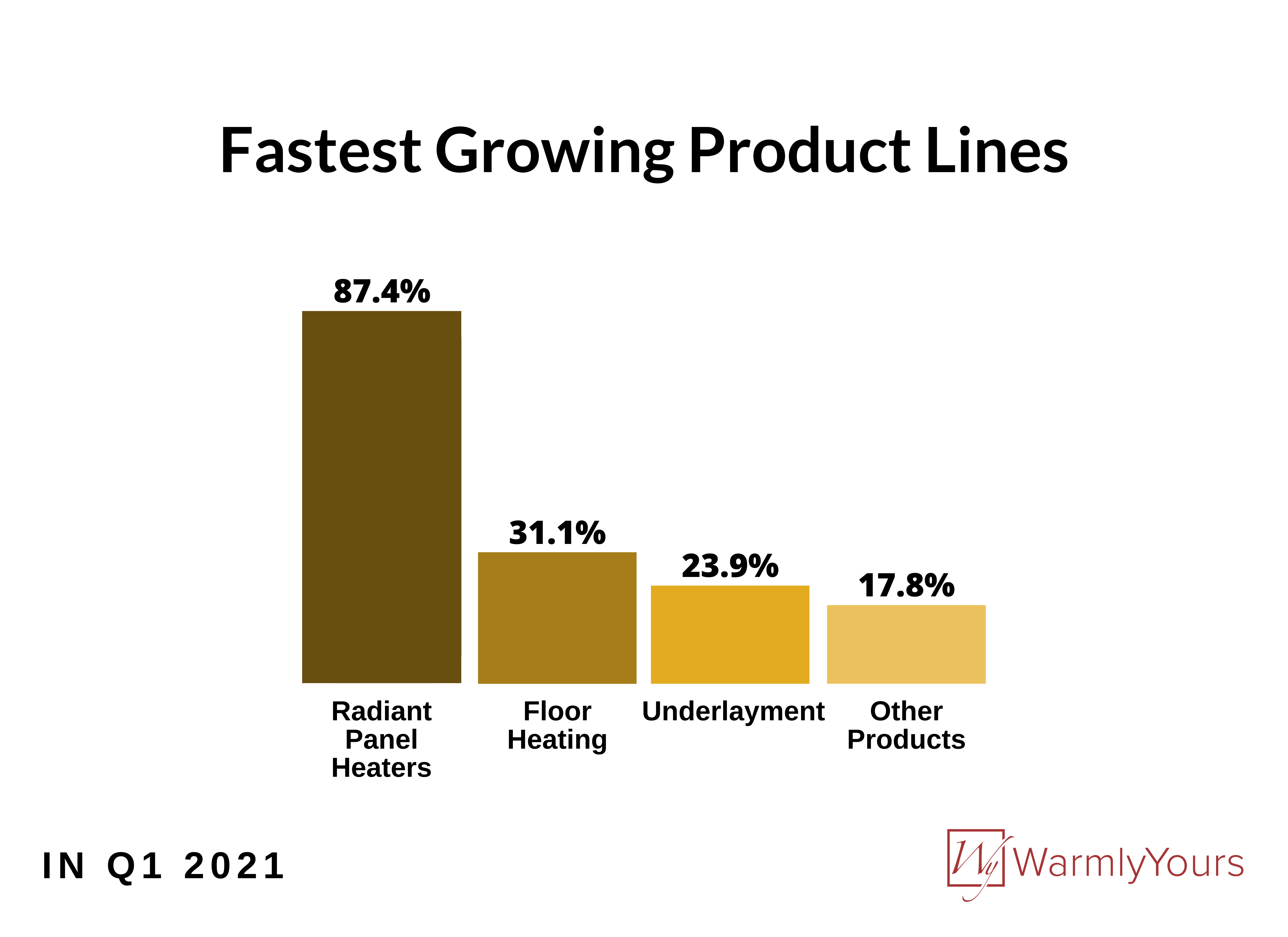 There were increases for radiant panel heaters (up 87.4%) and our "other products" category that includes countertop heaters and mirror defoggers (up 17.8%). However, nearly 96% of the growth in consolidated sales volume came from floor heating products (up 31.1%) and floor heating underlayments (up 23.9%).
Julia Billen, owner and president of WarmlyYours, said that she believes one of the core factors for floor heating growth so far this year has been increased optimism concerning the worldwide pandemic.
"I think a lot of people are starting to see light at the end of the tunnel as case levels continue to drop. That positive energy has to go somewhere and for a lot of homeowners that has turned into a renewed focus on home improvement projects," said Billen. "And with increased consumer awareness of radiant floor heating, we've seen a lot of those home improvement projects incorporating floor warming systems for the first time!"
One caveat that must be considered regarding this impressive increase relates to the initial onset of COVID-19 related lockdowns, which began to take effect in many parts of the US by March of 2020. However, WarmlyYours didn't see a significant impact on daily sales until the last week of March 2020 (sales numbers prior to that were on pace for an average first quarter). But even if we remove the last week of March in both 2020 and 2021, their respective sales growth rates remain essentially unchanged, meaning that the large 2021 uptick is impressive even when adjusting for the impacts of the pandemic in 2020.
Moving forward, we do expect to see similar (if not more pronounced) increases in both sales volume and rate of change for the second quarter of 2021, then we expect to see growth rates lower slightly in Q3 2021 while sales volume remains relatively consistent.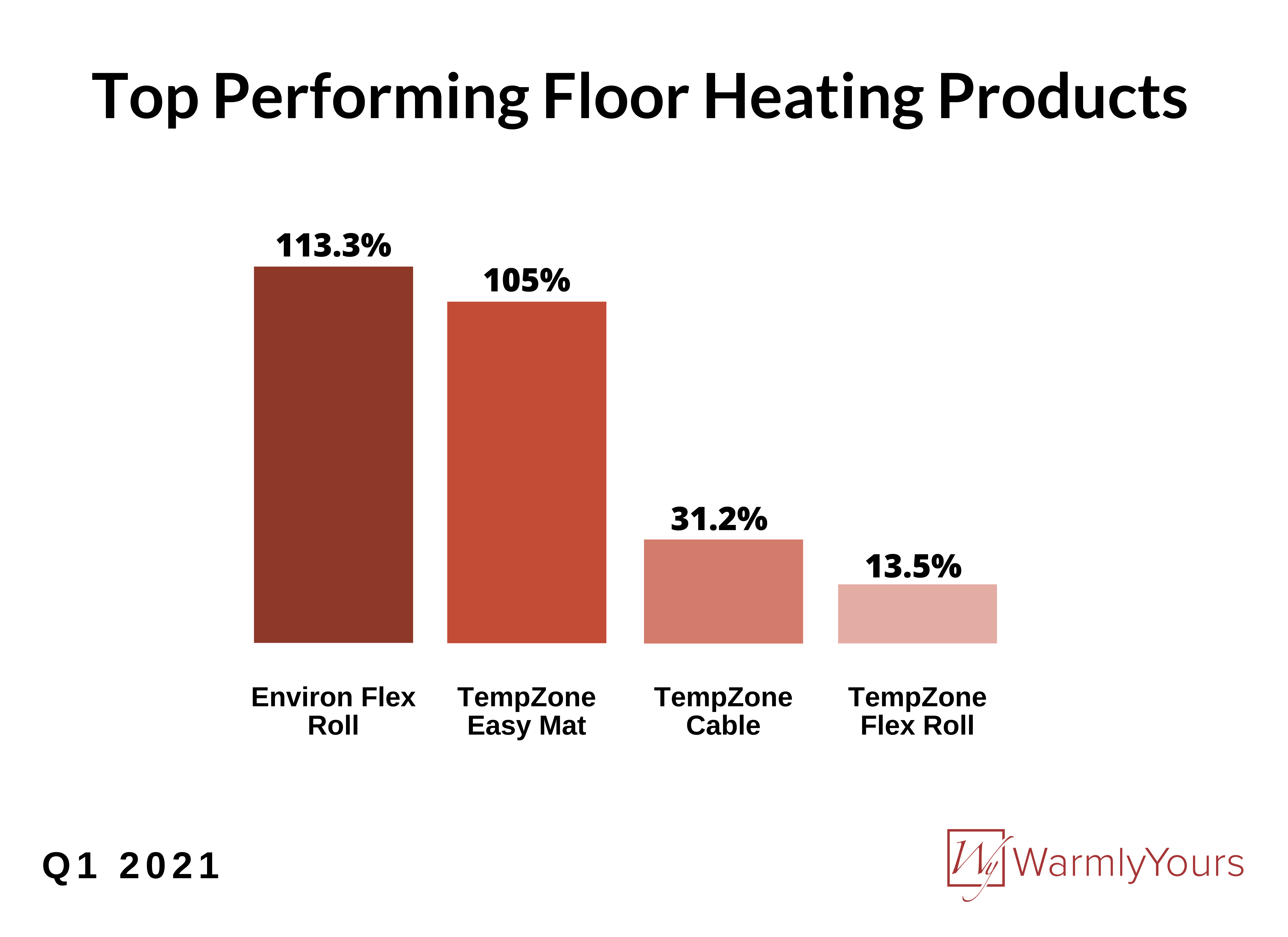 The primary floor heating products driving the Q1 2021 increase were Environ Flex Rolls (up 113.3%), TempZone Easy Mats (up 105%), TempZone Cables (up 31.2%), and TempZone Flex Rolls (up 13.5%). TempZone Cable, which actually contributed the largest sales volume increase, has been extremely popular with installers for several years because it can be installed with fixing strips for economical option or it can be installed with the Prodeso Cable Installation Membrane for a speedy installation (along with other benefits including vapor management, crack isolation, and uncoupling).
The increased sales for TempZone Easy Mats, rectangular floor heating mats sold in a variety of sizes, actually represents the biggest shift in floor heating sale distribution as these mats moved from just 9% of all floor heating sales in Q1 2020 to 15% in Q1 2021. This popularity is likely due to increased consumer awareness of "spot heating" which is a method of heating only the high traffic areas of a floor (vs. traditional "full coverage" applications). Spot heating often results in both lower material costs and operating costs without having to sacrifice comfort, which has made it a popular option for a lot of smaller projects where a single mat can provide ample coverage.
The increases for both Environ and TempZone Flex Rolls seems to be related to the general increase in floor heating sales as our Flex Roll format floor heating elements are extremely popular with both DIY-homeowners and trade professionals because of how simple and fast they are to install.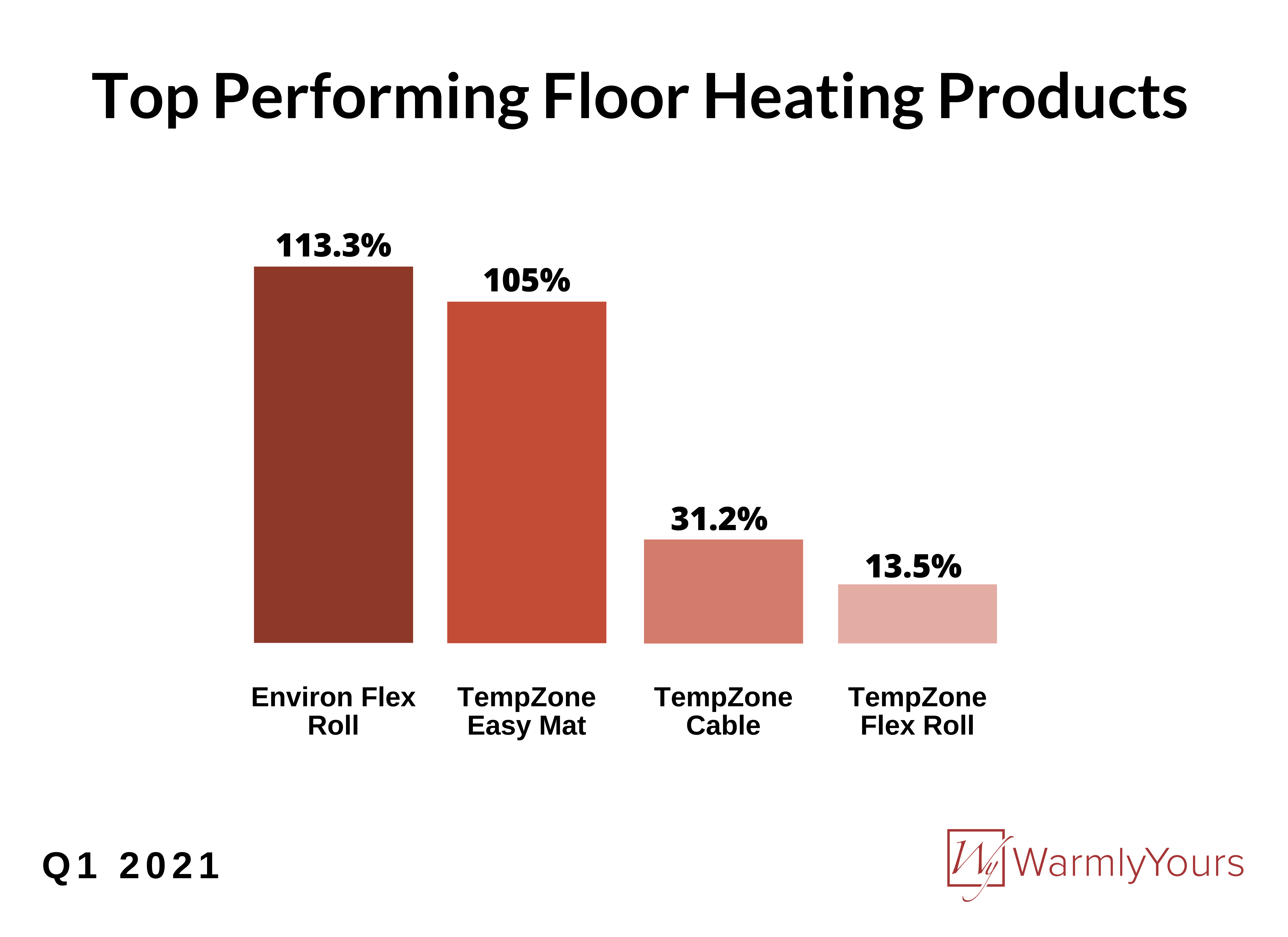 For Environ Flex Roll, its growth is also due to some of the increases in floor covering types that are installed as floating floors. For example, engineered wood is up 171.2% and laminate wood is up 146.8%. While tile (up 11.7%) is likely to always make up the lion's share of floor heating projects (typically making up around 88% of projects) it only made up 80.7% of projects in the first quarter of this year. Vinyl floor coverings, particularly luxury vinyl tile and plank, have been growing in popularity for the last couple of years and these coverings made up 5.5% of all floor heating projects in the first quarter of this year.
Billen said that she thinks that this shift in floor coverings may represent a permanent change.
"Tile will always be king in terms of total sales but other flooring materials like LVT and engineered wood are going to play a crucial role moving forward," said Billen. "Particularly as floor heating is applied to more and more rooms outside of the bathroom and kitchen. Our ultimate goal is to help make electric floor heating a whole-home luxury."
We do expect to see floor heating sales continue to show positive growth rates well into Q2 and Q3 this year, however, that time period in 2020 was particularly strong in regard to sales so while we'll see huge increases in sales volume the uptick in growth rate will probably be less pronounced than it was in Q1 2021.
Shifts in Customer Segments in Q1 2021
One of the primary drivers of radiant heating sales growth (particularly in regards to floor heating) has been some pretty big changes in regards to customer segment growth. Of particular note was the increase for homeowners (up 100.3%) which was by far the largest sales volume increase for a particular channel.
It does seem that the increase in homeowner sales is directly related to the lockdown orders that were enforced in various degrees over much of North America as a response to the COVID-19 pandemic. While it is difficult to attribute motivations from raw sales data, it's not hard to imagine that these customers spent more time in their homes over the course of the lockdowns which has led to increased renovation, when incorporating a floor heating system is most convenient.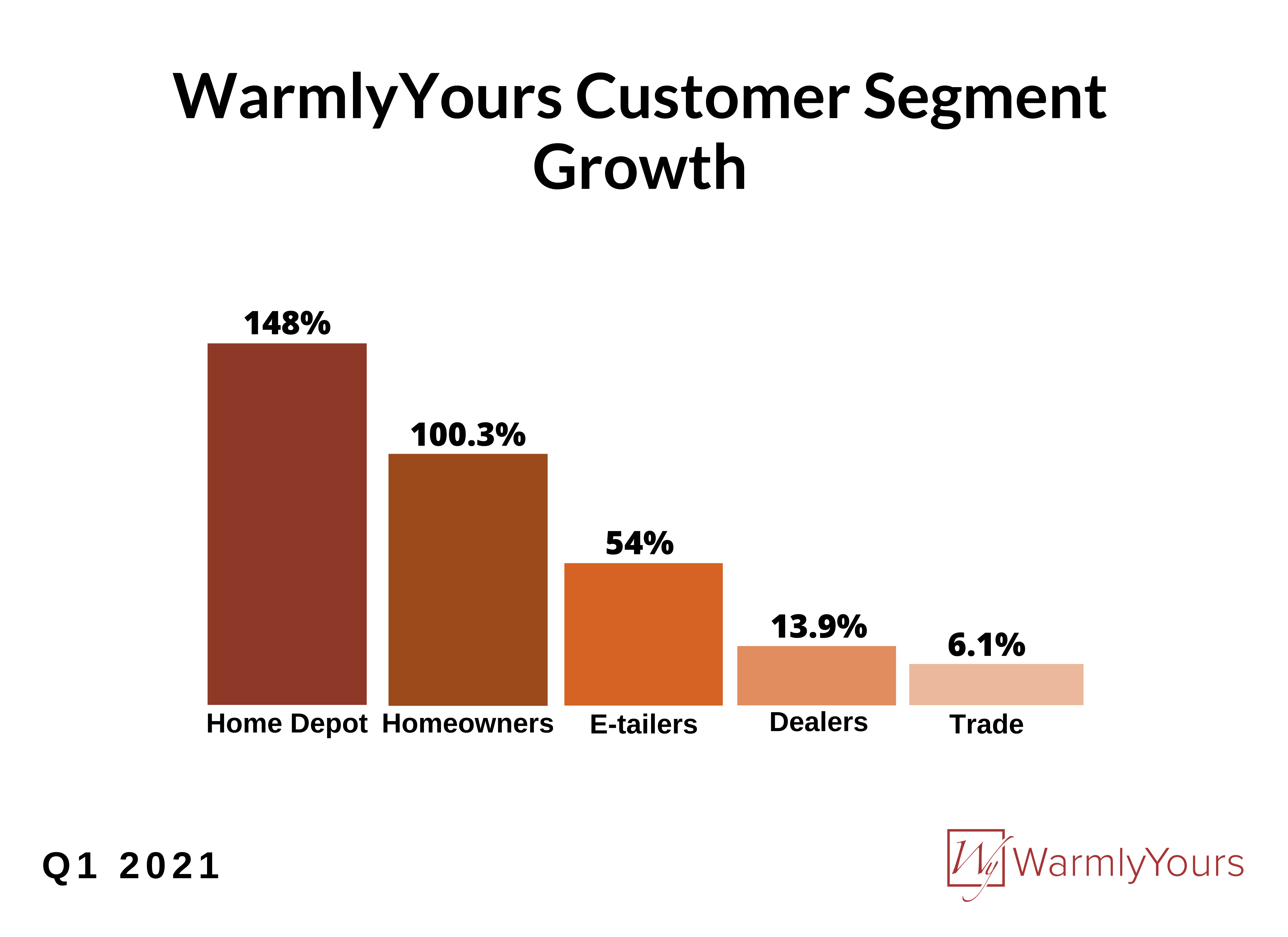 Dealers, a customer segment that represents a range of different retailers and specifiers for our products, was up 13.9%, which is its largest uptick in several years. While the growth rates are noticeably different between homeowner and dealer customer segments, the root causes of the uptick in sales is largely the same (more homeowners turning towards more renovation projects).

The 6.1% increase in sales via the "trade" channel also represents a positive development and can be largely attributed to advancements made by WarmlyYours to provide crucial support to our professional customers. During the pandemic, WarmlyYours launched a new service called SmartGuide Remote which enabled our Radiant Experts to connect via video conferencing with professional installers in the field to provide guidance when they need it most.
In addition to the complete line of SmartServices offered by WarmlyYours, another component will be the addition of a new certification and referral program for professional customers that is expected to launch this quarter. This new program will not only ensure that our professional customers have the access to the latest training materials but that they'll also have access to homeowner customers that have reached out directly to WarmlyYours looking for a professional installer. The new certification program will feature different "tiers" along with customized learning modules so that participants can customize their certification programs themselves.
Billen said that the certification program is a win-win proposition for both the company and the trade professionals.
"I know our professional customers are some of the best installers in the world but I also know that installing radiant heating is sometimes just a single part of their business," said Billen. "This certification program makes sure that our customers are up-to-date on the biggest changes to technology and materials and it allows us an opportunity to connect our homeowner customers with people we know are going to install our products correctly."
Home Depot, who sells our products both online and in their physical stores, had the highest growth rate at a whopping 148% when compared to last year. This customer segment is an interesting one because it represents not only DIY-homeowners but also some trade professionals who do a lot of their project material procurement at the big box retailer. So the increases for Home Depot are consistent with both the growth in trade and the growth in homeowner channels. It's also consistent with Home Depot's overall growth in Q1 2021 which was 32.7%.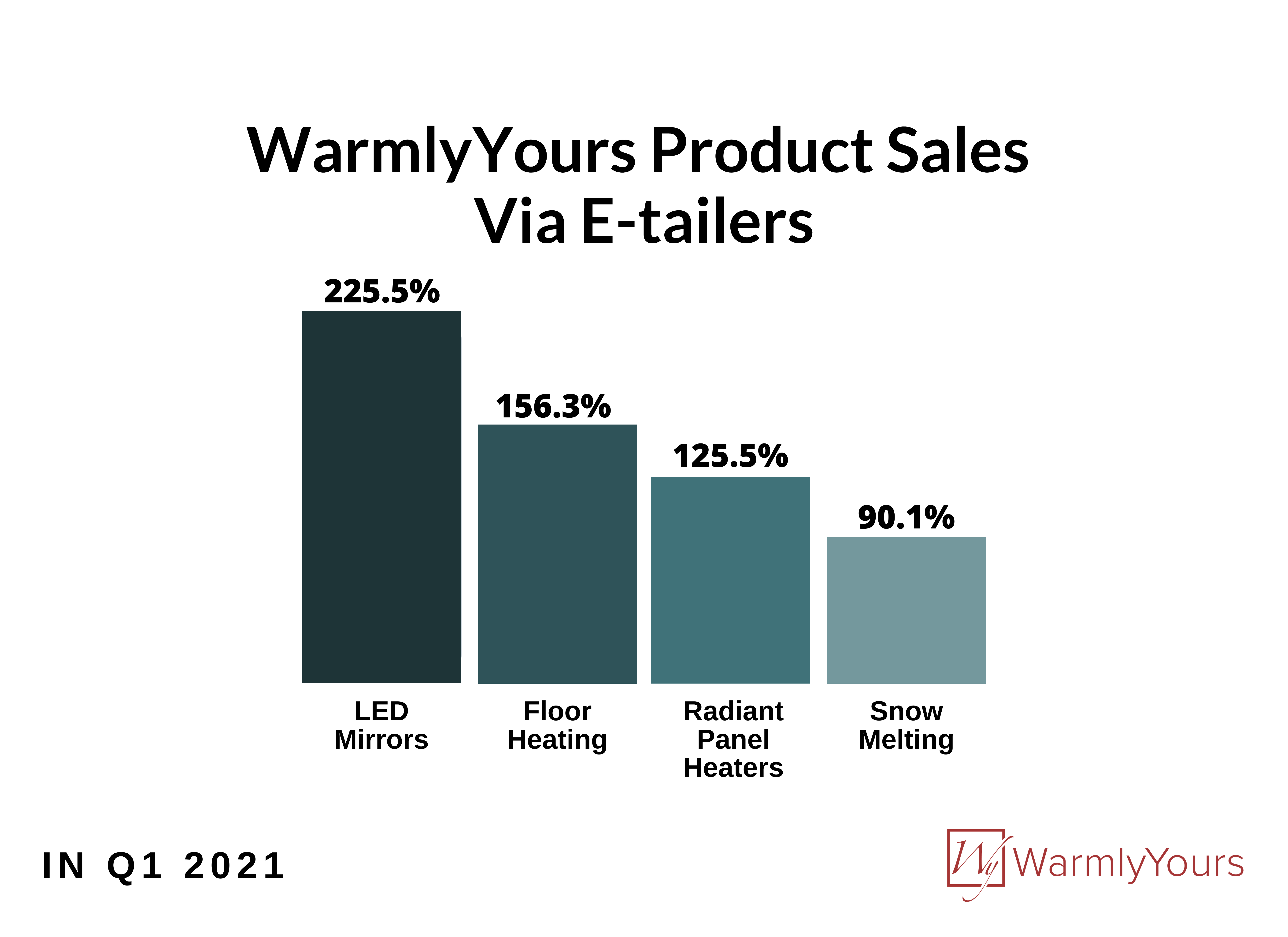 Finally, e-tailers had a robust quarter as well with a growth rate of 54%. Generally speaking, e-tailer sales tend to skew more heavily toward homeowners and that is reflected in the e-tailer that had the biggest sales volume increase, which was Wayfair (up 79.9%). LED Mirrors (up 225.5%), radiant panel heaters (up 125.5%), and snow melting (up 90.1%) all had a solid quarter but floor heating (up 156.3%) had the biggest sales volume increase.
National Housing and Remodeling Markets
The narrative surrounding the housing market for several years now has been that sales activity is being depressed by elevated prices due to an inventory crunch and relatively strong wages for potential homebuyers.
According to Realtor.com, the national median home price has increased 15.6% year-over-year between March 2020 and March 2021. This is largely due to a 52% decrease in available inventory from the previous year.
However, despite the increase in price, the National Association of Realtors (NAR) reported that pending home sales grew 1.9% after several concurrent months of declines. Lawrence Yun, the chief economist for NAR, said that strong levels of demand is helping overcome high prices.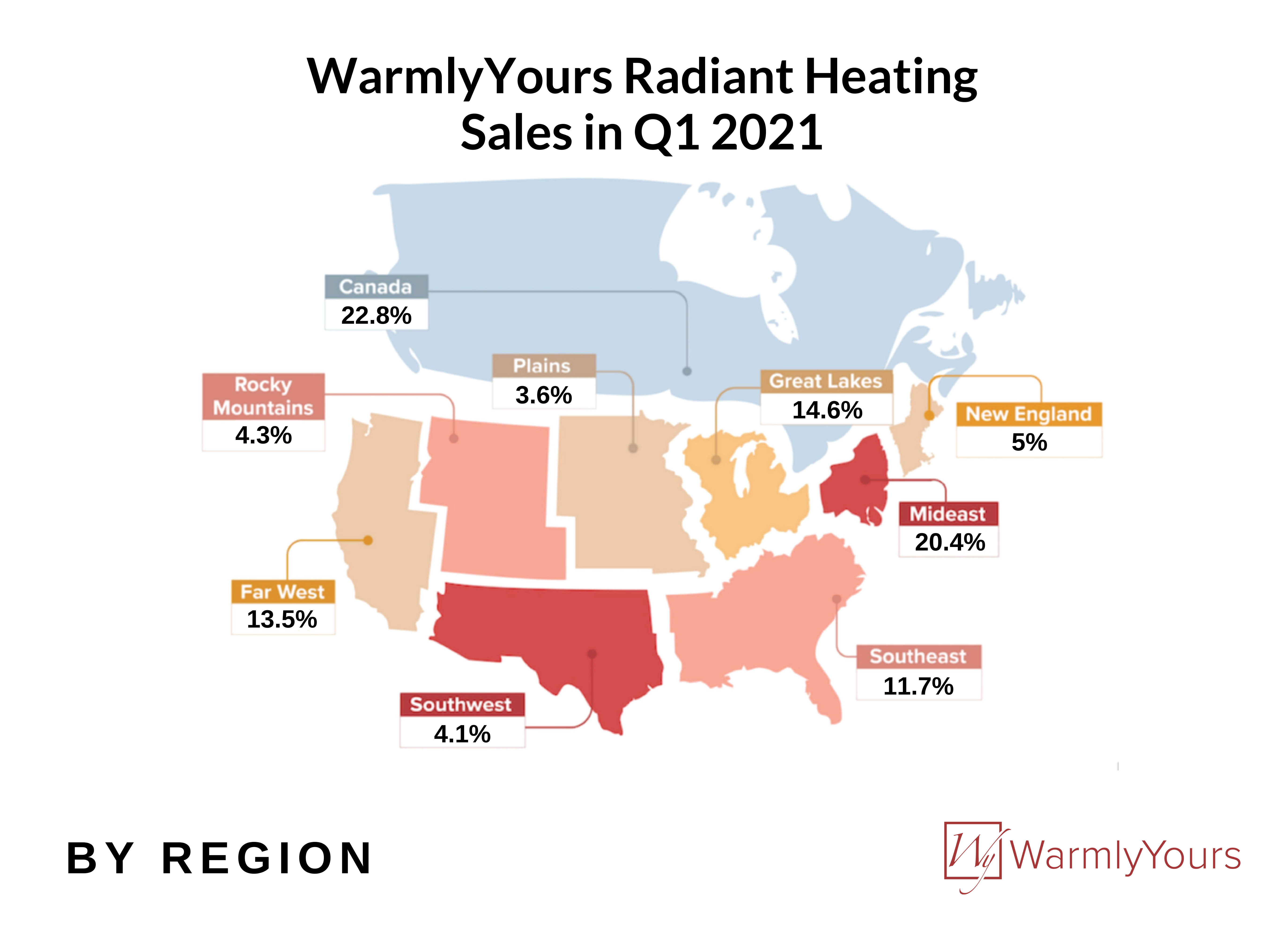 "The increase in pending sales transactions for the month of March is indicative of high housing demand," said Yun. "With mortgage rates still very close to record lows and a solid job recovery underway, demand will likely remain high."
"Low inventory has been a consistent problem, but more inventory will show up as new home construction intensifies in the coming months, as well as from a steady wind-down of the mortgage forbearance program," Yun continued. "Although these moves won't immediately replenish low supply, they will be a step forward."
As Yun indicated, new home starts are trending up. According to an article from Reuters, new home starts are 37% up, year-over-year. Again, while the lockdown orders in the country in March 2020 certainly played a part in depressing some economic activity (including home starts), most of that occurred in the later half of March 2020 so it's impact shouldn't be overstated.
Even though there is an increase in home starts, it will be some time before the impact is really seen on the market. However, if this trend continues, then it should help ameliorate some of the immediacy in demand for homes as more potential buyers wait for supply to catch up.
This optimism is in line with the projections put forward in the remodeling and renovation markets. According to the Leading Indicator of Remodeling Activity (LIRA), a quarterly assessment from the Joint Center for Housing Studies of Harvard University, gains are expected in annual home renovation and repair spending this year, with 4.8 percent growth by the first quarter of next year.
"With a financial boost from recent federal stimulus payments and strong house price appreciation, homeowners are continuing to invest in the upkeep and improvement of their homes," said Chris Herbert, Managing Director of the Joint Center for Housing Studies. "This lift in incomes and ongoing strength of the housing market are providing homeowners incentives to make even greater investments in their homes this year."
WarmlyYours also shares this positive outlook as we move deeper into 2021 because our expectation is that remodeling activity will remain relatively consistent even after pandemic lockdown restrictions are lifted as the housing market is opened to more and more customers from an increased supply of available inventory.
Sources:
https://www.realtor.com/research/march-2021-data/
Relevant internal WarmlyYours sales data
---
Tell us About your Project
Our team of Radiant Experts is ready to help! Just tell us a little about yourself and your project to get started.
---
Did you find this post helpful?
Let us know by giving it some applause.
---
---