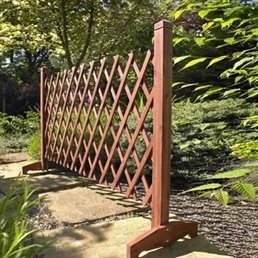 A little imagination can help homeowners figure out stylish ways to preserve privacy in an outdoor living space. One such project featured on HGTV transformed a worn brick wall with a bit of mortar, a splash of color and a simulated "window" with a miniature awning.
That's just one example for homeowners who want to create an an attractive perimeter around their patio furnishings or lawn areas. They can compensate for a variety of fencing that may surround their property or dress up their own fence with eye-catching decor. Something as simple as a basket filled with ivy and flowers that's hung on the gate will add to an otherwise nondescript wall or fence.
In the HGTV case, the designer worked with what she had by using mortar to transform the wall into a rustic getaway with Tuscan-inspired colors and the atmosphere of a countryside villa.
Variety of borders
Another approach is to construct a low-lying "wall" of bricks or interlocking stones about a foot out from a fence to provide a planter for greenery to liven up the area. A small water feature, vines cascading down a trellis or a selection of metal wall art are just some of the ideas that home decorators can use to create a lovely backdrop for their backyards.
The wall or fence can also be turned into another light source with lanterns, a string of lights or wrought iron candle holders to illuminate a dark section of the yard. A lackluster white vinyl fence can be used as the backbone of a "built-in" storage chest along the fencing. It not only provides a place to store pool supplies or children's outdoor toys, but with some brightly colored cushions placed on top, it adds seating for visitors.
Tie in Pathways
While they are coming up with ways to create borders, homeowners may also want to address nearby pathways and entries into their outside areas. A well-designed walkway offers an attractive greeting for guests as they enter a garden or patio. With a wide range of decorative finishes and weather-resistant durability, walkways can be constructed to fit any home design.
If homeowners want the added convenience of radiant heating, it may be installed with many of the building materials that are available for outdoor paths. Used with pavers, bricks or concrete with a decorative stain, outdoor heating for walkways is a boon to homeowners who live in colder regions. The apparatus can be tied into driveway heating for extra convenience.
Fences and gardens
An inexpensive way to disguise an unattractive fence and create a vertical garden at the same time is to situate a lattice board directly in front of the fence. According to Better Homes and Gardens, the treatment has an open, airy look and allows for a place to hang small plants or hooks for garden art.
For places in the yard where there is no fence, the lattice also provides some privacy and can be filled in with trailing vines or a spot to showcase climbing roses. Enterprising gardeners can develop a flower garden with blooms that complement the hues used in their patio design. It's an ideal way to add privacy and enclosure without closing off the yard too much.
The desire to block unsightly fences isn't limited to homeowners. Apartment dwellers who have a small garden patio can create a garden-like effect by locating large planters or containers along a fence. They can be found in any size and style to match the outside decor. Palms or small trees that are well-matched to the climate will provide the best coverage.
---
Tell us About your Project
Our team of Radiant Experts is ready to help! Just tell us a little about yourself and your project to get started.
---
Did you find this post helpful?
Let us know by giving it some applause.
---
---