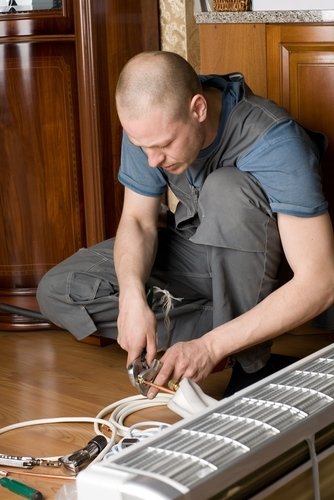 When it comes to home remodeling, a new survey finds an increasing number of people will enlist the help of professionals. The RemodelOrMove.com Spring 2013 U.S. Remodeling Sentiment Report found that nearly three-quarters of homeowners plan to hire a general contractor for their projects. Additionally, 80 percent said they will do "little or none" of the work required themselves.
There's no denying the fact that do-it-yourself projects are appealing to some people. After all, they are often more economical than hiring a professional and can be a lot of fun. However, experts say homeowners should think hard about tackling certain home improvements on their own.
According to real estate expert Tom Kalinski on BoulderCo.com, individuals considering taking on a DIY project should evaluate how dangerous the job is and how much it will cost to fix if professional help is needed. That being said, there are some home improvements that should always be left to a pro.
Plumbing
While fixing a clogged toilet or replacing a faucet can usually be done by a DIYer, experts say any more involved plumbing work should be done by a reputable plumber. This includes any modifications of an existing plumbing system such as extending hot water lines or rerouting sewer pipes. 
Let's face it - an inexperienced individual can actually do more harm than good when it comes to plumbing. The risk of flooding or other water damage to the home is high if a mistake is made. Your family's health is also a concern, as sewage is involved with many plumbing projects.
Electric work
Tackling an electrical project can not only be dangerous for a weekend warrior, but it can also put your entire family in danger. According to HowStuffWorks.com, even a small mistake made on an electrical project could result in a fire or a harmful shock for the person doing the work. 
While small projects like changing a light fixture are usually safe for handy homeowners, anything more involved, such as installing electric floor heating, should be left to a professional electrician.
Roofing and decks
These projects often involve carrying tools up and down a ladder as well as a large amount of time spent off the ground. Professionals are much more capable of completing these projects safely than even the most well-intentioned homeowner. 
Additionally, when it comes to installing a deck, if it's not done correctly, problems could arise down the line and put your family and the structure of your home in peril.
Jobs like painting, tiling and trim work are usually acceptable for homeowners to do without the help of a professional. Regardless of the size and scope of a DIY project, individuals should do some research to ensure they are equipped to safely complete the job to their standards before beginning.
---
Tell us About your Project
Our team of Radiant Experts is ready to help! Just tell us a little about yourself and your project to get started.
---
Did you find this post helpful?
Let us know by giving it some applause.
---
---