RADIATE Warmth is how we at WarmlyYours seek to communicate genuine care for others, especially with our customers. No matter what the project is, our sales team is dedicated to help find the best radiant heating solution for our customers.
Our most recent "Share Your Story" winner is from Chincoteague Island, VA. Susan Merritt, who installed WarmlyYours TempZone™ Cut & Turn Rolls in their screened in porch that has recently been transformed into a beautiful sunroom.
Take a moment to read Susan Merritt's great story:
Living in Chincoteague Island is a pretty unique place. Our house is a 27-year-old Cape Cod style with a 16'x20' screened porch on the back. The back of the house is very close to a canal with a dock across the width of the property.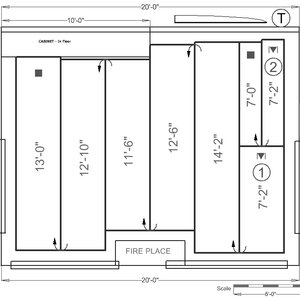 In the summer, it was easy to spend all of our free time on the porch, eating steamed crabs from the nearby waters, or having family and friends over for a barbecue.
In the fall, winter, and spring, the canal waters are alive with wading birds, ducks, and geese. We loved the porch, but could only use it seasonally. When fall came, we would cover the porch with plastic to keep it dry inside, but it became too cold to enjoy.
For many years, we wanted to close in the porch so that we could enjoy the space year-round, but just hadn't taken the time to plan out the project. Last spring, I started researching products and trying to find pictures of sunrooms that I liked. I came across the WarmlyYours Radiant Heating's website and loved what I was reading. Matt Caruso was the company representative that I worked with, and he couldn't have been more helpful. Matt determined the size and layout of the radiant mat that we needed and sent a custom installation SmartPlan along with instructions.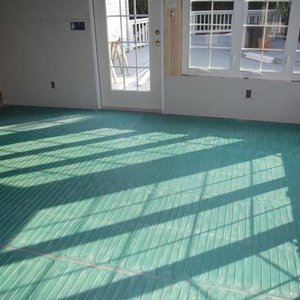 The existing porch floor was already concrete, so WarmlyYours TempZone™ Cut & Turn Rolls were installed on top of the concrete and under our porcelain tiles.
Our finished sunroom is gorgeous! We have a dining table and hutch in the room, as well as a three-piece wicker set for relaxation. We have natural oak cabinets installed on the inside wall with a bar sink and under counter beverage center.
Our sole heat source in the sunroom is our WarmlyYours floor heating. During the day, the room gets plenty of sunshine, plus the radiant heat warms up the tiles and the room. Our feet stay toasty warm and our cat loves to roll around on the floor waiting for us to scratch his belly.
Even on the coldest evenings, our radiant heating has kept the room very comfortable. We love our sunroom and have never missed the screened porch. We watch the wading birds, ducks and geese, and even an occasional deer grazing across the canal. We can enjoy the nature all around us without ever disturbing the animals.
Thank you Matt Caruso and WarmlyYours for giving us an all-season room that we will enjoy for many years to come!
-------------------
Discover more about radiant heating, and why installing WarmlyYours is the right choice.
If you enjoyed this story, you may also enjoy reading about the last Share Your Story feature, "Snow-Free Pavement" or feel free to read through all of our winner's stories.
We'd love to hear your story, too! Share it with us!
---
Tell us About your Project
Our team of Radiant Experts is ready to help! Just tell us a little about yourself and your project to get started.
---
Did you find this post helpful?
Let us know by giving it some applause.
---
---