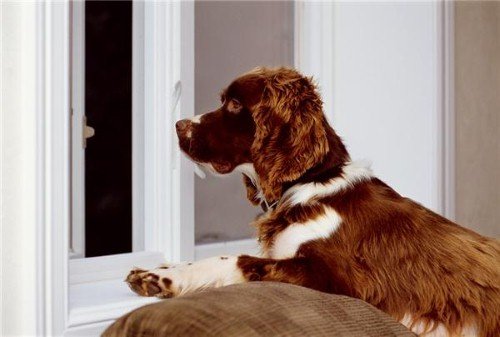 We share our homes with friends and family, but what about our canine companions? Designing and furnishing a dog-friendly home is key for anyone with a four-legged member of the family. If you're designing a home fit for a dog or looking to remodel before you make the adoption plunge, consider some of these tips for the ideal dog-friendly home.
1. Engineered hardwood floors. To some homeowner's minds, engineered wood - of any tree species - just doesn't have the class or elegance of solid wood flooring. But engineered hardwood has a lot of advantages over solid wood, not limited to pricing or ease of installation. One of the main advantages is the boards resistance to scratches and scuffs - both of which are pretty common side effects of owning dogs. Another preventative tactic for your floors might be trimming your pet's nails regularly.
2. Radiant heat. While you're reconsidering flooring, keep in mind that engineered wood and radiant floor heating systems tend to go hand in hand. If you want to go for a more energy efficient form of heating your home, you can't go wrong with radiant heat. What's more, it improves air quality (no vents), which means less pet dander floating around.
3. VOC-free paint. Volatile organic compounds (VOCs) can jeopardize your air quality as well, so make sure you and your pets are safely surrounded by walls painted with VOC-free materials.
4. Dog bed. Dogs need their own beds! While it can be wonderful to have them snuggle up with you on the furniture all the time, this leads to a lot of extra cleaning. More importantly, it's imperative that your dog have his or her own place separate from your own furniture.
5. Furniture slipcovers. Want to cut down on pet fur and upholstery cleaning? Just can't keep Fido off the couch or your favorite armchair? Investing in a variety of furniture slipcovers is a fashionable way to deal with dogs who love your sofa as much as their bed.
6. All natural and non-toxic cleaning supplies. Whatever surface you have in your home, your family dog is sure to sniff it out and give it a lick. From the toilet bowl to the kitchen counter, avoid using toxic or chemical-packed cleaning supplies. Why not mix some of your own all natural cleaning supplies?
---
Tell us About your Project
Our team of Radiant Experts is ready to help! Just tell us a little about yourself and your project to get started.
---
Did you find this post helpful?
Let us know by giving it some applause.
---
---