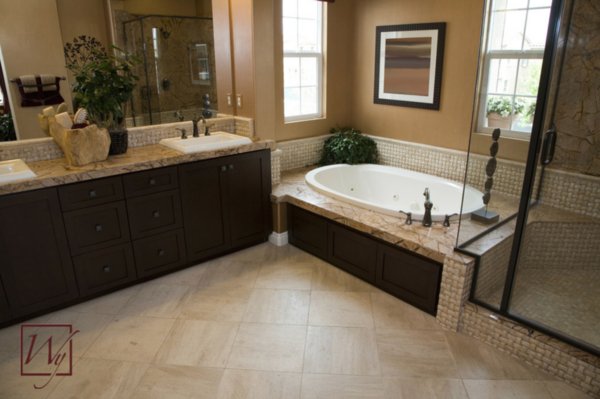 Last week, WarmlyYours gave an overview of its electric floor-heating products and services in the blog, "How to Choose the Ideal Floor Heating System — Part 1." This week, we're offering a more detailed look at our most popular in-floor heating system: TempZone™.
As you learned last week, our TempZone™ system was designed for use under tile, stone or hardwood floors. Its four primary formats are: Flex Rolls, Cable, Custom Mats and Easy Mats, but it's also available in Shower Mats and Shower Bench Mats.
As their names indicate, you'll want to purchase a shower mat if you wish to heat the floor of your shower, and you'll want to buy a shower bench mat if you wish to heat your shower bench. These systems come in a variety of standard sizes to fit most showers. The shower mats even feature a hole in the middle of the mat to accommodate the drain.
Although it's easy to determine if this heating solution is right for your project — all you need to consider is whether or not you'd like radiant heat in the shower — the rest of our floor-heating options will take a little more consideration.
TempZone™ Flex Rolls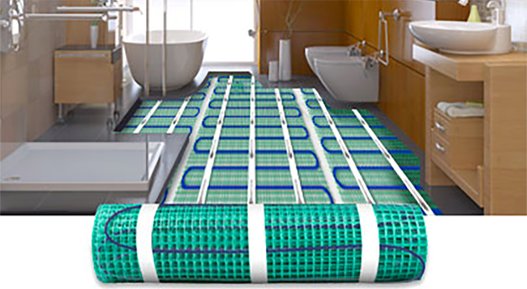 If you're looking for a system that is easy to install and covers large areas, you'll probably want a TempZone™ Flex Roll. This is WarmlyYours' most popular floor-heating product because it enables rapid installation for large spaces. Installation is quick and easy thanks to the product's green mesh, which can be cut and turned to accommodate most room layouts.
This product also features the highest watt density allowed by the National Electric Code: 15 watts per square foot. This means your floors will heat up faster and get hotter than similar lower-watt products. This is especially important when you're using electric radiant heating as your primary heat source. If the wattage isn't high enough to compensate for heat-loss factors like fireplaces, skylights and windows, the room won't get to your desired temperature.
Note: To determine if electric floor heating can be a primary heat source for your room, consult the WarmlyYours Heat Loss Calculator.
TempZone™ Cable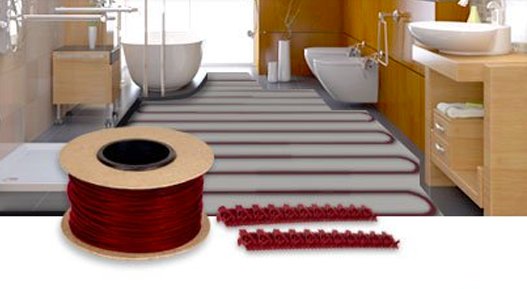 If you're seeking a more affordable solution with flexible coverage for rooms with unusual dimensions or intrusive structures, such as pillars or plumbing, TempZone™ Cable is likely the best option for you. This is the newest floor-heating offering from WarmlyYours. The product made its debut early last year in response to customer requests for a free-form cable option. The ability to free-form the cable gives installers the flexibility they need for full room coverage.
It's also the most affordable option. For this reason, it's often suggested as an alternative to TempZone™ Flex Rolls. It features the same quality wire as the Flex Rolls, but it requires a bit more labor and offers a lower watt density. When the cable is installed at 3-inch intervals, it radiates 10-12 watts per square foot. When it's spaced 4 inches apart, it emits 8-10 watts per square foot. This adjustable watt density allows installers to concentrate the heat where it's needed most (i.e. 3-inch spacing in high-traffic areas and 4-inch spacing in low-traffic areas) while filling more square footage per 15-amp thermostat.
When spaced 3 inches apart, you can heat 150 square feet, whereas when the cable is spaced 4 inches apart, you can heat 225 square feet. To heat more space than that, you would need two or more power modules connected to a master thermostat.
TempZone™ Custom Mats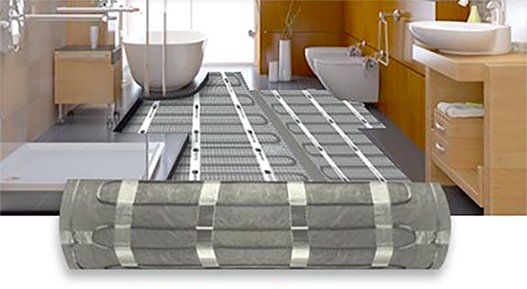 For the absolute easiest installation, you'll want to order TempZone™ Custom Mats. With 12-15 watts per square foot, these mats are custom made to fit your particular room layout. Unlike Flex Rolls, there is no cutting or turning, and unlike Cable, there is no added labor needed to install this heating system. All you have to do is provide WarmlyYours with the exact measurements of your room, including where floor heating vents and such are located, and we'll make a custom mat for you that can simply be rolled out and installed.
This convenience brings a slightly higher price tag, but for DIYers or anyone seeking foolproof installation, the additional cost is well worth the benefits.
TempZone™ Easy Mats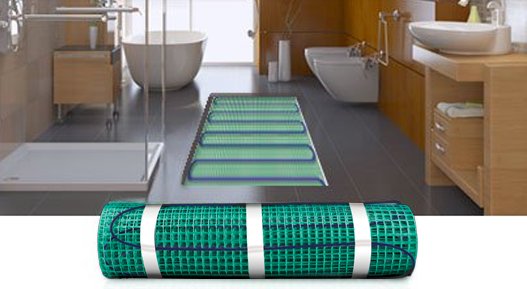 In some cases, homeowners might only want to heat a select area of their room where they spend the most time. For instance, they might only want warm floors in front of their bathroom sink or in front of the shower or tub. If that's the case, they would want to purchase a TempZone™ Easy Mat.
These systems come in no-cut, one-piece rectangular mats with 15 watts per square foot. For these reasons, they're easy to install, and they provide maximum heat in the quickest amount of time. Plus, because they're only heating part of a room, they're an affordable option for homeowners.
Once you've identified what kind of heating system you want in your room, it's time to get your purchase rolling! You can get started by checking out our website at www.warmlyyours.com. Here, you'll find plenty of information about each of our product lines.
To purchase a TempZone™ Shower or Bench Mat, just pick out the size you need online or contact WarmlyYours at 800-875-5285 to get a quote and custom installation plan. Similarly, if you'd like to spot heat in front of a sink, shower, or any other small space in your home, select the size of the TempZone™ Easy Mat you'd like from the Shop page or contact a WarmlyYours sales representative.
If you'd like to take any complication out of your installation by using a TempZone™ Custom Mat, give us a call to place your order at 800-875-5285. Our sales representatives can help you out with a floor plan to get you an accurate quote for your room before placing your order.
Finally, if you're interested in full room coverage with TempZone™ Flex Rolls or Cable, you can check out our Instant Quote tool online. This tool will give you a quote for both Flex Rolls and Cable so that you can decide which option you'd like to go with. It will also tell you which SKUs you should purchase for your space.
Of course, you can always contact a sales representative over the phone to walk you through the process. They can review your floor plan and provide you with a quote and custom installation plan for your room within one business day.
The choice is yours. No matter which option you pick, it's sure to be a warm one!
---
Tell us About your Project
Our team of Radiant Experts is ready to help! Just tell us a little about yourself and your project to get started.
---
Did you find this post helpful?
Let us know by giving it some applause.
---
---