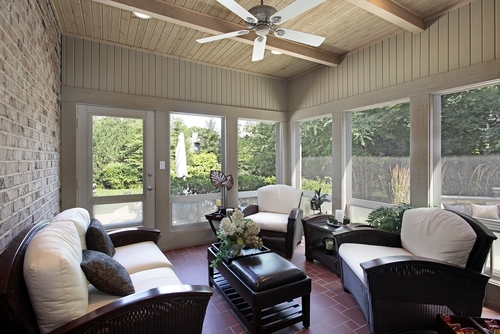 Outdoor spaces and porches are increasingly being viewed by homeowners as extensions of their homes' living space. Nowhere is that more true than in a three-season sunroom, which can easily be transformed into an all-season room.
The difference between an enclosed porch and one that's used all year is the addition of insulation, heating and sometimes air conditioning. Unlike those that are simply screened-in, all-year porches have windows and screens similar to those used throughout the home.
Since many three-season porches have a large number of windows, the amount of heat retention is decreased. Ultraviolet rays may heat it momentarily, but other choices for warming the space are needed to maintain a comfortable temperature year-round.
Making over a seasonal porch into an all-year room is an excellent time to install a floor warming system that generates radiant heat. It's an energy-efficient heating source and works without air ducts, which improves the air quality. Having heated floors ensures a comfortable and uniformly heated room that's regulated by an electric switch.
Another consideration when installing a new floor for a sunroom is to make sure that the surface height is the same as the flooring height in the home so people won't trip as they move from one space to the next. It also helps to have a doorway leading into the home that's wide enough for someone in a wheelchair.
Integrating Style and Function
Previously, homeowners viewed their enclosed porches as having more in common with their patios and backyards, and decorated them largely with patio furniture and other items that could be used outdoors. Now, there's no need to restrict the decor. For people who want their sunrooms to look similar to the rest of their homes, installing indoor flooring and using interior furnishings that can be used anywhere in their homes is the way to go.
If the home doesn't have a great room, a sunroom with a high ceiling provides a good alternative. The added height gives an airy, larger appearance to the whole room. Adding skylights to the roof covering the sunroom brings light into that space, but also into the house, making up for light that's been lost by the addition of a structure onto the home.
Location greatly influences how much natural light will stream into the space. To capture as much light as possible, the structure should ideally be facing south where sunlight is strongest.
Homeowners who are building a new sun porch will save money in the long run by using as many energy-saving and sustainable materials as possible. There's also cost savings in having standard glazed windows because future replacements will be easier to install and less expensive. Adding ceiling fans keeps air flowing and cools the room during the summer.
Architectural features - such as arches, lattice work and bead board on walls or ceilings - create a room design that's unique, is a welcoming place to spend time with the family and adds value to the home.