Bathrooms are rarely the grandest, largest room in the home. That reduced size can create big opportunities, however. When planning a remodel of your bathroom, small changes can have a major impact on the feel and function of the room.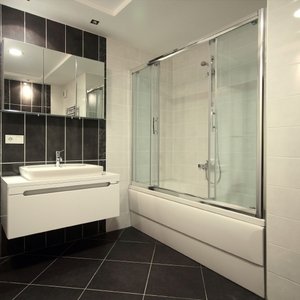 "Because it's usually small, the bathroom is actually quite easy to spice up—a splash of color or a few creative accessories will go a long way," shares Houzz contributor, Laura Gaskill, "15 Creative Touches to Perk Up the Bathroom."
In the article, Houzz suggests often overlooked, yet clever ways to make a statement in the bathroom. No major remodel is needed, just some imagination and do-it-yourself spirit. Think simple touches such as chalkboard paint, sink skirts, photo shelves, antiques and 11 more options!
You can take those fun, fast ideas one step further with smaller changes that still stop short of a full remodel. Think of them as tiny renovations or mini-makeovers.
"Not satisfied with your current space but don't want to do a complete remodel? You may be surprised to find that a few small changes can have a big impact on the overall aesthetic of your home," reminds Fair and Square Remodeling's Desi Creswell in "Small Changes – Big Results."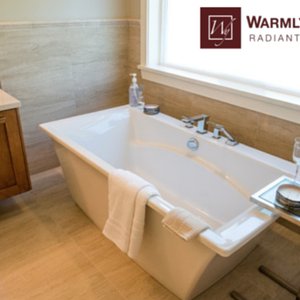 Bring The Spa Home
For example, spa-like touches were a strong trend when Fresh Home Magazine examined the 15 hottest bathroom trends earlier this year. You can create that feel with intentional, smaller changes, especially with your bathroom accessories.
"For less than $100 and an hour's time, you can refresh your bath with new accessories," reminds Tim Bitterman, group marketing manager at Creative Specialties International, the bath accessories division of Moen. "And, today's accessories add flair to function — allowing you to also alleviate some of the most common bathroom pet peeves while you're remodeling."
For example, add an electric mirror defogger and you can enjoy the clarity of a fog-free mirror in your master bathroom, just like those available in high-end spas and hotels. This simple change can enhance the mood and functionality of your bathroom.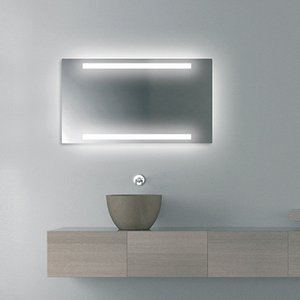 Or upgrade your bathroom with the LAVA® Mirror electric radiant panel from WarmlyYours Radiant Heating adds instant spa-like ambience to the room. Not only will it function as a major spa statement piece, but it also will warm your bathroom with radiant heat.
You can also accessorize to generate a richer, more radiant feel. Combine a LAVA® Mirror with LED lights in unique designs to add additional lighting and instantly create a distinctive, relaxing mood in the room. RGB LED lights for your LAVA® Mirror can change color and accent the space with modern elegance.
Built-in benches within showers enhance the spa-like experience while adding comfort and function when heated. This is another easily overlooked, smaller change that can radically increase your ability to relax in your bathroom. WarmlyYours offers safe heating for wet locations, including your walk-in shower, eliminating cold in your bathroom completely, while adding relaxation and support.
Adding the right towel racks in the right spaces can modernize and upgrade the appearance and function of the room. WarmlyYours electric towel warmers come in several different styles to enhance any home decor. Which style fits you best? Take the WarmlyYours quiz here!
Add Color For Flair
Accessories and paint are a great way to try out new colors to add radiance and pop to the space, changing it up without a lot of commitment or expense. You can incorporate trending colors such as the Pantone Color of the Year, PANTONE® 18-3224 Radiant Orchid.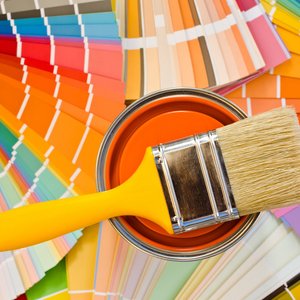 Use color to highlight your bathroom design and achieve the look and feel that suits you best, suggests Susan Kleinman in " Pick Colors That Work for the Whole Bathroom."
"Ask yourself: Do I want my bathroom to be relaxing or energizing? Trendy or timeless? Whatever mood you're after, the process of choosing a color will feel less overwhelming if you take it step-by–step," Kleinman advises.
Joan Osburn, of Osburn Design in San Francisco, advises to pick any and all colors that strike your fancy, "no-holds-barred-style," and then narrow them down to two or three options. "Look at them in different lights and at different times of day," she says.
According to color consultant Paulette Diamond, ASID, vice president of the International Association of Color Consultants—North America, if you buy 8" x 10" flat canvas boards from an art supply store and paint them with the colors you are considering then "you can move the paint color samples around the room easily while eliminating the mess and confusion of having several different colors painted on the wall."
Naturalize Within A Budget
Fresh Home Magazine also suggested that using natural materials would be a trend throughout 2014. Switching up certain elements of your bathroom, such as floor or furniture, pull that look into the room without a total overhaul.
You can "naturalize" your bathroom through luxury vinyl tile (LVT), which has seen a big resurgence the past few years. LVT imitates the luxury stone (granite, marble, slate, etc.) and wood (teak, maple, oak, walnut, and pine) you find in spas and hotels using an extremely detailed realistic photo replication process. You get the look of "wood" planks or textured "stone" tiles with the graining and characteristics of real hardwood and stone, which the maintenance and detailed installation!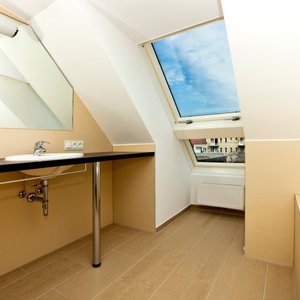 Read more about the benefits of LVT and the natural vibe it can add to your bathroom here."
"Natural materials, unlike the riskier patterns above, are generally timeless and will stand the test of time," according to the magazine.
Small changes give you much more flexibility and fun. Yet, always think big picture when mixing in more permanent changes to your bathroom.
"Bathrooms are certainly able to be remodeled far more frequently than the rest of the house and are often expected to be; I mean, as quaint as a lovely 1910 bathroom may be we're all going to want to have our modern conveniences. Don't be afraid to bring things up to the 21st century but also be careful to make decisions that will look good in five years or 20," advises Seattle-located Board and Vellum Architecture and Design.
Whatever the reason, upgrading the features in your bathroom can make it more enjoyable and functional. Targeting those smaller changes can also return your investment—of both time and money—while still creating a functional bathroom that reflects your current style.
What small changes have had big results for you or for your clients? Share your story, send us photos on the WarmlyYours Facebook page, or tweet us at @WarmlyYours.
---
Tell us About your Project
Our team of Radiant Experts is ready to help! Just tell us a little about yourself and your project to get started.
---
Did you find this post helpful?
Let us know by giving it some applause.
---
---