When you're installing a heated floor system from WarmlyYours, setting up a thermostat ensures that you'll be able to use the floor as efficiently as possible. Attaching the Environ system to the back of a thermostat is not a complicated job, but it's something you'll want to do carefully to guarantee it works properly and won't cause any problems.
1. Identify which wires get power from the circuit breaker box. It will be the top and bottom wires.

2. The two middle wires are the ones that get hooked up to the Environ system.
3. Twist the black wires together and secure with a twist cap.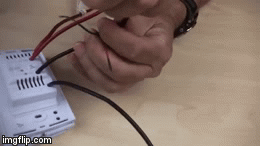 5. Now we have the two wires attached. The green wire in the middle will go to the ground that's located in the box that the thermostat mounts to.
That's how you attach your Environ system to the back of a thermostat.
At WarmlyYours, you'll have the choice of three different thermostat controls, ranging from a simple programmable timer to a thermostat with floor temperature controls. Get the most out of your radiant floor system with WarmlyYours Environ floor heating.

Like this post? Subscribe for regular updates
Make sure you don't miss out on the latest news in radiant heating by subscribing to our blog. We'll send you an email with links to the newest posts from WarmlyYours.
We won't share your information and you can unsubscribe at any time with a single click.
---
Did you find this post helpful?
Let us know by giving it some applause.
---
---