Every metric for monitoring remodeling activity indicates that it's on the rise, but why?
Home remodeling spending is expected to increase 8.6 percent by the end of this year before accelerating even further to 9.7 percent by the first quarter of 2017, according to the Leading Indicator of Remodeling Activity (LIRA) released by the Remodeling Futures Program at the Joint Center for Housing Studies of Harvard University. So where is all of this spending coming from? In short: baby boomers.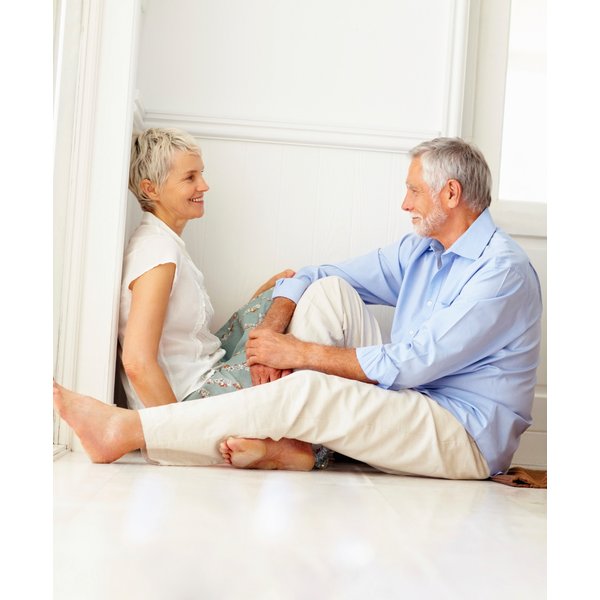 According to the 2016 Houzz & Home report, the majority of homeowners who are renovating their homes are between the ages of 45 and 64. To be more specific, one-third of renovating homeowners are between the ages of 55 and 64 (baby boomers), and another 26 percent are between the ages of 45 and 54 (Generation X). Most of these homeowners have lived in their current homes for more than six years, and they don't plan to move out anytime soon. In fact, according to the survey, they don't expect to move for at least six years. They've found a location that they love, and they don't intend to leave it. Instead, they'll just renovate!
Baby boomers are spending an average of $73,300 on home renovations, which is triple the amount that millennials (between the ages of 25 and 34) are spending. And the reason they're doing so might surprise you.
We've heard a lot about "aging in place," which results in remodeling a home in order to make it easier to live in as the homeowner ages. This includes things like walk-in showers and counter-height microwaves. You might expect this kind of remodeling to be a driver for baby boomers to remodel their homes now; however, the main reason they — and homeowners of all ages — have decided to renovate is actually because they finally have the time and money to do so.  
This may indicate that homeowners are finally comfortable enough with the economy and the housing market to invest in their homes. However, the rise of the housing market is also driving more people to renovate rather than buy a new home.
"Ongoing gains in home prices and sales are encouraging more homeowners to pursue larger-scale improvement projects this year compared to last with permitted projects climbing at a good pace," said Chris Herbert, Managing Director of the Joint Center. "On the strength of these gains, the level of annual spending for remodeling and repairs is expected to reach nearly $325 billion nationally by early next year."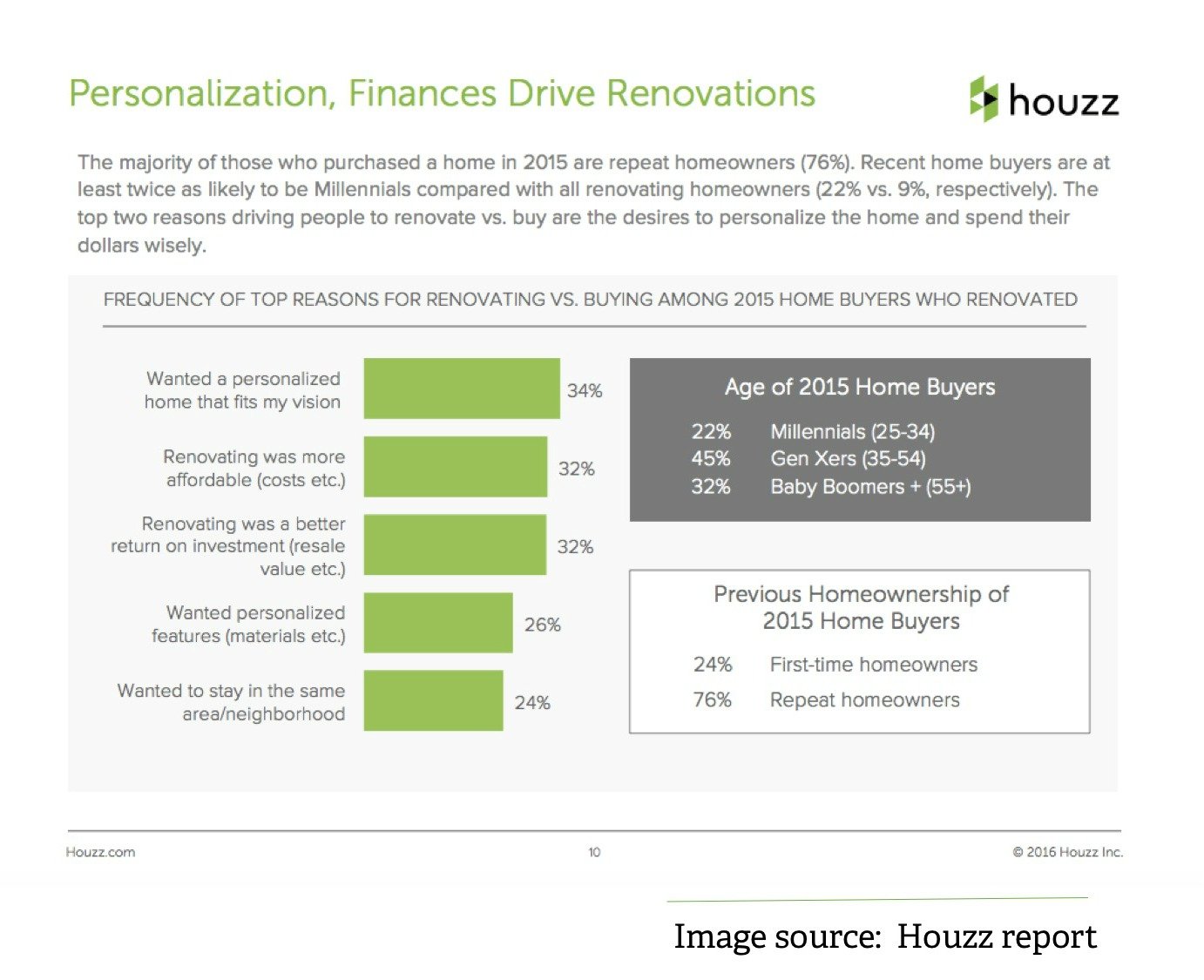 Homeowners realize they can usually get a better return on their investment if they update their home instead of buying new. According to the Houzz & Home survey, 32 percent of respondents believe that renovation is more affordable than buying a new home. Even more so, 34 percent chose to remodel instead of move so that they could personalize the home. This particularly applies to millennials, who are nearly twice as likely as boomers to find renovating more affordable or a better return on investment, according to the survey. And although they make up a smaller piece of the homeowner-pie, millennials are just as likely to renovate their homes as other generations.
In general, most homeowners are putting their renovation dollars into an updated kitchen, bathroom or living room, the survey notes.
More than half of Houzz homeowners plan to start or continue renovations in 2016, with more than 80 percent of them planning to hire a professional for their projects. Whether you're a homeowner or professional, there is plenty of work to be done this year!
For more information about the 2016 Houzz & Home report, visit http://info.houzz.com/HH2016.html.
---
Tell us About your Project
Our team of Radiant Experts is ready to help! Just tell us a little about yourself and your project to get started.
---
Did you find this post helpful?
Let us know by giving it some applause.
---
---