San Francisco, also known as the city by the bay, is appropriately situated on the tip of a peninsula surrounded by the Pacific Ocean and San Francisco Bay. It's renowned for its hilly landscape, year-round fog, iconic Golden Gate Bridge, cable cars and colorful Victorian houses. 
Because of its sharp topography and maritime influences, San Francisco exhibits a multitude of distinct microclimates. They also protect neighborhoods directly to their east from the foggy and sometimes very cold and windy conditions experienced in the Sunset District. The variable weather makes underfloor heating a smart addition to any remodeling project in the bay area.
Adding In-floor Heating to Any Room is Easy; From Kitchen to Bathroom to Basement and More
WarmlyYours has an electric floor heating solution for any room in your home and most any application. Here are some specific examples by room, including various flooring types.
Electric In-floor Heating= The Heart of the Kitchen
These San Francisco homeowners chose to upgrade their kitchen with beautiful tile flooring. It made sense to include in-floor heating in the remodeling project to bring their home up to date and appeal to potential homebuyers. Floor heating has frequently been cited as one of the top amenities homeowner's wished they had included when remodeling. Now not only will these homeowners be able to showcase their home with the newly remodeled kitchen, but a kitchen with a warm floor should help seal the deal.
Radiant Floor Heating Costs Per Square Foot of Comfort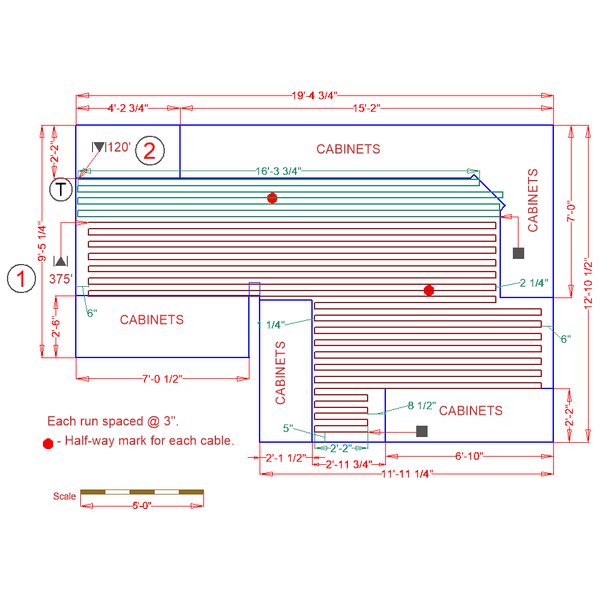 After carefully considering their options, they purchased a WarmlyYours TempZone™ cable floor heating system to bring additional warmth to their elegant but cold kitchen tile flooring. The cable was configured to cover approximately 124 square feet of floor space costing a total of $825.00, which amounts to just $6.67 per square foot. The cable floor heating option also allowed the installer flexibility to effectively fill the floor space with warm radiant heat. 

In addition to the low cost of the materials, the operating cost should also be taken into account. According to WarmlyYours' Operating Cost Calculator, which factors in the average kWh cost in San Francisco, it only costs about a $1.00 to heat this kitchen for eight hours every day, a small price to pay for the additional luxury it brings to one of the most used rooms in the home. An added selling point for the homebuyer is that this floor heating system can be a primary heat source for the room without incurring an additional heating bill.
What Does In-floor Heat Underneath Decorative Concrete Bathroom Flooring Cost?  
Adding in-floor heating to this medium master bathroom was an easy way for these homeowners to warm up the stylish but cold decorative concrete flooring in their newly remodeled bathroom, bringing additional warmth and comfort to their daily morning routine.
Cost per Square Foot, Plus Operating Cost, of Underfloor Heating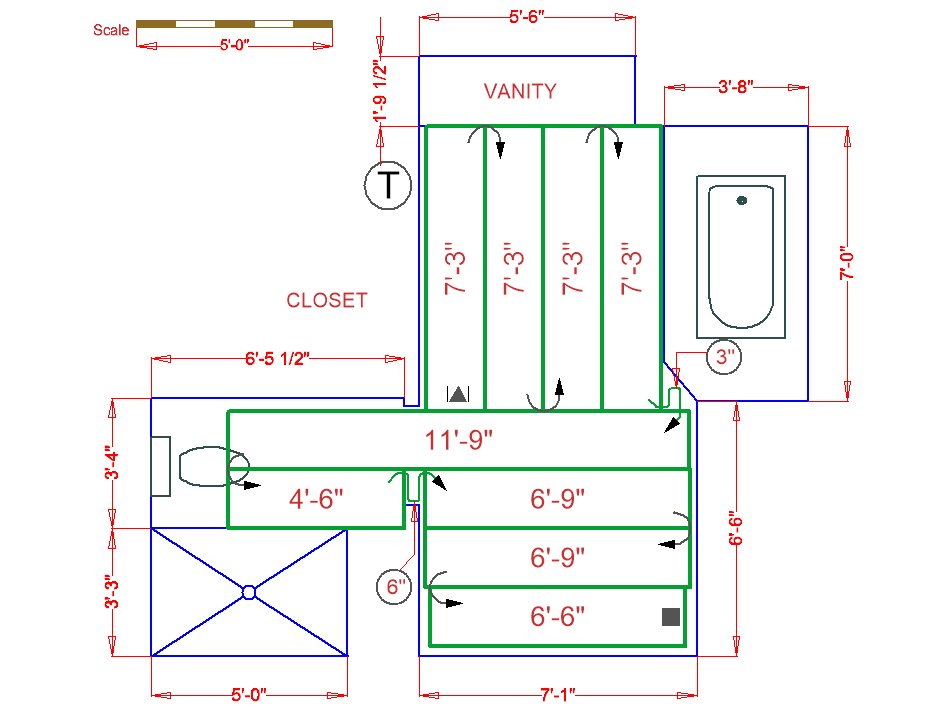 They chose to install a 1.5- by 66-foot TempZone™ Flex Roll in their 123-square-foot bathroom for $940.00 at a cost of less than $10.00 per square foot (see floor plan). Along with the material cost, the operating cost should also be factored into the remodeling budget. WarmlyYours' Operating Cost Calculator figures in the average kWh cost by zip code in San Francisco resulting in a daily operating cost of 12 cents to heat this bathroom for eight hours a day, a small price to pay for the comfort and luxury of a soothingly warm bathroom. A bonus is that this system can be a primary heat source eliminating the need for any additional heating expenses.
A Low Cost Radiantly Heated Laminate Basement Floor 
In this new homeowner's situation, adding underfloor heat to new laminate flooring in their basement was a very affordable way to bring the welcoming warmth and comfort of floor heating when they were entertaining.
In-floor Heating System with Cost per Square Foot of Warmth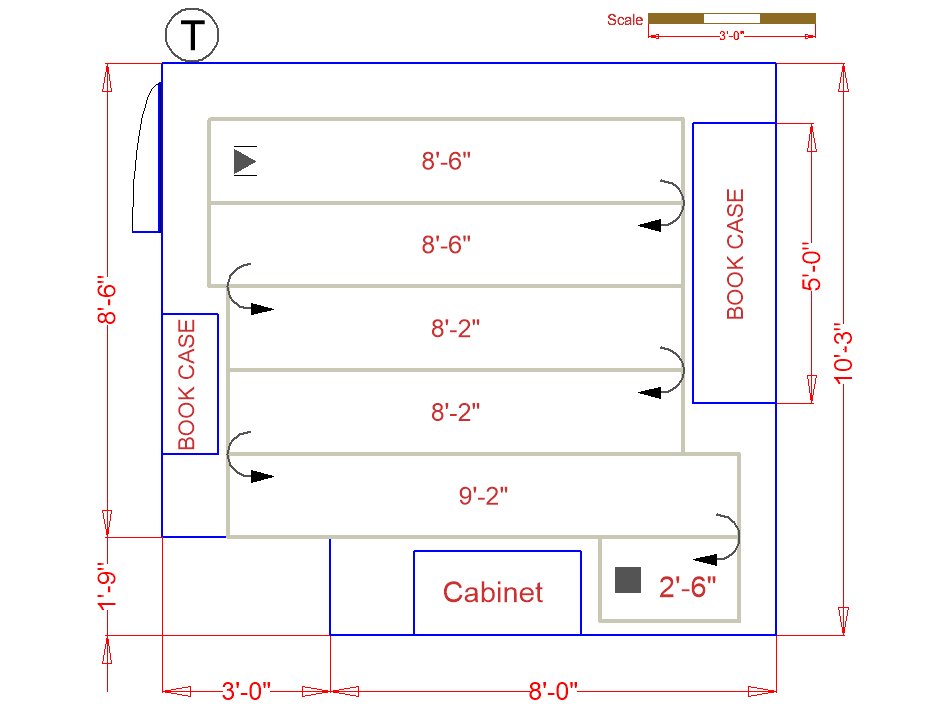 To incorporate radiant heat, they installed a 1.5- by 45-foot Environ™ Flex Roll in their 108-square-foot basement for $608.00 at a cost of just $9.01 per square foot (see floor plan). The cost to operate the system should also be considered when getting a quote. 
WarmlyYours' Operating Cost Calculator shows it only costs 37 cents per day to heat this basement for four hours a day and best of all, the annual operating cost for the heated floor is only $112.23 — a small price to pay for the comfort and luxury of a radiantly warm basement with soothing warm floors. An added benefit is that the radiant heating system can be the primary heat source for the room so there's no need for additional heating.
What's the Cost to Add In-floor Heat to a Living Room with Floating Wood Floors? 
This 221-square-foot room features a fireplace and floating wood floors, which conduct electric radiant heat throughout the room. Only one 1.5 by 90-foot Environ Flex Roll is required to heat this space. The roll is cut and turned to fill 135 square feet (or about 80 percent) of the room.
So exactly how much does it cost to heat these living room floors? This Environ™ Flex Roll costs $1,080, and an nTrust thermostat costs $139, bringing the total cost of floor-heating materials to $1,219. That's probably less than it cost to purchase your leather sectional sofa or even your big-screen TV!
Radiant Floor Heating System Cost Per Square Foot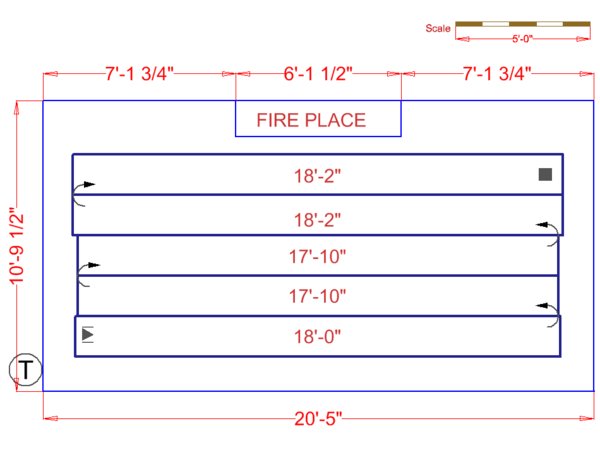 In terms of square footage, this Environ™ Flex Roll only costs $8 per square foot. Plus the nTrust non-programmable thermostat is ideal for high-traffic rooms like the living room because you usually want to keep the temperature at a consistent level throughout the day. You can just set it for your desired temperature and then sit back and relax.
Although this is a relatively inexpensive home remodeling investment, you might be wondering how much it costs to operate electric in-floor heating. Using the WarmlyYours Operating Cost Calculator, that factors in the size of the space and the average kWh cost in San Francisco by zip code, you'll find it costs about 62 cents a day to heat this living room. Annually, the operating costs will reach approximately $192.07, and the cost to heat the room during the coldest month of the year will be about $40.20. By installing electric floor heating in this living room, these residents will surely relish their warm nights relaxing indoors while the chilling wind swirls about outside.
The Cost of Underfloor Heat to Warm Cold Luxury Vinyl Tile Bedroom Floors
In this example, the resident was able to use electric heated floors as the primary heat source for a 124-square-foot bedroom. To heat up the luxury vinyl tile flooring, 432 feet of 120-volt TempZone™ Cable was spaced at 3-inch intervals emitting 12 watts per square foot of soothing warmth. This underfloor heating system allows the occupants to stay comfortable while they sleep, without having to pile on thick blankets.
Total Cost of Electric Floor Heating Including Operating Cost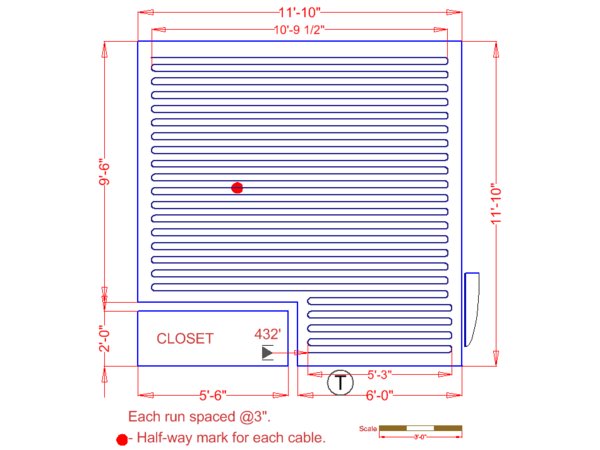 To break down the pricing, the heating cable itself costs $645, with an nSpire Touch programmable thermostat bringing the price up to $844. To heat this room for a day, the operating cost is only 71 cents, according to WarmlyYours' Operating Cost Calculator and based on the average kWh cost in San Francisco.
Using TempZone™ Cable is the most cost-effective way to radiantly heat this bedroom in addition to being the most flexible installation option. To install the cable underneath tile, stone or hardwood floors, the cable is affixed to plastic strips placed at either end of the room. These strips keep the heating cable secure as it's being installed and as the self-leveling underlayment is applied. While this method takes a little more time and effort than installing heating rolls or mats, it can adapt to any room size or shape for the lowest possible price.
Comparison Cost of TempZone Flex Rolls vs. Cable  
An alternative to heating with TempZone™ Cable is by substituting TempZone™ Flex Rolls instead. In the case of this floor plan, a 1.5- by 70-foot TempZone™ Flex Roll offers 93 percent coverage compared with TempZone™ Cable's 96 percent coverage. This Flex Roll is $300 more expensive than the cable at $945; however, it offers 15 watts per square foot compared with cable's 12 watts. This greater watt density delivers heat faster and stronger, which can be a welcome benefit during the wintertime.
A Wide Variety of Floor Heating Controls and Costs to Suit Any Budget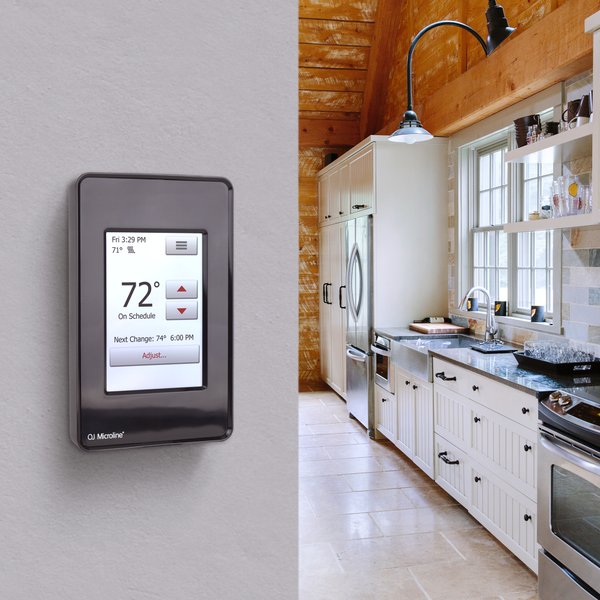 Designed to let you customize your comfort; the nSpiration series of thermostats from WarmlyYours was introduced with each control tailored to meet a specific customer need. From programmable models that will allow you to easily monitor and manage your home comfort remotely from any device to 'set it and forget it' models, all of our thermostats are designed to help you get the most out of your floor heating system. For large applications, or additional areas, you may have to pair your nSpiration Series thermostat with the nJoin power module.
nSpire Touch Wifi Programmable
Control your floor heating system with your smartphone or on the web. The nSpire Touch WiFi's ability to be controlled remotely accommodates busy schedules. It also offers huge energy savings without sacrificing comfort or convenience.  
nSpire Touch Programmable
Includes an integrated Install Wizard making it easy to set up a radiant heating system according to your preferences and schedule. The nSpire Touch gives you maximum control over your floor temperature with 4 programmable events for every day of the week.
nHance Programmable
You can easily set the nHance up for your exact needs and specifications with its intuitive user-interface. For consistent schedules, it will deliver a maximum level of comfort when you need it most, like during your morning routine, while still keeping your overall energy use to a minimum.
nTrust Non-Programmable
Delivers both ease and reliability with a sleek, minimalist design. Since there is no programming required for the nTrust dual voltage (120V/240V) control, you can just set it for your desired temperature and then sit back and relax.
Radiant Heat as the Primary Heat Source. What about your room?
It's easy to figure out. First, WarmlyYours's Heat Loss Calculator will ask about your desired room temperature, how well your room is sealed, and other criteria to determine how much heat is being lost. As a result, you'll find out if radiant floor heat can be your primary heat source.

In this instance, the kitchen is located above a heated room and the ceilings in the room are 9 feet. According to WarmlyYours's Heat Loss Calculator, a floor-heating system can be the primary heat source for this room so no additional heating will be necessary which is a considerable cost and energy savings. If the room had a fireplace or other poor sealing factors, radiant floor heat as a supplementary heat source might be recommended.

To see if radiant heat can be your room's primary heat source, explore WarmlyYours's Heat Loss Calculator for yourself! 
Get the Cost to Run Your In-floor Heating System with our Operating Cost Calculator 
Now that you've chosen a floor heating system and determined how you'll use it, it's time to find out how much it will cost to operate. The Operating Cost Calculator is an easy to use online tool that will ask the basic questions; product type, room size, local energy rate and daily usage in order to calculate the daily, monthly and annual operating cost of your system. It's easy to use.
Get a Quote with a Fast and Easy Radiant Heat Cost Calculator and Smart Plan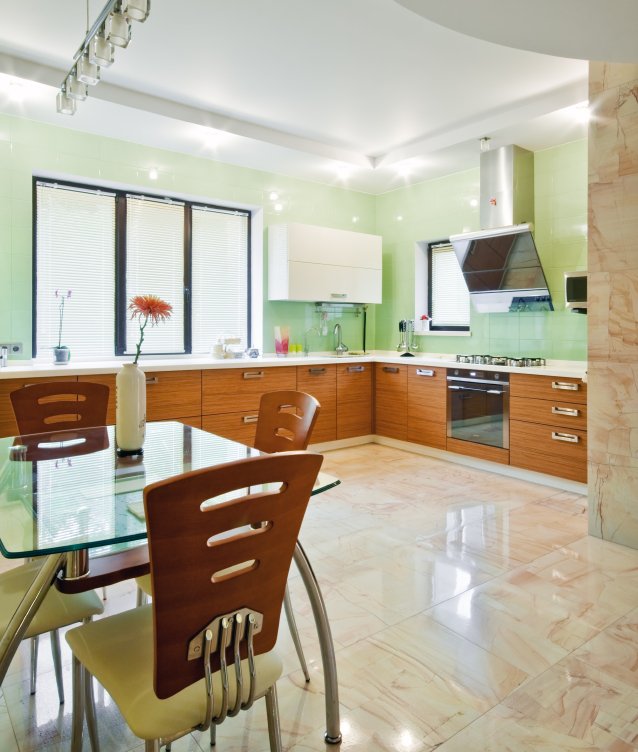 Simplify your project planning with free online tools. WarmlyYours Radiant Heat Cost Calculator and SmartPlan™ were created to ensure that you get your project off quickly and smoothly by providing the exact costs for each room you plan to heat along with an installation plan to see precisely how the underfloor heating will be laid out including electrical.
How to Get Started: Radiant Heat Cost Calculator
The easiest way to plan for adding electric floor heating to your next project is by using our Radiant Heat Cost Calculator. Just fill in some basic information about your project and the tool will provide a side-by-side comparison of the recommended products for your room along with each cost. This way you can plan and budget for your own project. Get started with your own quote right now by clicking here.   
Radiant Heating Smart Plan
Next upload a floor plan of your room to get a radiant heating smart plan. This gives you more in-depth detail than a radiant heat cost calculator because it shows exactly how the floor-heating system should be laid out including the electrical plan. This custom smart plan makes installation easier by helping our expert technical staff guide you through the complete installation process.
24/7 Radiant Floor Heating Installation Technical Support
WarmlyYours is committed to ensuring your project goes smoothly so when you are ready to install your system, our 24/7 technical support experts will be available to guide you every step of the way, whenever you need assistance.
Whether you live in the City by the Bay or another city that could benefit from relaxing radiant heat, WarmlyYours has a solution to perfectly meet your needs.
---
Tell us About your Project
Our team of Radiant Experts is ready to help! Just tell us a little about yourself and your project to get started.
---
Did you find this post helpful?
Let us know by giving it some applause.
---
---