If you're not living in your "forever home," you'll want to stay up to date on the latest kitchen trends because they could be the key to getting you the best price for your current home when it's time to sell.  A kitchen remodel often offers more than a 100 percent return on investment, according to a Lighter Side of Real Estate article. This isn't that surprising, considering that the kitchen is one of the most important rooms in a home. It's the one area that most homeowners refuse to compromise on.
If you'd like to sell your home in the near future, these are the trends you'll want to know about. First, you should identify which aspects of your kitchen are out of date by checking out the "What's Out" category. Then, find out how to update your room with the "What's In" list.  
What's Out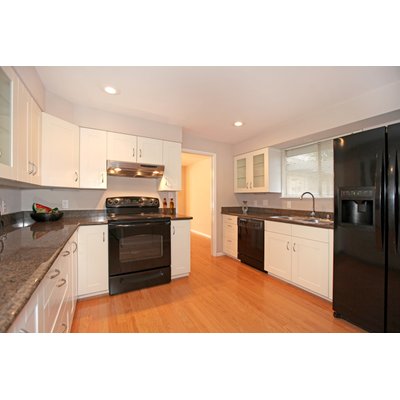 Short Cabinets
If your upper kitchen cabinets are limited by a soffit in the ceiling, they're likely too short. Short cabinets are a dead giveaway that a kitchen is outdated. Homeowners nowadays want more storage and taller cabinets that make the kitchen appear larger than it is.
Dark Wood and Paint
White and gray painted cabinets are at the height of popularity in kitchens, according to the National Kitchen & Bath Association (NKBA). Homeowners love the light and bright feeling that they add to the room. As a result, dark wood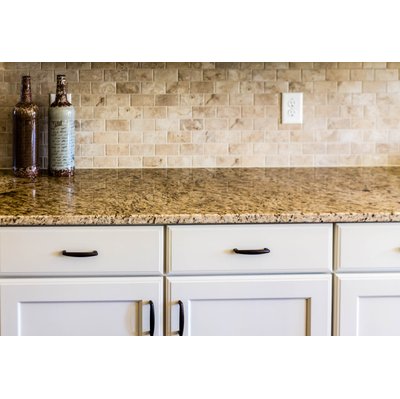 cabinetry and dark paint colors are not as desirable. An overly dark kitchen can look uninviting and small, which is never a good combination.
Granite
Finally, granite countertops are losing traction. They're still the second most-popular countertop material, so if you already have granite countertops you don't have to replace them just yet. However, quartz has taken over as the most popular material.
What's In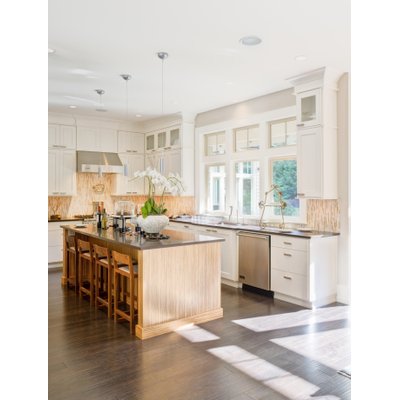 Two-toned Cabinets
Two-toned cabinets — or tuxedo cabinets — is one of the biggest kitchen trends this year. To pull it off, homeowners generally use a light color (like white or off-white) for the upper cabinets and a dark color (like gray or black) for the lower cabinets. You can also change up the color of your island cabinetry to complete the look. This is a great trend to follow for a remodel because, if your cabinets are still in good shape, you can opt to have them painted, which will save you money.
Quartz Countertops
As mentioned earlier, quartz is the new granite. Thanks to its upscale look, durability and ease of maintenance, more homeowners are opting for quartz countertops. Plus, the cost of quartz is about the same as granite, so you can get the trendiest material without having to spend more.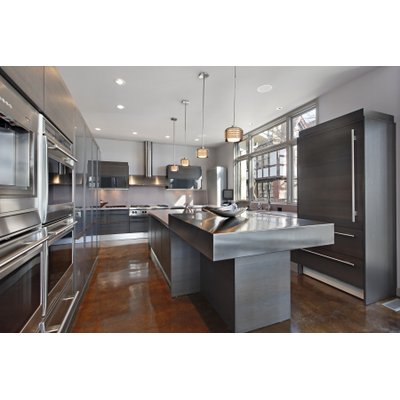 Hidden Appliances
Appliances that blend in with the kitchen cabinetry are another big trend. Refrigerators and dishwashers are the most popular appliances to disguise, but microwaves and other small appliances can also fit the bill. By hiding appliances behind cabinet facing, the kitchen gains a clean, uncluttered, relaxed look.
Technology
The final trend that's picking up steam is one that we see everywhere: technology. Thus, it's no surprise that it's making an appearance in the kitchen as well. Touchless faucets, Internet-connected devices and docking stations are all gaining traction.
"[For instance,] homeowners want power strips under cabinets to eliminate outlets in the backsplash," one NKBA professional explained. 
General tech integration is also trending upward. Approximately one-third of NKBA professionals included wiring and pathways for future tech integration in kitchens.
With these trends in mind, you can make educated choices when it's time to remodel before you put your house up for sale.
Do you have any trends to add to this list? Let us know on Twitter, Facebook or Instagram! 
---
Tell us About your Project
Our team of Radiant Experts is ready to help! Just tell us a little about yourself and your project to get started.
---
Did you find this post helpful?
Let us know by giving it some applause.
---
---