In need of a home makeover, yet don't have the money to do a complete remodel? You're in luck! We have collected a list of 5 fixes that will not only improve the look and appeal of your home but also won't drain your wallet!
Kitchen: With the kitchen considered the most central and significant room in your home, it is important for it to radiate warmth, style, and luxury. Potential homebuyers are greatly influenced by the attractiveness and efficiency of a kitchen, so it's not a bad idea to update the appliances as well.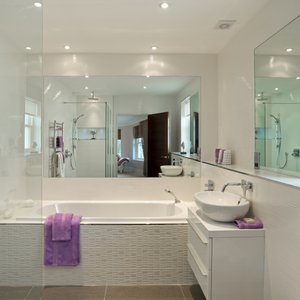 With a small amount of money, you can update your cabinet door handles, lighting fixtures, and also your kitchen faucet. Consider replacing these features with ones that will be more energy efficient and still consistent with the style of your kitchen.
Bathroom: Bathrooms are another important room to update. Like the kitchen, it can also be improved without draining your wallet. Simple replacements of an existing toilet or bathroom sink can make a significant difference to the style and appearance of your bathroom. Adding a well-crafted furnishing such as a WarmlyYours Towel Warmer can be the key addition to creating that tranquil spa atmosphere you've been dreaming of. Re-grouting a dingy-looking tub or replacing chipped tiles will clean up the look of your bathroom with little cost. Yet for a more complete cover-up, you can use a prefabricated tub and shower surround for a less expensive alternative to refinishing an old tub.
Carpet: Carpeting can make or break the look of your home. If you have carpet that is dirty and worn looking – maybe even a few pet stains – then it is time to clean or update. An inexpensive solution to a dirty carpet is having it professionally cleaned. If you have rugs that are in good shape and are neutral colors, then having them cleaned once in a while will dramatically improve the look of your home. If you've decided that your carpet is at the end of its life and you are replacing it with new carpet, you may want to consider installing our Environ Radiant Floor Heating System. Not only will this increase the value of your home, but it will also reduce energy costs, as well as provide a healthier environment. Read more on why our Radiant Floor Heating Systems are a healthy heat choice here: Healthy Heat
Lighting: A simple change in light bulbs can significantly change the atmosphere of your home and save on your energy bill. Installing LED light bulbs instead of incandescent will create a brighter and appealing look in your home, while providing light for a longer time span than incandescent.
Curb Appeal: We have all heard that the first impression is what really counts. And the exterior of your home is the first aspect that people see when coming to your house. A nicely mowed lawn, a few well-placed shrubs and a clean walkway make a great first impression. Also, having a WarmlyYours Snow Melting System will ensure a clean walkway, free of snow and ice for your visitors to be safely welcomed in the winter.
---
Tell us About your Project
Our team of Radiant Experts is ready to help! Just tell us a little about yourself and your project to get started.
---
Did you find this post helpful?
Let us know by giving it some applause.
---
---