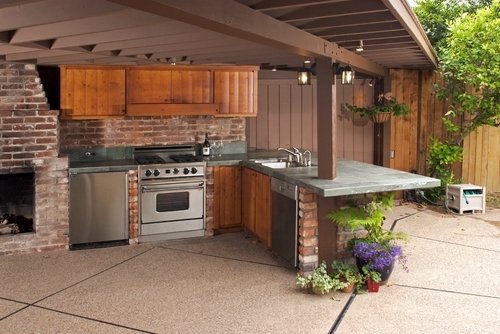 This is the time of year when warm weather is beckoning and invitations are going out to guests for summertime gatherings. But getting outdoor living spaces as well as the house in shape for visitors means giving your property a thorough sprucing up.
Start with a Walk Through
To make sure that parts of the home and patio that guests are most likely to see are ready to receive them, homeowners should do a walk through before visitors arrive, according to the hosts of the DIY Network's show, "Brothers on Call."
TV home repair experts Jon and Terry Wittmaack told the Scripps Howard News Service that they would start in the bathroom. Their reasoning is that with additional people around, the plumbing may become overloaded if there is an undetected leak. Checking for leaks and drainage problems ahead of time may uncover something that's amiss.
Overnight guests will enjoy being treated to warm towels straight from heated towel racks. And having them step out of a shower onto a warm floor rather than cold tile is another comfort they will greatly appreciate. Radiant floor heating provides this benefit, regardless of what the weather is like outside.
Avoiding Accidents
Before cooking big outside meals, look for grease build-up under the hood of the stove in an outdoor kitchen and on gas grills where a fire could occur. Clean them in advance to avoid dangerous mishaps.
With more people in the house, clear away as much clutter as possible, particularly near walkways and stairs, where someone may trip. It also improves the look of any room to remove unnecessary belongings that can mar the decor.
Finishing Touches
A full paint job isn't necessary to welcome the new season, but this is a good time to walk around the house to see if interiors as well as painted parts of patios and decks need some freshening. Some dabs of paint on scraped woodwork freshens the look of a room and a touch-up here and there outdoors might be all that's needed to make a home ready for a party.
Now, with cleaning, fixing and some preparatory cooking finished, Houzz.com recommends setting up tables, finding extra chairs and tweaking one's home design to get ready for entertaining. Adding pillows for color, lanterns to light up pathways and a cozy fire pit to ward off a night chill are great finishing touches.
---
Tell us About your Project
Our team of Radiant Experts is ready to help! Just tell us a little about yourself and your project to get started.
---
Did you find this post helpful?
Let us know by giving it some applause.
---
---