Can't believe it but its that time of the year again and people have been anticipating the holiday season, as usual. Malls and stores are decorated with holiday cheer, playing Christmas music that warms our hearts and puts us in a joyful mood.
The staff here at WarmlyYours is already thinking about holiday gifts, which is why we are having a Black Friday Blowout Sale and a Cyber Monday Sale that you won't be able to resist, it's a great deal!
Give someone the on your list a radiant gift of a WarmlyYours Infinity Plug-In Towel Warmer or a Small Under Desk Heater. Be radiant during this holiday season.
When WarmlyYours has a sale, it's all about giving the best value to our customers. Our strategy is very simple: Either go big or go home!
You should already know that we're going big!

Don't just give a set of bath towels, give an Infinity Towel Warmer (plug-in) to that special someone on your list. It can turn an ordinary bathroom into something like a bathroom in a luxury hotel.
Just think during those cold winter days no more of stepping out of a warm shower only to wrap up in a cold, damp towel, but instead they will have the luxury of wrapping themselves in a warm and cozy towel or bathrobe all year long.
We normally sell the Infinity Towel Warmer (plug-in) for $299, but for ONE DAY ONLY, it's just $194.35; that's a huge savings, a 35% discount. There wont be a better time to take advantage of this great deal.
You can give your friend or loved one the opportunity to enjoy this unique gift to turn their bathroom from ordinary to luxurious. And, there's no reason why you can't get yourself a holiday gift too, right?
Still not enough, hold on we have more! Check out our Cyber Monday Sale on November 26 (U.S. ONLY)!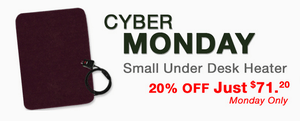 We acknowledge that everyone is on a budget, but that doesn't mean that shopping can only be done at the Dollar General! We are sure that everyone has gotten gifts that they weren't too excited about before. And, WarmlyYours has you covered this year. Our Under Desk Heater is an affordable gift that so many people on your list would highly appreciate.
Give a gift that would practical for those on your list that will work to heat a drafty and chilly work or home office, our Under Desk Heater fits under a desk and perfectly under the tree.
For just ONE DAY ONLY, WarmlyYours (small) Under Desk Heater is just $71.20, normally sold for $89.00 – a 20% savings. At this price, you can pick up a few and gift one to your Secret Santa too!
Try being radiant and give the gift of warmth this year. We guarantee that people will ask you how you came up with such a great idea!