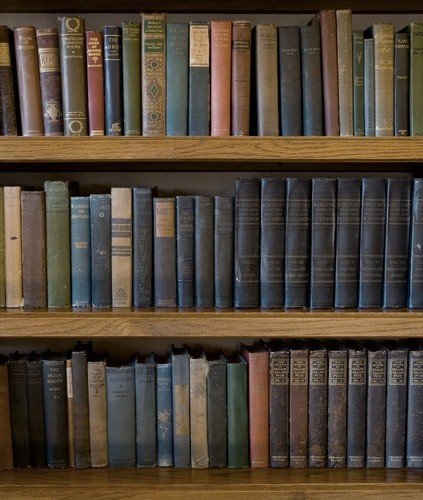 Some of us like to indulge in a little reading during our meals alone, but when you're hosting a dinner party or enjoying food with others, you'll want to put that volume back on the shelf. But what if the shelf were only an arm's reach away? We all know how much magic is contained within a book, but don't neglect the beauty that books have as aesthetic features! Instead of going the traditional home library route, why not create a clever mashup with that one space in need of a fresh theme? The dining room.
The shelving
There's no way you can have a dining room library without some expert shelving. The first choice you'll need to make is whether you want to do more major renovations for some stylish recessed shelving. If you can build shelving into the wall itself it may help to give the space a more natural feel. But you can also bring in a few standalone bookshelves, so long as they match your décor and color scheme.
The books
While what kind of books you decorate your library with is up to you - although a special reserved shelf for cookbooks and recipe volumes would be a great idea, and you'll want to arrange them attractively. Sure, there's something to be said for well-thumbed stacks and their orderly disarray, but keeping your library organized means keeping it stylish. Arrange by author, cover color, topic or even size!
The table
Don't settle on just any table in your dining room library. Choose something that's elegant enough to enjoy dinner parties at but also fits with the room's themes and fixtures. Consider repurposing an old library's long table for your space - you can refinish it yourself with a little DIY initiative.
The decor
How much you of your décor you want to devote to the library theme and how much you'd like to reserve for a dining room ambiance is up to you, but a few bulbs in wall sconces and a small chandelier would make for a stylish ambiance that'd walk the line between your themes.
The coziness
Both a library and a dining room should value comfort highly, so while you're renovating, consider installing radiant floor heating underfoot. A radiant heating system can fit snugly under your dining room library's floorboards and will keep you and your family or guests cozy through the chilliest weather.
---
Tell us About your Project
Our team of Radiant Experts is ready to help! Just tell us a little about yourself and your project to get started.
---
Did you find this post helpful?
Let us know by giving it some applause.
---
---