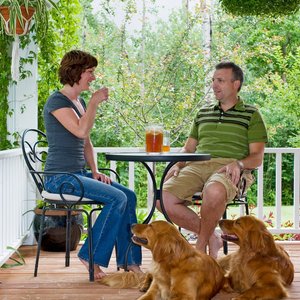 Porches add style and versatile living space, as well as functional transition in and out of the home. With the right design, a porch not only adds distinctive character, but can also contribute to the utility and safety of the home. In this two-part series WarmlyYours Radiant looks at key design features and benefits of porches.
In Part 1 of this two-part series, we looked at three key considerations for creating a successful porch design. Today we examine the benefits a well-designed porch can provide: increased curb appeal, universal accessibility, and enhanced safety for your family.
1. Curb Appeal
Improvements to the front entrance of your home, which includes porches, can dramatically increase curb appeal. "When thinking of ways to increase your home's curb appeal one of the first things that comes to mind is your front porch. A great entryway can impress and welcome guests into your home without saying a word and a front porch is a terrific place to spend cozy, peaceful evenings socializing," says Lauren Busser, editorial director of Direct from the Designers.
A new front porch or portico addition can add major appeal to even the smallest of homes, says Marshall Reu, owner of Archadeck of Central SC. "A simple entryway facade can be remodeled into a snug porch with a welcoming portico; or by expanding your porch into the yard you can increase your home's size and style. When you want your home to stand out, the entrance is the place to start," he says.
A front porch clearly defines the home's entrance, which in turn boosts curb appeal, observes Kelly Roberson in "Curb Appeal for Front Porches." "Because your front porch is the public face of your home, seating can encourage guests to stay outside and engage with neighbors and streetside activity, too," she adds.
Front porches are desirable in today's market, says Matt Wolfe, ReMax Results, Anoka, Minn., adding "I do a fair amount of new construction sales…and we often try to figure out a way to incorporate a front porch."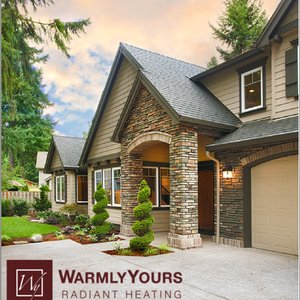 2. Accessibility
For safety and accessibility, thoughtfully consider the differences between elevated front porches and the ease of accessibility into the house via a no-step entrance, cautions The Center for Universal Design.
"Step-free entrances benefit most people under a wide variety of circumstances, e.g., moving furniture, rolling luggage, or pushing a stroller. Many health conditions and disabilities make using stairs difficult or impossible. Balance and stamina limitations or the use of a wheelchair can make a step-free route of travel essential to any home. The demographic shift toward an aging and more diverse population makes such a universal feature more important than ever," The Center for Universal Design shares.
Another suggestion? "Consider porch or stoop areas that are a minimum of five feet by five feet. A porch of this size will allow a person using a walker, cane, or wheelchair room to maneuver while opening the entrance door," details the U.S. Department of Housing and Urban Development in its publication "Making Homes More Comfortable and Accessible."
3. Safety
To help prevent ice dams or excessive icicles, design your porch roof to account for melting snow.
"Ice and snow tend to more readily accumulate on low slope and flat roofs over porches, lanais or parts of a home that are next to a taller section of the house, especially during high winds," cautions the Insurance Institute for Business & Home Safety (IBHS).
To avoid worrying about how much weight in snow your roof can hold or determining how to eliminate ice dams on your porch roof later on, consider installing a deicing system now. Roof and gutter deicing systems from WarmlyYours melt snow and ice and channel water safely away before it can cause unsafe walking conditions and well as damage to your home. Earlier this year WarmlyYours expanded its Ice Shield Roof and Gutter Deicing System offerings.
"We have different controls at different price points to fit a customer's budget. Many systems can be expanded later down the road. Homeowners can put in as much as they can afford now and then add to it at a later date," said Scott Rosenbaum, Manager, Technical Support and Engineering at WarmlyYours.
By creating a channel for water to escape, roof and gutter deicing systems eliminate potential water damage caused by ice dams that can lead to costly home repairs.
If you had giant icicles hanging from your gutters last winter, you may have some damage already, Rosenbaum says. "Many people who have ice damming problems are not aware of it," he adds. Icicles are an indicator that the gutters are full of ice, leaving melting ice and water with nowhere to go. Trapped, the water travels under shingles and even into unprotected roofs and attics, which can create issues including structural damage or the growth of mold and mildew.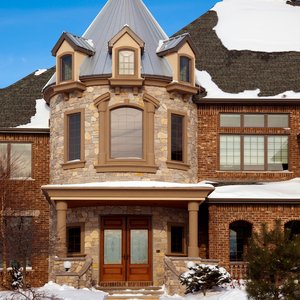 You can read about a deicing system at work in in "WarmlyYours Deicing System Provides Amputee Troops Safety, Support." WarmlyYours donated snow melting and roof and gutter deicing systems to Tee Shirts 4 Troops to create greater safety for returning veteran amputees. The nonprofit operates a rehabilitation center with steps notorious for building up ice and snow from the roof above. The staff previously had to worry about constantly monitoring and tending to the front steps to keep them clear, so veterans could safely travel in and out of the building during the winter.
"The deicing system and snow melting system on the front steps give us peace of mind. We never know who and when and what is coming to the door in the form of the wounded—whether they have all of their limbs or none. If you are missing a leg you can't feel the snow, and if you are a double amputee, you can literally ski out the door without those systems in place," founder Jim Peters shared. "It was a huge assist for us and the amputees."
That is just one example of how deicing systems can be added to retrofitted or newly constructed porch roofs to increase safety and help prevent winter slips and falls.
Another safety tip? Plan for railings along the porch and any steps.
"Your local building codes may not require railings, but in addition to adding immense curb appeal they also protect your family and visitors. There are a multitude of styles and materials available to maximize your home's curb appeal and satisfy any safety requirements," advices the website Front Porch Ideas and More."
When the remodeling work is complete, that perfect view and peace of mind from the added safety will create a serene outdoor space to sip your next tall glass of iced tea—the only kind of ice to have on your porch.
Sources:
http://www.ncsu.edu/ncsu/design/cud/pubs_p/docs/Stepless_Entrances.pdf
http://archadeckofcentralsouthcarolina.com/2014/08/06/a-great-front-porch-can-add-value-and-curb-appeal-to-your-central-sc-home/
---
Tell us About your Project
Our team of Radiant Experts is ready to help! Just tell us a little about yourself and your project to get started.
---
Did you find this post helpful?
Let us know by giving it some applause.
---
---