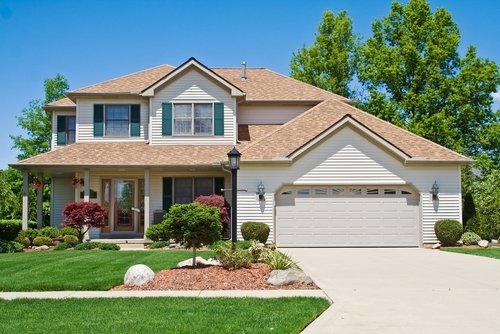 With all the wild weather of the past year, many homeowners  have resolved to get their home improvements taken care of so they won't  be caught off guard when big storms hit next winter. Although sunny, warm days may seem eons away from blistering arctic winds and precipitation, summer is actually a good time to repair or replace driveways that get chipped away with every succeeding storm.
Replacing a driveway or walking path is also a good time to install outdoor heating. Having radiant heat below those surfaces melts ice and snow away at the touch of a switch. In addition to having those areas cleared without back-breaking shoveling, driveway heating has outdoor surfaces ready to walk and ride on whenever the homeowner chooses.
How it Works
When temperatures drop, the radiant tubing is filled with heated water and antifreeze to melt snow and ice that's accumulated on the outdoor surface. The homeowner starts the system by flipping an indoor electrical switch that initiates the heating process.
Usually, a radiant heating system is installed when a driveway or walk is replaced because that's the most efficient and effective way to do it. However, in some cases tubing can be installed under an existing surface without fully replacing it. But HomeAdvisor.com warns consumers that these partial jobs often carry only a limited warranty.
A number of factors influence the installation and may effect the work schedule for the project. Homeowners should take into account the proximity of landscaping, particularly large trees and mature shrubs, to the drive or walkway. Soil compaction is often significant under these areas and needs to be dealt with as part of the building process.
Extend Outdoor Heating
To keep the weight of snow and ice from doing damage to outdoor surfaces, some homeowners find it prudent to install radiant heat under areas that aren't necessarily used during winter, but may get more than their share of wear from bad weather conditions.
These include decks and patios that don't have an overhanging porch, pergola or other protective cover. One way to take care of such sections is to hook the radiant heating system into the home's furnace so that a mechanism activates the outdoor melting when it detects snowfall.
For people who take their vacations in the winter, this is a valuable feature. Not only will piles of snow be removed when they return, but having a driveway and adjacent areas cleared of snow and ice provides the appearance of homeowners are in their dwellings. Would-be burglars are less likely to break in to a home that looks occupied.
Additional concerns
Even when people have decided to install radiant heat, there may be some adjacent sections such as stairways that aren't included in the upgrade. In these areas, homeowners will have to remove snow and ice the old-fashioned way. It's best to clear any surface accumulation, however slight, as soon as possible because there's a greater chance of it sticking and turning into patches of ice later.
Kansas State University Extension Service warns consumers to not use de-icing agents because the chemicals they contain can lead to permanent damage. They sometimes cause cracks to develop in surfaces, but more importantly, they can harm pets and nearby vegetation. Some, like calcium chloride, also leave a slippery, slimy residue behind on surfaces that include concrete.
Since ice will reform in damp areas when the temperatures drop, the effect of de-icing is lost anyway. In such cases, it's best to use sand where slippage could occur because it provides traction.
---
Tell us About your Project
Our team of Radiant Experts is ready to help! Just tell us a little about yourself and your project to get started.
---
Did you find this post helpful?
Let us know by giving it some applause.
---
---