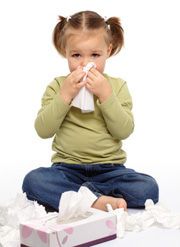 Ah…ah…achoo!! The Asthma and Allergy Foundation of America estimates that 50 million Americans suffer from many kinds of allergies. That translates to 1 in 5 people in the United States whose bodies overreact to allergens, and depending on the allergy, the reaction can range from the sneezy sniffles to serious chronic respiratory illnesses. So for many people, allergies are serious business.
Indoor allergies are some of the most common kind because, well, unless you live in a Swiss Family Robinson tree house, you're most likely going to come into contact with indoor allergens. So if you have these sensitivities then any airborne allergens, such as, pet dander, dust mites, and mold spores, will wreak havoc on your respiratory system. One of the primary ways that these allergens become airborne is through forced-air heating systems. If only there was a way to provide an indoor heat source that reduced these flying irritants by radiating warmth instead of blowing it.
WarmlyYours to the rescue!
WarmlyYours provides many solutions that utilize radiant heat, which is a way of transferring heat from a surface instead of circulating the air, therefore reducing airborne annoyances. Radiant heat is a fantastic way to maintain a warm climate because of the lack of energy lost through ducts due to no air circulation. Our heating solution comes in the form of electric radiant floor heating systems custom designed to fit right underneath any floor covering material. The radiant heat will literally heat each room from the ground up, evenly distributing warmth into the space.
And by the way, in case you missed the previous announcements, now through September 5, 2011, you can take advantage of WarmlyYours Annual Summer Sale by saving up to 25% off of our electric radiant floor heating systems: TempZone™, Environ II™, and ValueMat™.
Though incredibly helpful in maintaining a comfortably toasty climate indoors, a floor heating system isn't the only radiant heat solution WarmlyYours offers. Perhaps you don't foresee any remodeling projects on the horizon and you're looking for a heating system that is minimally invasive. Well, then how about some healthy heat wrapped in a piece of art? Our new LAVA® radiant infrared glass panels are both stylish and helpful for allergy sufferers since no air circulation occurs. The infrared heating system emits rays that are gently and safely absorbed in your home; kind of like how the sun's rays are absorbed to heat the earth. And, because infrared heat is absorbed into the muscle tissue, it will improve joint and muscle flexibility and reduce swelling - promoting proper body circulation.
So put down the Kleenex and pick up the phone and give us a call (800) 875.5285 to order an allergy reducer that you can't buy at the drugstore.
For more research and information on the health benefits of radiant heat, view this article on Basement Remodeler's website featuring qualified research about the many health benefits of radiant heat for indoor allergies for more insight, BasementRemodeler.com/dustmites.
Like this post? Subscribe for regular updates
Make sure you don't miss out on the latest news in radiant heating by subscribing to our blog. We'll send you an email with links to the newest posts from WarmlyYours.
We won't share your information and you can unsubscribe at any time with a single click.
---
Did you find this post helpful?
Let us know by giving it some applause.
---
---