Whether you're building a new home, considering a renovation or are just looking for some ideas on how to make your house more comfortable all year long, you may want to consider radiant heat.
These infloor heating systems have many benefits - both for personal comfort and the environment. For instance, radiant heat can help reduce energy bills by as much as 15 to 20 percent. According to the U.S. Department of Energy, these heating systems eliminate air loss through ducts, making them more efficient than traditional forced air heating systems.
When radiant heat is used as the primary heating source, it's also easier to maintain temperature levels. Additionally, for every degree users lower their thermostats, they'll save 5 percent off their current heating bill. Radiant heat systems also don't require the use of fossil fuels to operate.
In-floor heat may also help users breathe easier, as it has been shown to reduce allergens in the air by 80 percent when compared with traditional forced air systems. This is because it doesn't disturb dust by forcing warm air into a space. Infloor heat also helps eliminate dry air, which is common in the cold winter months.
As many as 97 percent of individuals who have switched to radiant heat from a traditional unit say they think it is more comfortable, regardless of what room it's located in.
Respondents to a survey also reported that common areas for installation include the bathroom (39 percent), basement (20 percent), kitchen (17 percent) and bedroom (9 percent). Fifteen percent of these respondents said they installed this type of heating in their entire home.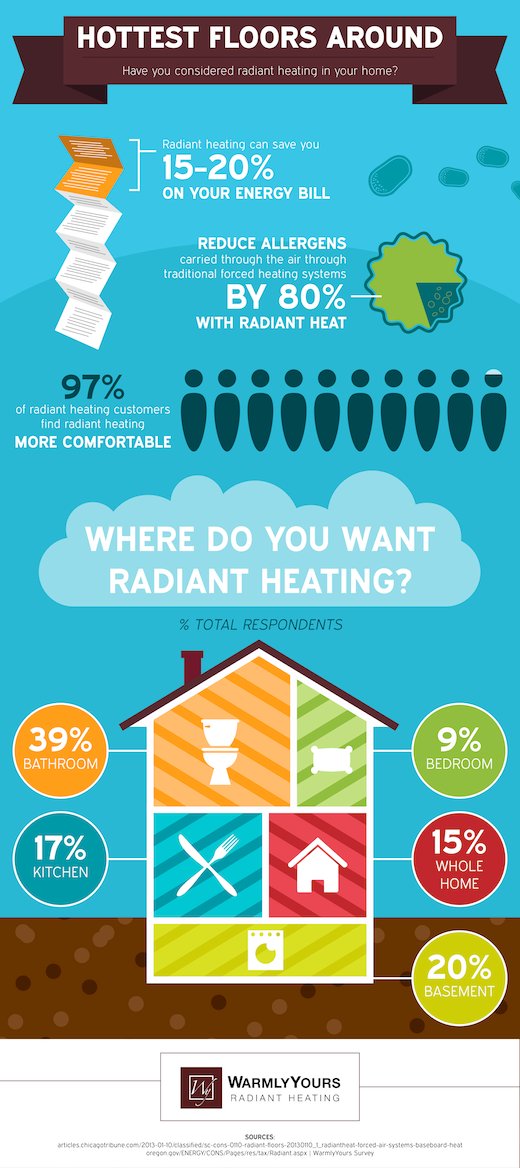 ---
Tell us About your Project
Our team of Radiant Experts is ready to help! Just tell us a little about yourself and your project to get started.
---
Did you find this post helpful?
Let us know by giving it some applause.
---
---