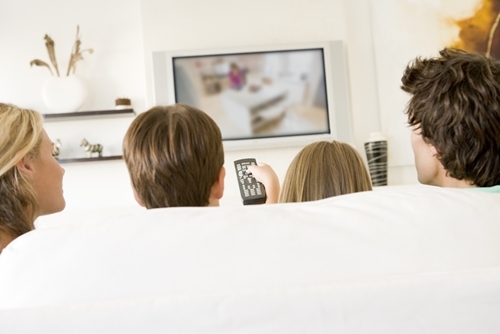 Family rooms satisfy their multi-functional theme best by balancing the needs of every family member. To achieve that goal, make sure there's good lighting, kid-friendly furnishings and "zoned" areas for different activities.
Most often, family rooms are located adjacent to the kitchen - the hub of the household - or in a finished basement. They frequently double as a great room used for entertaining as well as an activity center and a place for adults to relax once the kids are tucked in for the night.
Setting Up Seating
For homeowners who entertain a lot, a multi-purpose room is an ideal space where guests can circulate and socialize with different groups. The room design may include different clusters of seating to allow one-on-one conversations as well as space for a larger group. A variety of seating options may include sofas, a small table with dining chairs and niche settings with soft seating and end tables.
In a large room, home decorators shouldn't skimp on the scale of their furniture pieces. Leaving large gaps in a basement family room that stretches across a long expanse of the home will make the room seem cavernous and uninviting, while big furnishings will command attention and create an unexpected coziness for a space so large.
Light and Warm
Bringing in natural light throughout the room without compromising privacy can be achieved with a variety of window treatments that fit different functions. Window shades are often better at reducing glare on large-screen TVs and computers, while softer window treatments can be coordinated with the overall decorating scheme.
Installing radiant floor heating in a family room ensures a comfortably warmed gathering place with just the flick of an electric switch. There is no duct system required, and radiant heat works well with a variety of flooring types. 
Unity in Design
According to the Boston Globe magazine, furniture pieces in the same style can be spread throughout the room or homeowners can have a mix of furnishings that are pulled together in other ways.
"Unify the space with color, pattern, and texture," Boston interior designer Eric Roseff told the Globe. "Perhaps there are one or two accent colors that are consistent throughout the space, or you can go for an all-over monochromatic look or playfully mix patterns."
Once the uses of a family room are established, tying in art work and mementos can make it a room that is welcoming to both parents and youngsters as well as their guests.
Like this post? Subscribe for regular updates
Make sure you don't miss out on the latest news in radiant heating by subscribing to our blog. We'll send you an email with links to the newest posts from WarmlyYours.
We won't share your information and you can unsubscribe at any time with a single click.
---
Did you find this post helpful?
Let us know by giving it some applause.
---
---