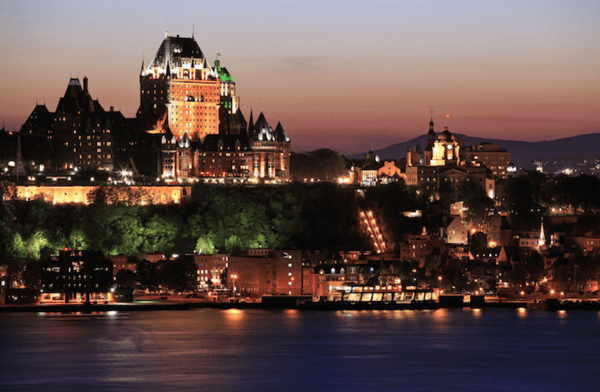 Founded by a French explorer and diplomat in 1608, Quebec City is one of the oldest European settlements in North America. And for more than 400 years, Quebec City has been the capital of Quebec. Located in the Saint Lawrence River valley, on the north bank of the Saint Lawrence River near where it's joined by the St. Charles River, the region is low-lying and flat, containing rich, arable soil, making Quebec City the most fertile area in the province.
Though the city may be fertile, its winters are typically cold, windy and snowy with average high temperatures between 18 and 23 degrees Fahrenheit and lows between 0 and 9 degrees Fahrenheit. During the long winter, the ground is snow-covered from approximately December to April, leaving residents looking for ways to stay comfortably warm despite the winter chill.

According to QuebecFirst.com, real estate prices are among the lowest in Canada with the median selling price for a home in Quebec City at $232,800. Whether you are staying put or planning to sell your home, adding radiant heat is an ideal solution — either for your own comfort or for appealing to potential buyers. Statistics show the two rooms that homebuyers care most about are kitchens and bathrooms. And it's no coincidence that these are the two most popular rooms for radiant heat.

Adding Radiant Heating to a Kitchen
This Quebec City homeowner decided to update her kitchen with beautiful tile flooring. Since the winters are long and tile is cold underfoot, it made sense to add in-floor heating to her remodeling project (refer to floor plan).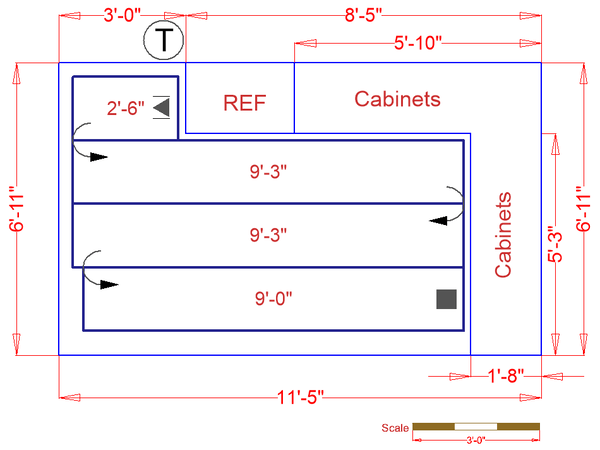 So, she purchased a WarmlyYours TempZone™ Flex Roll for approximately $500 to keep her kitchen warm and cozy during the winter months.

The 1.5- by 30-foot Flex Roll covers 45 square feet of floor space and cost $517.50, which amounts to just $11.50 per square foot. The TempZone™ Flex Roll allowed the installer the flexibility to cut and turn the roll to effectively fill the floor space while providing 15 watts per square foot of warm radiant heat.

The radiant heating system is also very economical to operate. The average kWh cost in Quebec City is $8.12. According to WarmlyYours' Energy Use Calculator, it only costs 21 cents a day to heat this kitchen for eight hours every day. Using WarmlyYours' Heat Loss Calculator, the highest monthly electric bill for this room would amount to only $9.38 during the coldest month of the year. And, annually, that comes out to just $50.81.

The Heat Loss Calculator tool also factors in the desired room temperature, sealing factor, surrounding rooms and insulation factors to determine whether radiant heat can be the sole source of heat for the room. In this case, the system can be the primary heat source — an added benefit so there won't be any additional heating bills for this kitchen.

Getting a Quote is Easy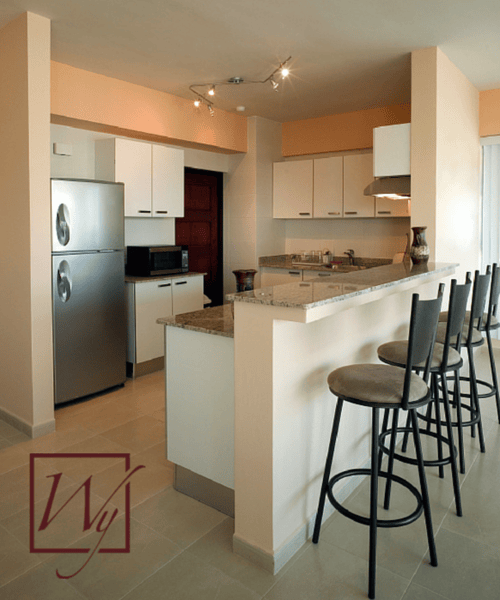 The best place to get started with your project is to check out WarmlyYours' Instant Quote tool. It will figure out precisely how much it would cost to add radiant in-floor heating to your kitchen. Just type in your project information and the tool will show you the recommended products for your room along with how much they will cost.

The tool also gives you the added option of a custom installation plan by simply uploading a floor plan of your room. This plan offers more detail than the Instant Quote, illustrating exactly how the floor-heating system should be laid out for optimal performance including the electrical plan. This detailed information makes installation even easier, allowing our technical experts to better guide you through the installation process.

If you have any questions during installation, you can reach our knowledgeable technical support team at your convenience 24 hours a day, 7 days a week at 800-875-5285.

Visit www.warmlyyours.com, where we are sure to have a radiant solution for you.

Sources:

www.quebecfirst.com/en/living-in-quebec-cit...
www.trulia.com/blog/2-most-important-rooms-...
Links:

Instant Quote: www.warmlyyours.com/my_projects/new
Energy Use Calculator: www.warmlyyours.com/tools/cost-calculators
Heat Loss Calculator: www.warmlyyours.com/tools/heatloss-calculato...
Related articles:

Chicago: A Radiant Kind of Town

Radiant Heat: The 'Bridge' to Heating Efficiency in Pittsburgh

Edmonton, A Capital Place for Radiant Heat

---