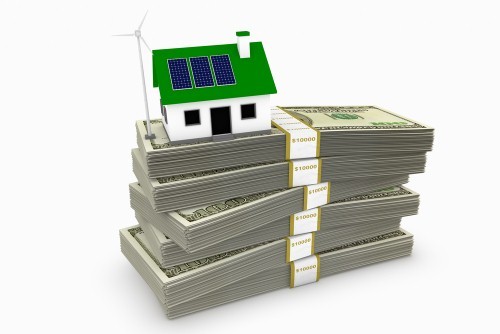 The real estate market still isn't what it used to be, so if your clients intend to sell within the next few years, now may be the perfect time for them to put off going to market and instead work on increasing the value of their homes. Helping a client make the most of his home renovations? While some projects, like adding an extra half bath or taking down a wall to join your living room and kitchen together, can really improve a home's selling price and potential, they're not all feasible on most recession budgets. Instead, talk to your client and have him or her consider these four quick, easy and money-saving ideas.
1. Go energy-efficient in the kitchen and laundry room
Green energy is catching on and becoming the norm in the housing market rather than a luxury upgrade. With the affordability of energy-efficient appliances like refrigerators, dishwashers and laundry machines at an all-time high, there's no reason for your clients not to make the leap in their kitchens and laundry rooms. Outfitting these spaces with money-saving fixtures won't only net them more money on the sales of their houses, but save them cash on utilities in the long run.
2. Install radiant heat throughout the home
Nothing pairs better with green technology than superior air quality - and radiant heat has both. Unlike forced hot air systems, radiant heat uses entirely natural convection currents to keep a space warm without the dusty ventilation flushing a room with allergens. Radiant heat is energy efficient as well, and is sure to fit easily under a variety of flooring materials. This is a no-brainer for your clients, especially if they're renovating any floors.
3. Repaint the exterior
While there's plenty of repainting to be done inside, remember that the home's exterior is what potential buyers see first. Not only should the lawn and garden be groomed, but you'll want to suggest that your clients have their home repainted.
4. Reseal windows and insulate areas with potential drafts
In the spirit of further energy efficiency savings, your clients will want to make sure that their homes are fully sealed against warm and cool air leaks. Whether they're running the A/C in August or the radiant heat in November, conserving energy requires that their homes aren't leaking air. Suggest they start by resealing windows then move on to insulating the areas around doors and windows, as well as in the attic, basement or any ducts that lead to outside the home.
Like this post? Subscribe for regular updates
Make sure you don't miss out on the latest news in radiant heating by subscribing to our blog. We'll send you an email with links to the newest posts from WarmlyYours.
We won't share your information and you can unsubscribe at any time with a single click.
---
Did you find this post helpful?
Let us know by giving it some applause.
---
---