It's Valentine's Day, and love is in the air. Whether you are planning to spend a special romantic evening with your significant other, to catch up with old friends, or to indulge in a box of chocolates as you curl up next to your favorite furry, four-legged valentine, the ways we celebrate Valentine's Day are not only fun, but also good for you.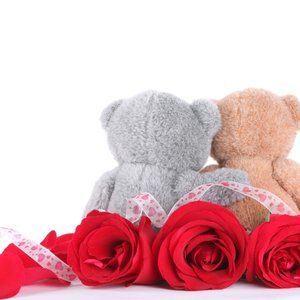 Lovin' Spoonful
Many of us like to celebrate by indulging in one of our guilty pleasures—chocolate. However, the latest research may absolve you from some of that guilt. Plus, you might not want to save the chocolate only for special occasions either. Chocolate contains hundreds of chemicals that have an effect on the body's physiology, and many of those chemicals have positive effects on the brain. Among those hundreds of chemicals tucked into your bonbons, tryptophan and serotonin (which works as an anti-depressant) many produce feelings of relaxation and well-being. Caffeine is one of several stimulants in chocolate that increase alertness. Theobromine increases blood flow. In fact, a study conducted by a team of Boston researchers indicates that chocolate can help improve declining memory and thinking skills. A group of elderly individuals who consumed two cups of cocoa for 30 days, showed improved blood flow to the brain, leading to better cognitive function.
The chemicals in chocolate, including phenylethylamine and anandamide, stimulate the brain in others ways, activating the dopamine system (or pleasure center) of the brain, making you feel good.
Chocolate can benefit the heart as well. Flavonoids, which are present in higher concentrations in dark chocolate, have an anti-oxidant effect and reduce the oxidation of LDL (bad) cholesterol. Dark chocolate has also been demonstrated to have protective effects on the arteries and lower blood pressure.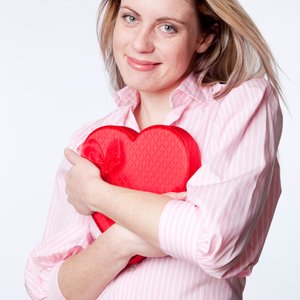 Gimme Some Good Lovin'
Even if you're not a chocoholic, there are plenty of other low-calorie, pleasurable ways to celebrate Valentine's Day. As it turns out, chocolate kisses aren't the only kind that makes you feel good. Smooching with your sweetie also has a positive affect on your brain. A study led by Laura Berman, Ph.D., an assistant clinical professor of psychiatry and ob-gyn at Northwestern University's Feinberg School of Medicine, discovered that couples who kiss more spontaneously are less likely to report that they suffer from stress or depression.
"Kissing relieves stress by creating a sense of connectedness, which releases endorphins, the chemicals that counteract stress and depression," explained Berman. Besides just feeling good, more frequent hugging can raise the levels of oxytocin (also known as the attachment hormone), which results in lowers blood pressure and heart rates. In a different study, researchers at the University of North Carolina at Chapel Hill found that holding hands and hugging can reduce stress. Couples who held hands and hugged first were less stressed (did not experience the same levels of increased heart rate and blood pressure as non-cuddling couples) when they later were asked to discuss a past anxiety or stress-inducing incident. Tiffany Field, Ph.D., director of the University of Miami Medical School's Touch Research Institute, explained, "The gentle pressure of a hug can stimulate nerve endings under the skin that send calming messages to the brain and slow the release of cortisol."
If you are single on Valentine's Day, don't worry. Call a friend or make an appointment at the spa. Other research has revealed that hugs from friends or a professional massage have similar stress-reducing benefits, said Field.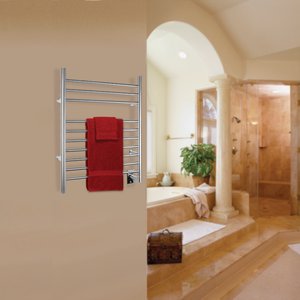 Need a Hug?
Even if you're going solo or your sweetheart is miles away this Valentine's Day, it doesn't mean you have to forgo a warm embrace. Wrap yourself in luxury with a warm, fluffy towel as you step out of the shower and experience firsthand that happiness is a warm towel. WarmlyYours is sharing the love with 25% off of our towel warmer collection*. Today though 5:00 PM CST on Monday, February 17, call (800)875-5285 or visit WarmlyYours.com and use coupon code VALTW to take advantage of the tremendous savings on our selection of hardwired and plug-in towel warmers, available in different styles and finishes to fit your décor.
However you choose to celebrate today, make the most of it. It's not often that the things that feel good are good for you, so go ahead and indulge.
Have a radiant Valentine's Day!
* Order must be placed online or by phone. Offer excludes the Elements Towel Warmer. Hardwired models include a programmable timer. No limit on order quantity. Coupon required (VALTW). 25% applied after trade discount. Offer available in U.S. and Canada. Cannot be combined with any other promotions. Excludes shipping.

Sources:
http://articles.latimes.com/2013/aug/07/science/la-sci-sn-hot-chocolate-healthy-brain-old-age-dementia-20130807
http://www.neurology.org/content/early/2013/08/07/WNL.0b013e3182a351aa.short?sid=63d90ba5-f304-4cfa-87b7-f16372acf474
http://www.scilearn.com/blog/why-your-brain-loves-chocolate.php
http://www.health.harvard.edu/healthbeat/HEALTHbeat_030309.htm#art1
http://neurolove.me/post/55526145836/5-keyfacts-about-hugs
http://www.ncbi.nlm.nih.gov/pubmed/15740822 http://www.webmd.com/balance/stress-management/features/6-surprising-stress-fixes
---
Tell us About your Project
Our team of Radiant Experts is ready to help! Just tell us a little about yourself and your project to get started.
---
Did you find this post helpful?
Let us know by giving it some applause.
---
---