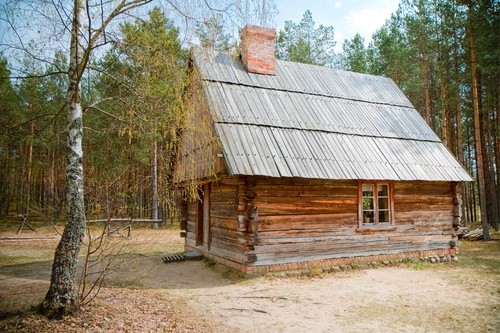 August is still hot weather at its most sweltering and humid, but it's also a fantastic opportunity to head up to your summer cabin for one last vacation and get a bit of refurbishing and remodeling done before the autumn season. Why not send the season off in style with a final long weekend at the cabin - vacationing half the time and evaluating your property for the other half and deciding what changes need to be made. While the fall weather is certainly cooler, you won't want to hold off on your renovations until then - you'll want to be enjoying the weather!
To help you get started making over your summer cabin into an autumnal cabin, consider a few of these tips and suggestions.
1. Replace your floor. If there's one major renovation you'll want to make, it's probably the flooring. Floors take a beating over the years, and if it's been quite a few since you last touched up yours, it might be time to take that step. While wood is the rustic classic, a number of options are open to you for any room in your house. But if you should go with hardwood flooring, stick to engineered floors, as they offer a greater variety of heating options.
2. Replace your heat. While you're rethinking your floors, reevaluate how you heat your home. Instead of gas heat or a woodstove, why not utilize greener energy with radiant floor heating. Using energy-efficient technology, radiant heat systems keep your home warm through convection currents and using minimal electricity. And they fit beautifully and discreetly under engineered wood floors!
3. If you don't have a porch, consider one. A cabin without a porch in the fall weather is a wasted opportunity. No need to go over the top with yours, but as the trees turn and the countryside lights up, you'll want to be sure you've got a great view. If you already have a porch, consider enclosing it with removable screens or mosquito netting, to help avoid pesky evening bugs.
4. Install a new range and stove. As the weather gets chilly, you won't need to spend all your time cooking outdoors on the grill. Instead fill your newly autumnal cabin with the smells of dinner on a brand new range and stove. Share the cooking with your family, then share the meal.
Like this post? Subscribe for regular updates
Make sure you don't miss out on the latest news in radiant heating by subscribing to our blog. We'll send you an email with links to the newest posts from WarmlyYours.
We won't share your information and you can unsubscribe at any time with a single click.
---
Did you find this post helpful?
Let us know by giving it some applause.
---
---