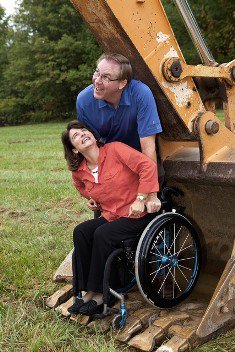 WarmlyYours is partnering with Universal Design Living Laboratory to help create a house that will properly serve those with disabilities. Building a new home that is comfortable for those with specialized needs is much more cost effective than remodeling an existing home and for Rosemarie Rossetti and her husband, Mark Leder, a new home for those with disabilities was something that had to become reality very quickly.

On June 13, 1998, Rosemarie and her husband went for a bike ride together and in a freak accident a tree fell on Rosemarie causing a spinal injury that confined her to a wheelchair. When she was finally able to go home it quickly became apparent that their old home was going to limit her independence. A simple doorway not being wide enough kept her from entering a room and stairs prohibit her from reaching the top floor of her house. Something had to change and a new home had to be designed.

The new home that Rosemarie and her husband are building takes all of this into account. Doorways will be wider, outlets will be higher, and the stoves and sinks will have space below them so Rosemarie has room for her legs while cooking and washing.

Current construction standards don't utilize universal design. Here at WarmlyYours we would like to raise awareness of construction practices that make a home accessible to nearly anybody. Rosemarie's accident changed her life, but her new home will allow her to still do what she loves and WarmlyYours is proud to be a part of that.
---
Tell us About your Project
Our team of Radiant Experts is ready to help! Just tell us a little about yourself and your project to get started.
---
Did you find this post helpful?
Let us know by giving it some applause.
---
---