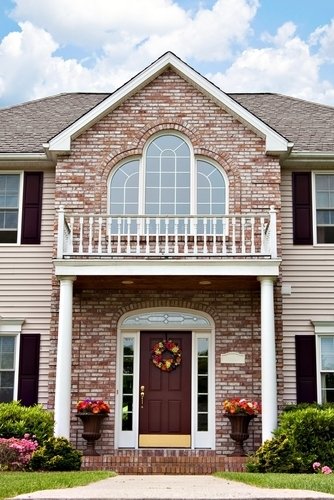 As popular as colonial architecture is among homeowners, the colors of early America aren't as well-known. But many of these hues are the same ones often used today in home design.

Tan and gray were common neutrals back then as they are now. Red, mustard yellow and moss green are frequently used as accent hues just as they were in colonial days. When paired with modern furnishings and classic features, the look of colonial homes comes alive.
According to IdeasForHomeDecorating.com, most colonial homes had painted walls because wallpaper was too expensive. Usually, walls and ceilings were painted white and colors were reserved for wood trim.
Paneling was also painted in colonial rooms, unless it was mahogany, which was left in its natural state. Sometimes a creative homemaker produced grained or marbled finishes on the walls for a more elegant look.
Gray, Yesterday and Today
In recent years, gray - one of the colonists' favorites - has become a trend-setting color in home decor, and its various hues are definitely not drab. They range from shades of silver to the natural look of fieldstone, all of them imparting a sophisticated style, according to House Beautiful magazine.
With variations like that, home decorators can team blue-gray wall tiles with traditional white cabinetry and stainless steel appliances in kitchens. With chrome hardware and large mirrors in a bathroom, gray takes on a sleek contemporary look.
A color scheme with gray at its core also goes well with many types of flooring, just as versatile radiant heating does. Whether homeowners choose wood, tiles or other flooring surfaces, installing electric in floor heating is a good selection for a modern home that has historic style.
In living rooms, light gray walls may be accented with colors that are reminiscent of colonial styling but in tune with modern furnishings. Vibrant hues such as deep red or eggplant purple are effective in both accessories or as a secondary wall color.
Colonial hues may be offset by a chair rail for trim in dining and living rooms. Patchwork quilts in bedrooms, needlepoint cushions on upholstered furniture and pewter accessories are all in keeping with what might have appeared in colonial-era homes.
Pewter lamp bases, silver gray fabrics and rug patterns that draw in several gray shades, as well as an accent color, are good accessory choices. For window treatments, pleated shades come in a variety of materials, colors and finishes to offset a gray-based decor.
---
Tell us About your Project
Our team of Radiant Experts is ready to help! Just tell us a little about yourself and your project to get started.
---
Did you find this post helpful?
Let us know by giving it some applause.
---
---