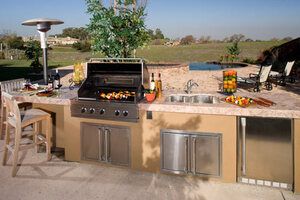 With a brighter outlook on the economy and newer technology, 2013 Home trends are a mix of both old and new. WarmlyYours is here to give you the latest buzz on the hottest trends for your home and what to expect throughout the coming year.
Connectivity: At the International Builder's Show, connectivity was the hot topic everyone was talking about. Consumers can interact with products like they've never done before. Everyone was impressed by standby generators that can be monitored remotely from a smart phone or computer while also amazed by Schlage's Touchscreen Deadbolt Lock that gives you peace of mind when you are out of town.
Smart Appliances: With the advancement of technology, appliances are continuing to become smarter. Now you can control your oven by your smart phone through Wi-Fi and refrigerators can display recipes and photos. Centered around energy savings, smart appliances such as dishwashers, water heaters, and clothes dryers can directly communicate with your utility company and operate when electricity rates are lowest. Now that's smart!
Outdoor Kitchens: It is time to move out of the house and into the refreshing outdoors. Cooking outside is a great way to lower your energy bill because it can reduce the amount of heat generated by indoor cooking that results in higher air conditioning costs. You can install a simple grill or build an elaborate cook's station with a sink, storage, pizza oven, refrigerator, and countertops. More homeowners are moving their cooking outdoors, so why don't you? You can read more about outdoor kitchens from our past blog post.
Welcoming back luxury. With the economy finally rebounding, luxury products are pushing practicality out of the way and making a comeback. Saunas and elevators are rising in popularity while singing shower-heads and walk-in refrigerators are making a grand entrance into the industry. Yet luxury does not always have to drain your bank account. WarmlyYours electric floor heating, towel warmers, and snow melting systems are affordable luxury products that can add value and comfort to your home while also reducing your energy bill!
Double-Duty Furnishings: Home sizes continue to be scaled back with many baby boomers moving into smaller homes or condos, which means that more furniture and furnishings need to do double duty to better utilize the smaller space. Ottomans used for seating and storage, couches that convert into beds, and coffee tables that can rise for dining are products that are growing in popularity for these homes. Electric floor heating is also a great way to save space because it is installed under the flooring surface, which means there is no heating unit taking up space.
The possibilities are endless, but we hope this information gives you some insight and helps you decide just what is right for you and your home.
Like this post? Subscribe for regular updates
Make sure you don't miss out on the latest news in radiant heating by subscribing to our blog. We'll send you an email with links to the newest posts from WarmlyYours.
We won't share your information and you can unsubscribe at any time with a single click.
---
Did you find this post helpful?
Let us know by giving it some applause.
---
---