Over the decades, baby boomers have driven trends in every market they have encountered. As they move into their golden years, they are looking for ways to stay active and remain in their homes longer. Whether for their own convenience or for the care of an elderly parent, baby boomers and their children are among the many homeowners looking for increased accessibility and convenience at home.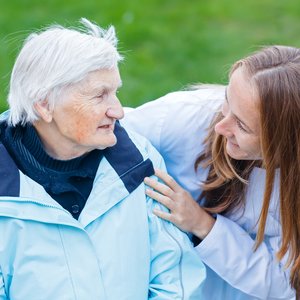 By integrating universal design features, a remodeling project becomes not only a style update for the home, but also an opportunity to improve functionality and convenience for the current or future needs of the people living there. Universal design follows a simple principle: design the home to serve the needs of as many people as possible. Whether residents are healthy adults, children, elderly individuals, or those living with disability or illness, universal design features make life easier and more convenient for use by everyone.
Trending Toward Universal Design
Accessibility, and more broadly, universality, is projected to be a popular design trend for 2014. Many homeowners don't want to move out of their current home when they retire or if they should become injured or disabled. A study conducted by the American Association of Retired Persons (AARP) found that 79 percent of baby boomers want to stay in their current homes. However, if their homes can't meet their future needs, remaining in their home may not be an option. Aging baby boomers aren't the only ones who can benefit. Veterans of the wars in Iraq and Afghanistan are returning home to resume their lives as civilians, and for many of them this means facing new challenges in living with disabilities. According to the U.S. Census Bureau, in 2009, 19.5 million people--9.9 percent of the civilian non-institutionalized population--aged 16 to 64, were living with some type of disability.
Improving Accessibility
Universal design not only improves access for those with disabilities (some of whom may require additional specialized modifications), but it makes the home more convenient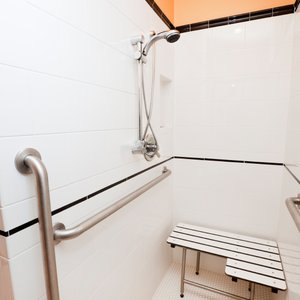 and functional for everyone. Universal design recommendations from the National Association of Homebuilders include many options that all homeowners will appreciate, starting with single-story living and no-step entrances to the home and rooms within it. Wide doorways (32 to 36 inches) and hallways (36 to 42 inches) not only provide wheelchair accessibility, but also make it easier to move furniture and other large objects in the home. And who wouldn't appreciate extra floor space, whether to provide room to maneuver in a wheelchair, walker, or crutches, or to simply provide more room for play, exercise or enjoying a favorite activity? Adding nonslip surfaces to floors, showers, and bathtubs along with grab bars in bathrooms can improve safety for all residents.
Bright Ideas for Universal Design
Good lighting throughout the home, including task lighting in areas where it's needed most, helps everyone see better while making it easier and safer for visually impaired residents to move about the home. No matter how good the lighting is, it isn't useful if the controls are not accessible. AARP recommends installing light switches, thermostats and other control devices no higher than 42 to 48 inches and electrical outlets from 18 to 24 inches off the floor. Rocker light switches and lever-style handles for doors and faucets allow for easy control whether the homeowner is living with a disability or carrying an armload of groceries.
Outdoor Accessibility
Outdoor living spaces can also be outfitted to meet the needs of homeowners. Driveway snow melting systems melt snow and ice, clearing the way for seniors or those in wheelchairs. Electric radiant heat can also be applied to sidewalks and wheelchair ramps. WarmlyYours recently donated a snow melting system, installed by Rob Robillard, a Concord Carpenter, to heat a wheelchair ramp and walkway for a Massachusetts homeowner. Check the WarmlyYours blog later this month for more details on this exciting project.
WarmlyYours Helping Out
WarmlyYours is glad to do our part to improve comfort and convenience for all homeowners. Radiant floor heat improves the comfort of any room, and for those with some disabilities, warm floors are not just a luxury, but also a necessity. WarmlyYours provided a floor heating system to warm the chilly floor of a basement room at a veteran's rehabilitation center operated by Tee Shirts 4 Troops. And you can read more about how WarmlyYours contributed to the construction of a Universal Design Living Laboratory, a home designed and built by Dr. Rosemarie Rossetti and her husband, Mark Leder in Columbus, Ohio. The home integrates universal design, advanced automation, and feng shui principles to accommodate Dr. Rossetti's disabilities and optimize the functionality and convenience of the home.
Whether homeowners have an immediate need to address or they are looking for ways to make daily life more manageable down the road, now is the perfect time to integrate universal design into all your remodeling projects.
Sources:
http://assets.aarp.org/rgcenter/econ/housingchoices_09.pdf http://www.cleveland.com/pdrealestate/plaindealer/index.ssf/2013/12/remodeling_trends_in_2014_include_kitchen_and_bathroom_changes.html http://www.dcdcabinets.com/featured/bathroom-remodeling-trend-accessibility/ http://www.nytimes.com/2011/03/03/business/retirementspecial/03REMODEL.html?_r=0 http://www.census.gov/prod/2010pubs/acsbr09-12.pdf http://www.nahb.org/generic.aspx?genericContentID=89934 http://www.aarp.org/home-garden/home-improvement/info-09-2009/what_is_universal_design.html
---
Tell us About your Project
Our team of Radiant Experts is ready to help! Just tell us a little about yourself and your project to get started.
---
Did you find this post helpful?
Let us know by giving it some applause.
---
---