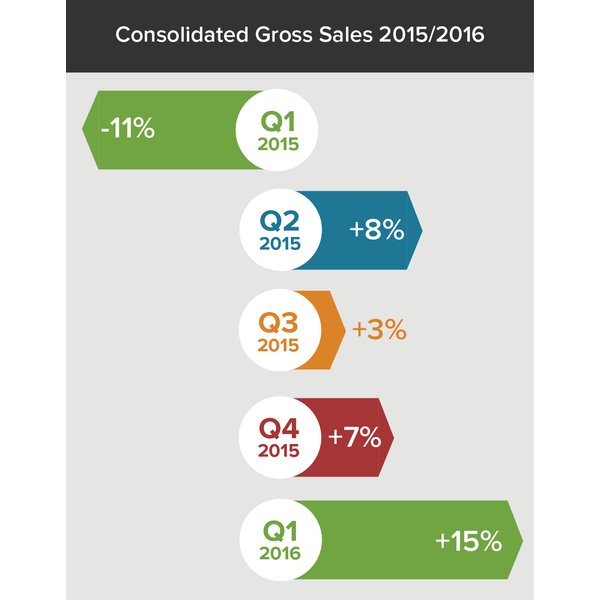 For an entire year, or at least four consecutive fiscal quarters, WarmlyYours been singing the same old song—and that little tune is called "Continued Growth in Gross Consolidated Sales."
And much like that Taylor Swift song you like, there is no sign that WarmlyYours's "Continued Growth in Gross Consolidated Sales" is going anywhere but up.
In fact, the first quarter of 2016 may just be the beginning and you can read the report that spells out "why" in its entirety here. This quarter saw WarmlyYours posting an impressive 15 percent increase in gross consolidated sales when compared to the first quarter of 2015. This year-long winning streak began in the second quarter of 2015, when WarmlyYours hit back hard against sluggish first quarter numbers with sales growth in the double digits. A solid 2015 was only made sweeter when the company dropped the mic like Obama  after capping the year off with a 6.5 percent increase in the fourth quarter.
And we're not the only ones feeling the good vibrations. The Leading Indicator of Remodeling Activity (LIRA) released by the Joint Center for Housing Studies of Harvard University, predicts that home remodeling spending will increase by 8.6 percent by the end of 2016, and 9.7 percent by the end of the first quarter in 2017.
Looking a gift horse right in the mouth
So business is good and looks to be good for the foreseeable future. Why?
Chris Herbert, the managing director of the Joint Center, has some ideas about why the remodeling market has such a bright future.
"Ongoing gains in home prices and sales are encouraging more homeowners to pursue larger-scale improvement projects this year compared to last with permitted projects climbing at a good pace," said Herbert in a statement. "On the strength of these gains, the level of annual spending for remodeling and repairs is expected to reach nearly $325 billion nationally by early next year."
WarmlyYours's not-so-secret recipe for sales growth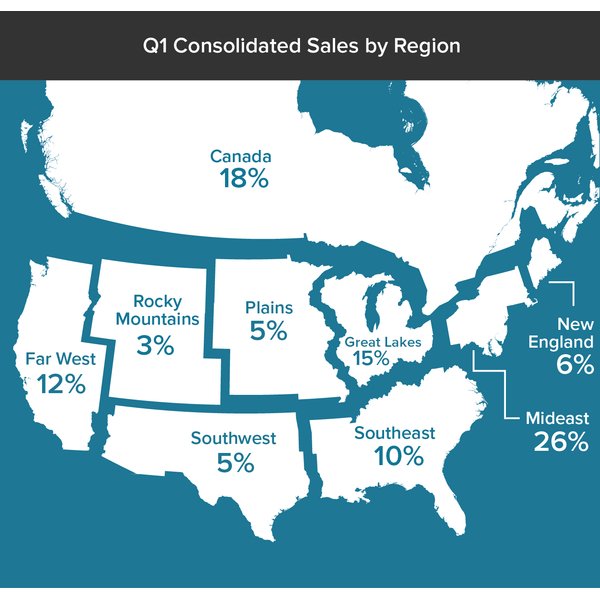 As a company we can point to two large contributing factors for our first quarter growth: huge gains in Canadian sales and continued growth in our "Outdoor Heating Systems" product category.
Canadian sales skyrocketed to an over 45 percent increase in the first quarter. For WarmlyYours, Canada became the second fastest growing regional market after the U.S. Mid-east.
In the first quarter of 2015 our "Outdoor Heating Systems" product category only made up about 5 percent of gross consolidated sales. That number has more than doubled in the first quarter of 2016. "Outdoor Heating Systems," which includes snow melting and roof and gutter deicing systems, now constitutes 11 percent of our total sales for the first quarter. This upward trend is consistent with previous years and shows no signs of slowing down.
If today's remodeling market doesn't get you excited, check your pulse
The remodeling market ahead of us is the kind of market that they put in textbooks and say, "Here's an imaginary example of a market entirely composed of gumdrops and sunshine."
In other words, every company that is even tangentially related to remodeling activity should be walking around with a dopey grin on their face.
These factors: the strength of our current sales growth, our ever expanding portfolio of radiant products, and every reliable national indicator of remodeling activity, spell out a very bright future for WarmlyYours.
2016 is ours for the taking, said Julia Billen, the president and owner of WarmlyYours.
"With the current remodeling market growing the way that it is, the sky's no longer the limit. As far as we're concerned, there is no limit to how far we'll go."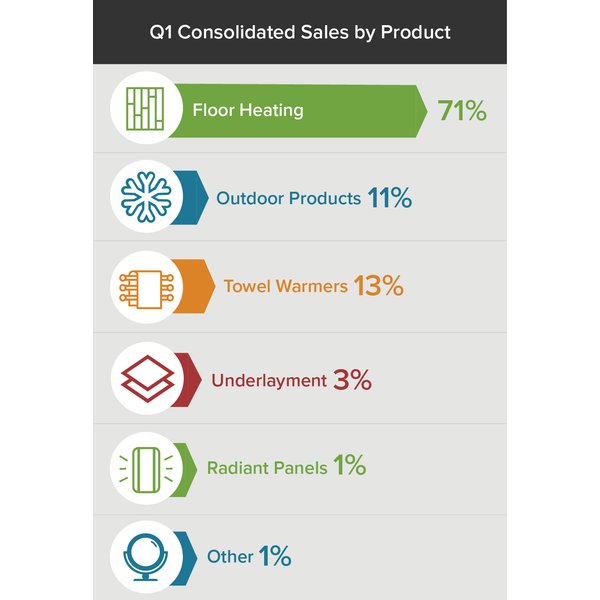 Let us know how you read the numbers on Facebook or Twitter. 
---
Tell us About your Project
Our team of Radiant Experts is ready to help! Just tell us a little about yourself and your project to get started.
---
Did you find this post helpful?
Let us know by giving it some applause.
---
---