Atlanta, the sprawling capital of Georgia, played key roles in both the Civil War and the 1960s Civil Rights Movement. The Atlanta History Center chronicles the city's past, and the Martin Luther King Jr. National Historic Site is dedicated to the historic leader's life. 
The majority of Atlanta's historic architecture was lost during the Civil War when most of the city was burned. Architecturally speaking, the city had never been particularly "southern" in style —because Atlanta originated as a railroad town, rather than a patrician southern seaport like Savannah or Charleston. 
According to current results, from December through February the temperature in Atlanta can drop into the 30 degree Fahrenheit range overnight. Regardless of how warm or cold the temperature might be outside, inside your home, tile or stone floors will still feel chilly. Since many families spend extra time in their kitchens, radiant floor heating can be a great addition to warm up those cold floors and make those moments together more comfortable and memorable.
Radiant Heating = A Great Recipe for this Atlanta Kitchen 
As they began planning their kitchen remodeling project these Atlanta homeowners decided it would be a good idea to add electric underfloor heating to warm up the beautiful but cold stone flooring they had selected. They chose to install a 1.5 x 52 ft²  TempZone™ Flex Roll floor heating system in the 122-ft² space for just $741.00 at a cost of just $9.50 per square foot. (see floor plan)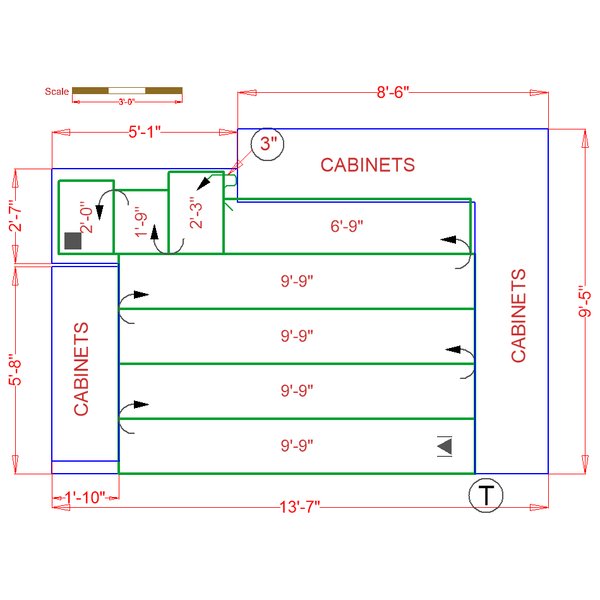 The cost for operating the system should also be taken into account when budgeting the project. WarmlyYours has these useful online tools to help you figure that out. Based on data from WarmlyYours's Energy Use Calculator it costs just 45 cents to warm this kitchen floor for eight hours a day. Overall it costs a mere $51.56 annually according to our Heat Loss Calculator. Another benefit is that this system can be a primary heat source for the room without incurring additional heating bills, a substantial energy and utility savings.
Easy to Use Online Tools Give You a Side by Side Cost Comparison
Wonder how much it would cost to add underfloor heating to a kitchen or any room in your home? It's easy to find out by simply using WarmlyYours' Instant Quote Tool. Just fill in some particulars about your project and the tool will show you a side-by-side comparison of the recommended products for your room along with their costs.
Although these Atlanta homeowners selected the TempZone™ Flex Roll, the comparison below shows their chosen option along with two alternatives utilizing TempZone™ cable as noted.
Option 1: TempZone™ Cable with Prodeso Membrane - $898.00
Provides Maximum Flexibility with Easy Installation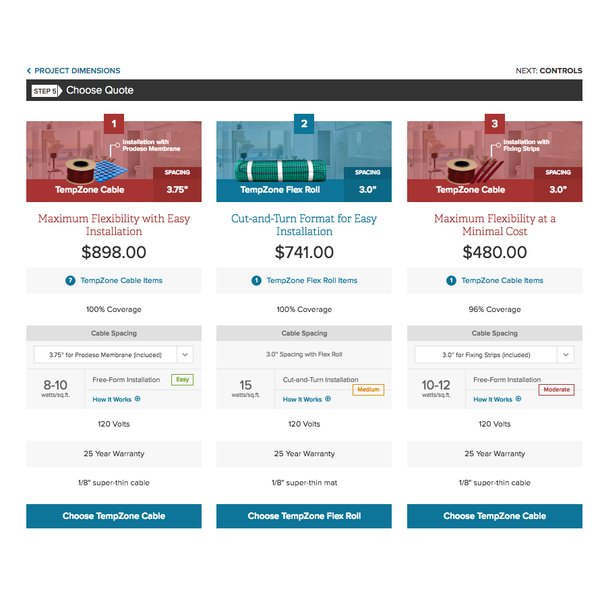 100% Coverage
3.75" spacing for Prodeso Membrane (included)
8-10 watts/sq ft²
Option 2: TempZone™ Flex Roll - $741.00
Provides Cut-and-Turn Format for Easy Installation
100% Coverage
3.0" spacing with TempZone™ Flex Roll
15 watts/sq ft²
Option 3: TempZone™ Cable - $480.00
Provides Maximum Flexibility at a Minimal Cost
96% Coverage
3.0" spacing for fixing strips (included)
10–12 watts/sq ft²
The Option 1 TempZone™ Cable system with Prodeso membrane costs a bit more for ease of installation while the Option 3 TempZone™ Cable offers the lowest cost. Each of the cable systems have further spacing options that can further reduce the price, but will affect the total watts/sq ft² of radiant heat. The Atlanta homeowners chose Option 2 with the TempZone™ Flex Roll because they wanted the highest watts/sq ft². For more information explore the Instant Quote Tool for yourself. 

In addition to the Instant Quote tool, you can also upload a floor plan of your room to get a custom installation plan. This will give you a specific project layout detailing exactly how the floor-heating system should be laid out along with the electrical plan. The custom plan makes installation even easier as it helps our technical staff to better guide you through the process. Free technical support is available 24/7 at 800-875-5285 so you have access to our staff whenever you need us.
Whether you live in the Atlanta or another city that could benefit from radiant heat, WarmlyYours has the perfect solution tailored to your needs.
Sources: 
www.currentresults.com

---
Tell us About your Project
Our team of Radiant Experts is ready to help! Just tell us a little about yourself and your project to get started.
---
Did you find this post helpful?
Let us know by giving it some applause.
---
---