It isn't often that you can have "the best of both worlds," but luxury vinyl tile (LVT) may just make that possible for homeowners. This durable, long-term flooring option allows homeowners to transform their homes with gorgeous style and design possibilities with a minimized environmental footprint and upkeep, two things that don't always go together.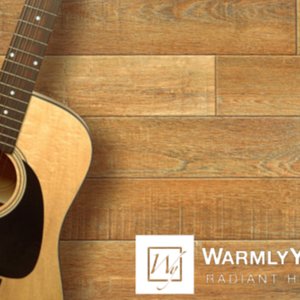 It also combines the look of stone and wood with low maintenance and high durability, which also can seem mutually exclusive at times.

Luxury vinyl flooring (LVF) is a category of flooring that includes both luxury vinyl planks (LVP) and luxury vinyl tile (LVT), which is the most commonly recognized acronym that universally denotes the flooring category. LVT imitates stone (granite, marble, slate, etc.) while LVP simulates wood (teak, maple, oak, walnut, and pine) using an extremely detailed realistic photo replication process called photogravure process, which creates "wood" planks and textured "stone" tiles with the graining and characteristics of real hardwood and stone. While easily confused with laminate (especially since many features and benefits do overlap), the two flooring options are actually very different: they are made out of different materials and manufactured differently, they install differently, they feel different, and they handle stains and usage differently. Read more here.
LVT is part of the broader category of resilient flooring (LVT / LVP / LVF, linoleum, vinyl, rubber, etc.), which has a strong history of manufacturing in the United States. Many of the leading resilient-producing companies can trace their roots back to the 1800s, and according to many reports, more than 50 percent of all resilient flooring sold in the United States is produced here.
When manufacturers introduced LVT in October 2006, it was positioned as a viable flooring material for homeowners who were well-educated about flooring, observes About Home's Home Renovation Expert Lee Wallender. "It is also seen as an initiative to capture the urban market--condominium dwellers who are loath to install solid hardwood due to cost, or who may be prevented from this by HOA covenants," he adds.
LVT, which is estimated to make up as much as 35 percent of resilient flooring sales, is projected to remain the fastest growing product type within the category, according to Floor Trends.
Here are three reasons this trending flooring material might be right for your home.
1. Pared Down Upkeep
LVT is gorgeous, yet provides ease of maintenance that you might not expect.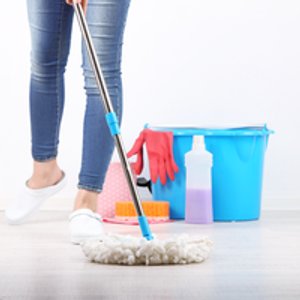 You can enjoy the look of real wood or genuine stone without many of the care and maintenance worries because LVT is more dent, scratch, scuff, stain and moisture resistant. It offers especially strong durability when you choose a product with a quality protective top layer.

There are four distinct layers fused together to produce the final product: a resilient vinyl backing, a vinyl color layer, a photographic film layer, and a urethane or aluminum oxide top layer, describes Annette M. Callari, Allied ASID; Chair Holder, CMG, in "What You Don't Know About Luxury Vinyl Tile Flooring." The protective top layer (also called the wearlayer or mil layer) is very important to the durability of the product. "Quality products will have as high as a 40 mil layer. Commercial applications can successfully utilize 20 mil or above. Lower mil layers are available, but should be specified only for light traffic applications," she details.
Simple damp mopping is the recommended cleaning procedure for LVT floors, providing high ease of maintenance. No special cleaners or mops.
2. Sustainability
LVT's prime material, vinyl, is man-made. While not a natural, highly eco-friendly material it is highly durable—often lasting more than 25 years— which turns into a sustainability benefit by reducing replacement costs, raw materials and energy required to manufacture other products that would have shorter lifecycles.
"From a sustainability perspective, resilient flooring is one of the most transparent products on the market today," writes Dean Thompson in "Five Reasons Resilient Flooring is Sustainable."
Because most luxury vinyl tile flooring is constructed to withstand commercial wear and tear, it's ideal for residential high-traffic areas in your home. "Warranties vary by manufacturer, but it's not unusual to see 20-25 year warranties on brand name luxury vinyl tile flooring," shares Callari.
You can compound the sustainable attributes of LVF with the addition of radiant heat from WarmlyYours Radiant Heating, which is more efficient and comfortable than heating the air because air does not retain heat for very long. Instead, radiant heat warms your body and the objects surrounding you, ultimately eliminating inconsistent room temperatures. WarmlyYours provides radiant floor heating for almost any floor type, including LVT.
When installing LVT, you can further maximize the heat produced by your radiant heating system with the use of a self-leveling underlayment (SLU), which is suggested for all forms of vinyl floors. In addition to improving heating efficiencies, it also adds forgiveness when installations are taking place on a less-than-perfect subfloor and increases the water and mold resistance of your floor. LVT floors are also fairly impervious to wet spills from above, which is just one more benefit the floors offer.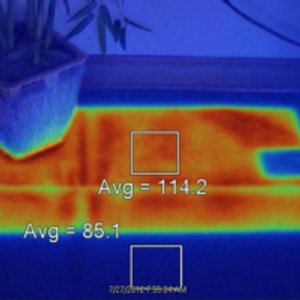 It is important to be aware of trapped heat when choosing LVT. Read "Avoiding Trapped Heat," on WarmlyYours' blog.
When you place items on top of the floor they can trap radiant floor heat, which can make the area much warmer than the surrounding areas. Without monitoring, this trapped heat can cause problems with the floor coverings, including discoloration.
The key to avoiding those frustrations is to mindfully avoid big offenders such as colored bean bags and pet beds that would cover a large space and sit directly of the floor.
"Any item that sits in the same place for long periods of time can cause discoloring. These products may have temperature limits too, so double check items you plan to sit directly on LVT," advises Scott Rosenbaum, Manager, Technical Support and Engineering for WarmlyYours.
Choosing high quality vinyl flooring products that are approved for use with radiant heat is your best bet. Check with the manufacturer to ensure the flooring product you choose is rated for use with radiant heat. If the product is not specifically listed for it, think twice.
3. Beautiful Possibilities
Don't get trapped into visualizing the commercial, "industrial" look of the past, as LVF has been totally upgraded, Callari encourages.
"There has been a stunning transformation in the design aesthetics of luxury vinyl tile flooring in the last five years. If you are linking it to 'industrial'-looking floors, this is where you need to throw away your misconceptions and do some research.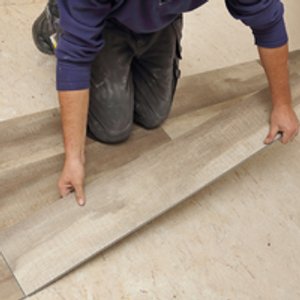 This may be the biggest factor that has caused interior designers to stand up and take note of the new brand of LVT. The realism of the total look, including distressed wood finishes, stone and slate tactile surface textures, and even woven textiles imbedded in the wear layers, are grabbing attention," she shares.

The sizes available in LVT are growing to allow for more design options, adding flexibility that is fueling the trend.
Keith Pocock, COO at FreeFit, agreed that larger tile formats are trending. He is seeing more unique designs and more odd shapes and multi-width formats as well.
"I've seen tiles go as big as 36 x 36, but you're really seeing more tiles at 24 x 24 to match what you're seeing in natural stone," he said, adding that "as vinyl gets more established, it's following wood with longer, wider planks."
Another trend to watch that LVT's ease of installation is fueling? Mixed wood and stone visuals. More manufacturers and installers are witnessing the trend of LVT flooring installed as a combination of both wood and ceramic planks.
"Wood and stone looks have been out there so long and people are looking for something different. If you can create a visual that is a little different than the standard, that is what captures people's attention and interest," explained Michael Freedman, CEO at FloorFolio, in the article "Size Matters for new LVT visuals."
In the same article, Paul Eanes, vice president of sales, the Americas, Metroflor, points out that the "mixed stone and wood looks underline the popularity of LVT and its growth and universal usage. A few years ago many of these areas would have been real wood or ceramic, but now the design community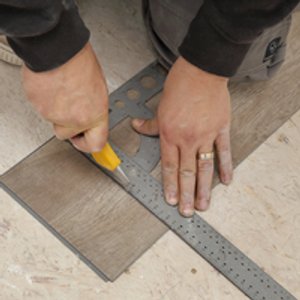 sees that LVT is a much more practical and better economic solution. Also, you don't have to worry about the transition problem with LVT which you do with real wood and natural stone or ceramic."

LVT eliminates the sometimes complicated installation processes that can happen when trying to put real wood and stone together. "Nearly any design can be cut and installed with nothing more than a utility knife. You can get the look and feel of the latest trends in natural products without their practical drawbacks," said Karndean's Jenne Ross.
It is just another way LVT can allow you to have the best of both worlds. So keep an open mind for all the new possibilities LVT can offer and the various benefits it may bring to your home and family as you plan your design.
Do you have any unique LVT installations? If you install radiant heated flooring underneath LVT then share your story, send us photos on the WarmlyYours Facebook page, or tweet us at @WarmlyYours.
Sources:
http://www.floortrendsmag.com/articles/97063-resilient-category-still-expanding-its-us-roots
http://www.wfca.org/Pages/WhatYouDontKnowAboutLuxuryVinylTileFlooring.aspx
http://floorcoveringweekly.com/main/topnews/size-matters-for-new-lvt-visuals-10308.aspx
http://www.floortrendsmag.com/articles/96277-five-reasons-resilient-flooring-is-sustainable?v=preview
http://homerenovations.about.com/od/vinylflooring/ss/Luxury-Vinyl-Tile.htm
---
Tell us About your Project
Our team of Radiant Experts is ready to help! Just tell us a little about yourself and your project to get started.
---
Did you find this post helpful?
Let us know by giving it some applause.
---
---