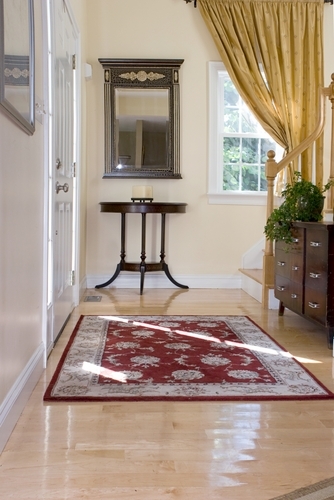 Is the foyer of a home just an entrance or can it be considered a room? It's both, although as a room it may be quite small in some cases. But as the place that gives a new visitor his or her first look into the one's home, the way it's decorated is as important as other areas of the house.
The ideal flooring for an entryway will be able to withstand the traffic going in and out of the house, but retain its good looks. One wonderful addition in cold regions is the installation of infloor heating, which provides radiant heat that keeps the entryway toasty with just the flick of an electric switch.
Radiant heating works with a wide variety of building materials in addition to the wood floors that are very common in foyers and nearby stairways. In addition, entry areas should have appropriate lighting, window treatments when applicable and furnishings that are both useful and attractive.
A Well-lit Area
If the foyer has a high ceiling, a large hanging light should be installed to cast a soft glow throughout the space. It also meets a functional need to light what may be a dark interior near the doorway.
In entries that have windows, part of the design should include a window treatment that ties in with the nearest room by incorporating colors or materials that are found there. The right choice will also allow in light during the day and control privacy as needed. Soft sheer shades are a good choice for a foyer window because they let in filtered light or can be raised for a full outdoor view.
Color Sharpens the Look
Repainting the walls and trim in a foyer gives it an instant makeover and frequently brightens an otherwise darkened space. A bold color for the front door with new hardware often sharpens the look of an entry from the outside and can do the same on the inside.
If neutrals are used throughout the entry, home decorators may consider using a patterned runner on the stairs. If the stairway is located within instant eyeshot when someone enters, a pattern gives a lively feel to their first view of the home's interior.
Entry Display
A salon-style wall of striking artwork or photographs can showcase homeowners' special interests, and one that will capture visitors' attention immediately.
A grouping of mirrors in frames of different sizes and shapes is another approach and one that looks best on a dark-colored wall.