Lake Zurich, Ill., June 9, 2022 - According to a recent industry report, snow melting sales massively accelerated at the start of 2022 to post the highest growth in Q1 since the product line was onboarded by WarmlyYours.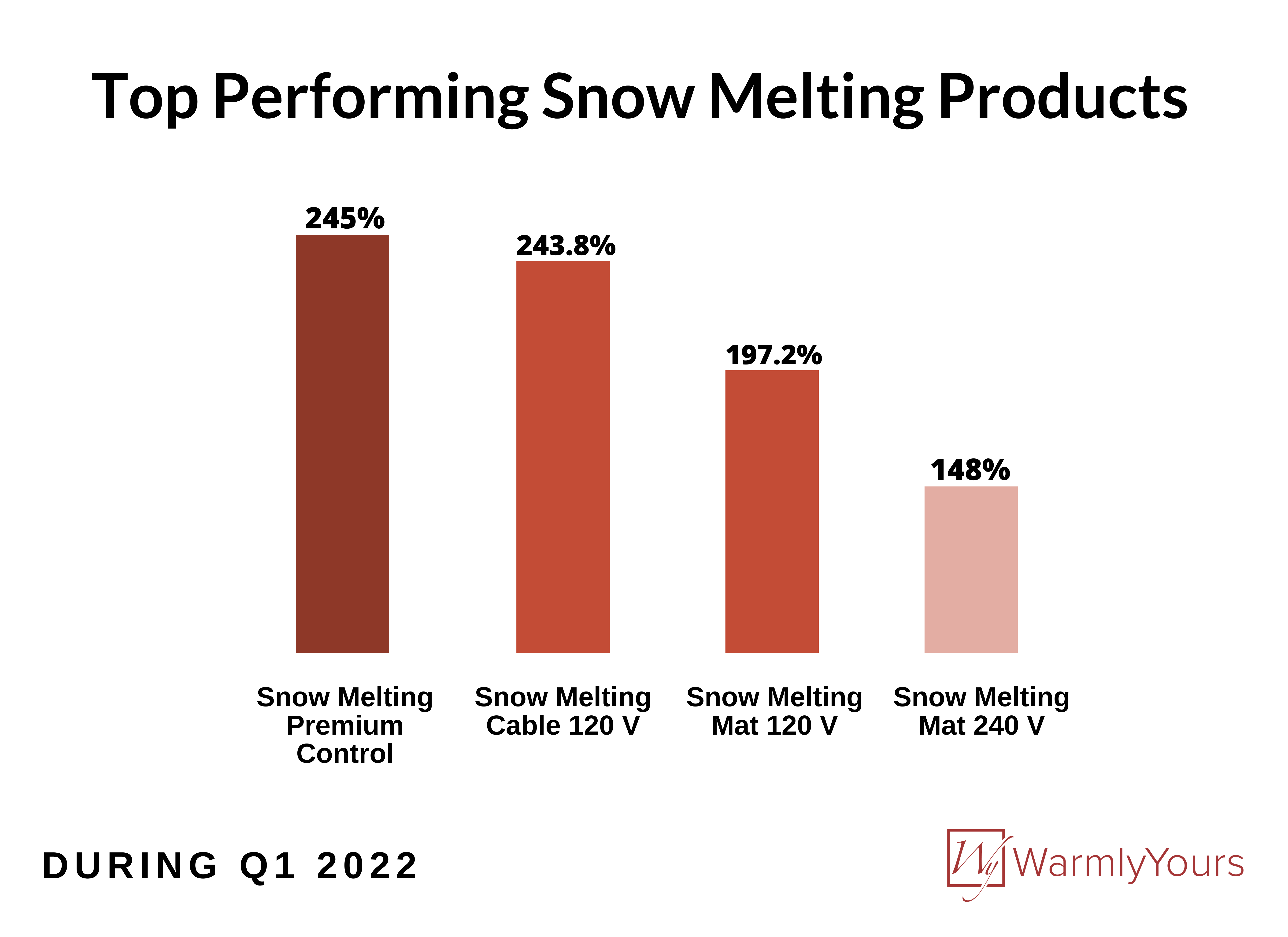 WarmlyYours, a manufacturer specializing in radiant heating products including snow melting systems, released their "Q1 2022 Annual Industry Report" earlier this week. This report analyzes the sales of radiant heating products (by using WarmlyYours sales data as a proxy for the industry as a whole) within the wider context of the national housing and remodeling markets. One of the primary findings in the report was that snow melting products (embedded electric heating elements often used in outdoor surfaces like driveways, walkways, and patios to keep them snow-free in the winter) grew by 67.6% in Q1 2022 when compared to the prior year period.
So far this year, the most popular snow melting products have been the Premium control (up 245%), the 120 V cable (243.8%), the 120 V mat (up 197.7%) and the 240 V mat (up 148%). Additionally, this first quarter also saw some interesting changes in the applications being used for snow melting. In Q1 2021, driveways went from 21.9% of all snow melting projects to 34.2% the following year (a rate of change of almost 141%). Patios went up from 3.6% in 2021 to 10.2% in 2022, while ramps also increased from 3.2% to 8.3% during the same period. However, walkways did see a small decline (down to 31.4% of all snow melting systems from 34.9% in the preceding year).
One of the core explanations for the growth in certain project types has been growth in the trade pro customer segment (up 10.1%) in relation to snow melting sales. Many of these professionals have specializations, which is reflected in the growth of projects like patios, ramps, and driveways are relatively complicated projects which often require specialists.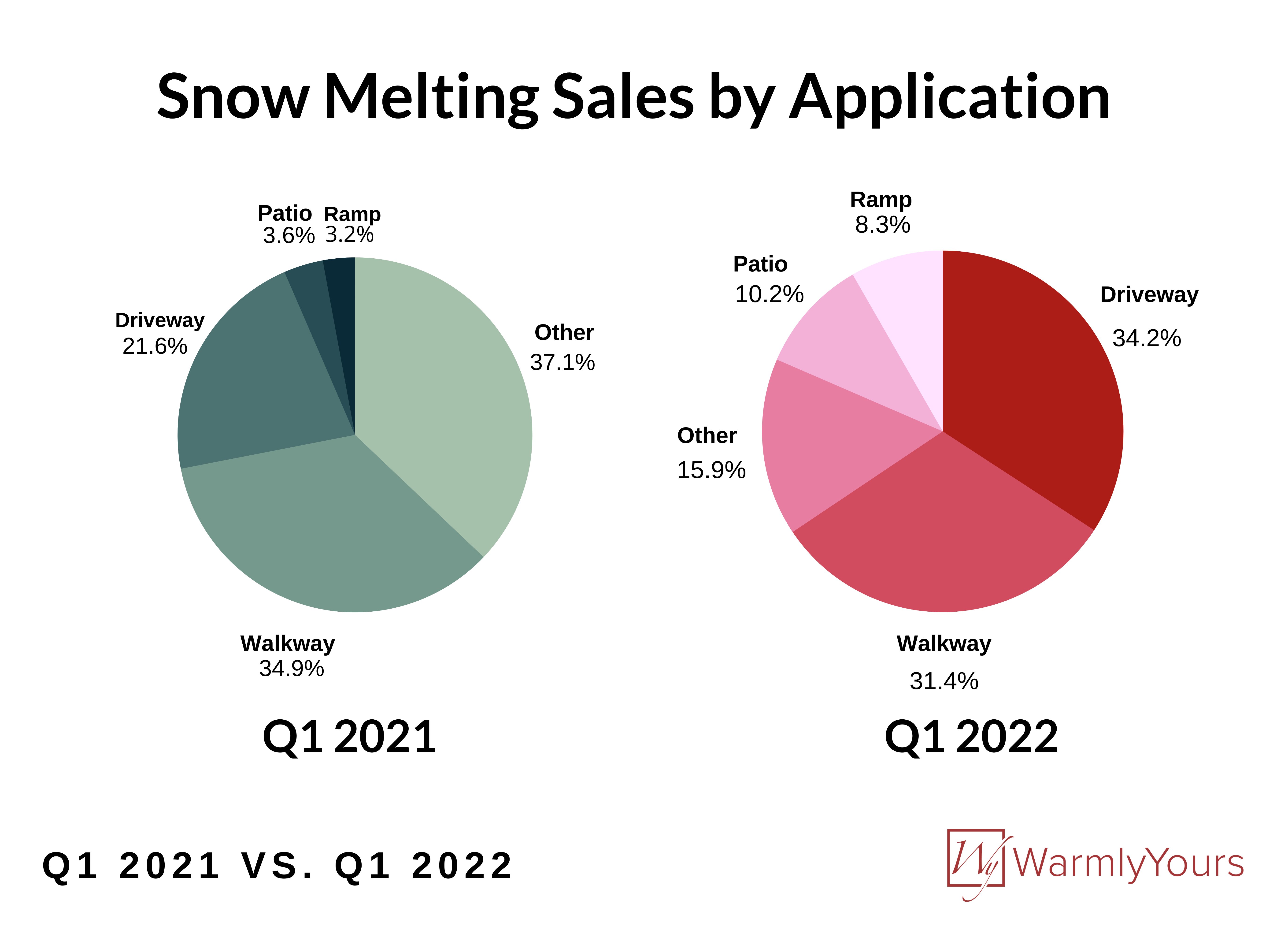 Julia Billen, the owner and president of WarmlyYours, said that the company has put considerable time and effort into making sure that they're providing support for their professional customers. These efforts have included an installer certification program and a new line of professional services related to radiant heating installation.
"Like many industries, radiant heating is all about relationships," said Billen. "We want to build strong and long lasting relationships with our professional customers because we know that it will mean not only more sales for us down the line but it also means that we can be confident that our products are being installed to the highest standards for the end user. There's no secret—it's just good business."
###
Hi-res images are available upon request.
For over 20 years, WarmlyYours Radiant Heating has offered the industry's most innovative solutions in radiant heating technology, from our flagship floor heating systems and radiant wall panels to snow melting systems, as well as comfort products, including towel warmers, mirror defoggers, shower floor and bench heating, and countertop heaters. With locations in the United States and Canada, WarmlyYours provides unrivaled personalized customer support from start to finish, featuring measuring and design services, 24/7 technical support, and our No Nonsense™ Warranty.
For more information, visit www.WarmlyYours.com.
Media Contact:
Cameron Witbeck
Marketing Communications Manager
WarmlyYours Radiant Heating
590 Telser Rd, Suite B
Lake Zurich, IL 60047
cwitbeck@warmlyyours.com
P: (800) 875-5285 ext. 878
---
Tell us About your Project
Our team of Radiant Experts is ready to help! Just tell us a little about yourself and your project to get started.
---
Did you find this post helpful?
Let us know by giving it some applause.
---
---