The first quarter of 2023 saw the economy be impacted by a wide variety of factors that ranged from the challenging, such as the relatively small 1.1% increase in real GDP as estimated by the US Bureau of Economic Analysis, to the positive, such as a 3.7% increase in Personal Consumption Expenditures (a metric that looks at consumer spending and includes all goods and services bought by U.S. households).
Electric radiant heating sales were also impacted by these elements and this effect was evidenced by surprising growth patterns, such as the impressive rate of increase for sales of electric towel warmers. Between Q1 2022 and Q1 2023, WarmlyYours saw an increase of 4.2% in towel warmer sales, which helped propel towel warmers from just 13% of total consolidated sales to 16%.
This growth for towel warmers was despite a national housing market which continues to deal with challenging inventory levels and home prices that are still excluding many first time homebuyers from the market.
In this report, we'll take a closer look at the performance of radiant heating product sales, with a specific focus on towel warmers, and analyze the impact that the national housing and remodeling markets are expected to have on future sales.
WarmlyYours Product Sales in Q1 2023
The fastest growing product line for WarmlyYours in Q1 2023 was our SmartServices division. This component of WarmlyYours focuses on providing assistance during almost every stage of a radiant heating project (both indoor and outdoor) including project measuring, troubleshooting and repair, and even heating element installation.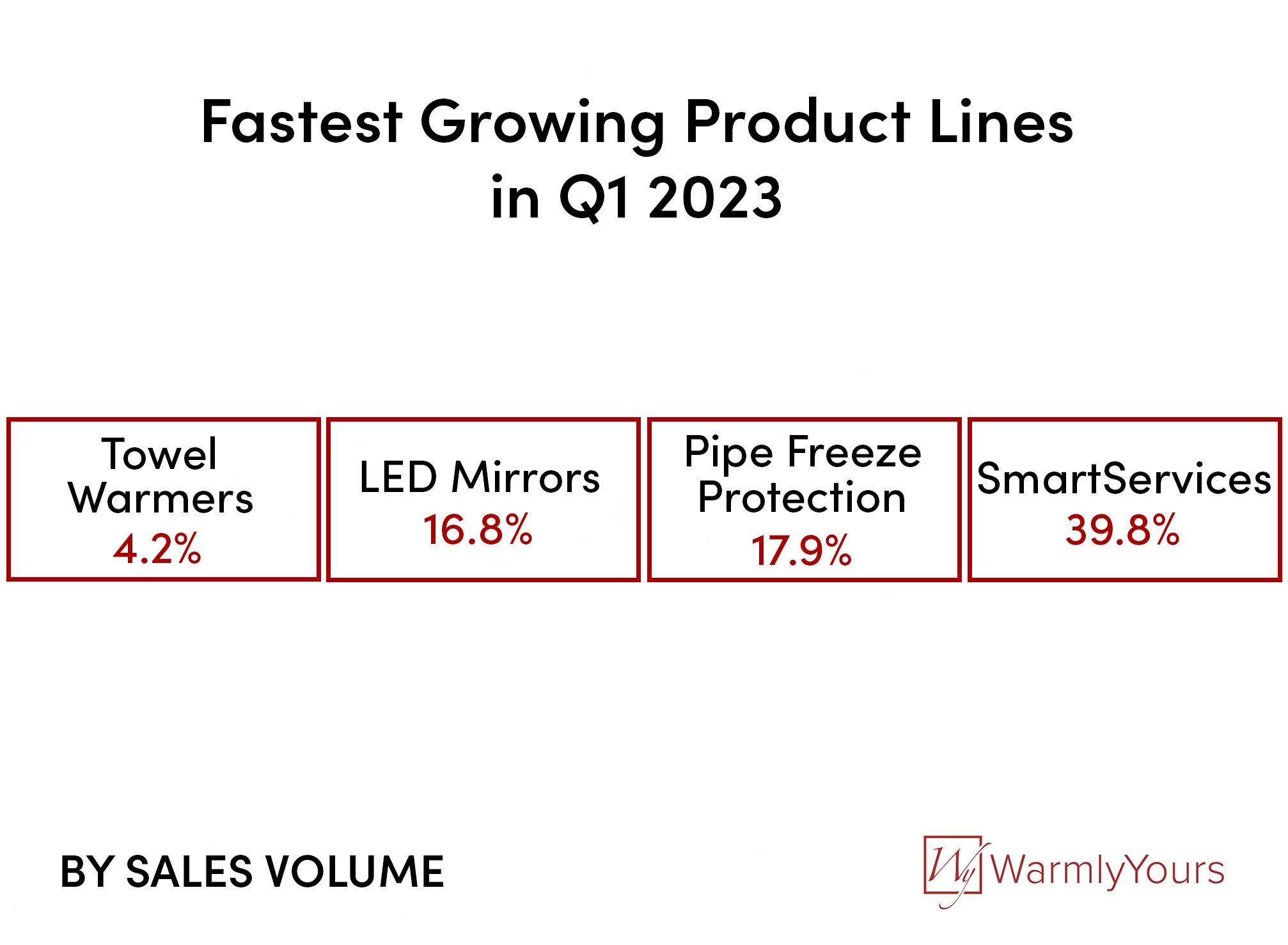 These services have shown several concurrent quarters of growth, including an impressive 39.9% increase between the first quarters of 2022 and 2023. Most of this growth is attributable to our troubleshooting and repair service, SmartFix, which posted an impressive 136.9% increase this year. This has largely been the result of expanding the service to also covering competitor's electric radiant heating systems as well.
Juan Ludick, a technical and development installation engineer for WarmlyYours, heads up the services division. Ludick said that the expansion to troubleshoot and repair the heating systems of competitors was a natural evolution.
"Ultimately it was in our best interest as a radiant heating provider to make sure that there was a repair service available for everyone. If you have a homeowner with a heating system that isn't working properly, he might not know the name of the company who provided the system but he's probably not going to be a vocal advocate for radiant heating," said Ludick. "That's where we come in. Our repair service helps the industry by making sure all customers, not just our own, are satisfied with their radiant heating system. And it doesn't hurt that it helps us expand our customer base either."
We expect to see continued growth in our services division, particularly in regard to our SmartInstall service as the installation season for snow melting starts and housing renovations for floor heating pick up over the summer.
Pipe freeze protection, a product used for preventing non-flowing pipes from freezing, was up 17.8% in Q1 2023 with almost all of this growth due directly to our 120V self-regulating cable which was up 653.9%. Our projection is that this product will continue to see accelerated growth well into the fall as people prepare for winter.
LED mirrors were up 16.8% with a significant portion of those sales coming from e-tailers like Amazon. These products tend to do well for ecommerce and we expect to see that to continue for the foreseeable future.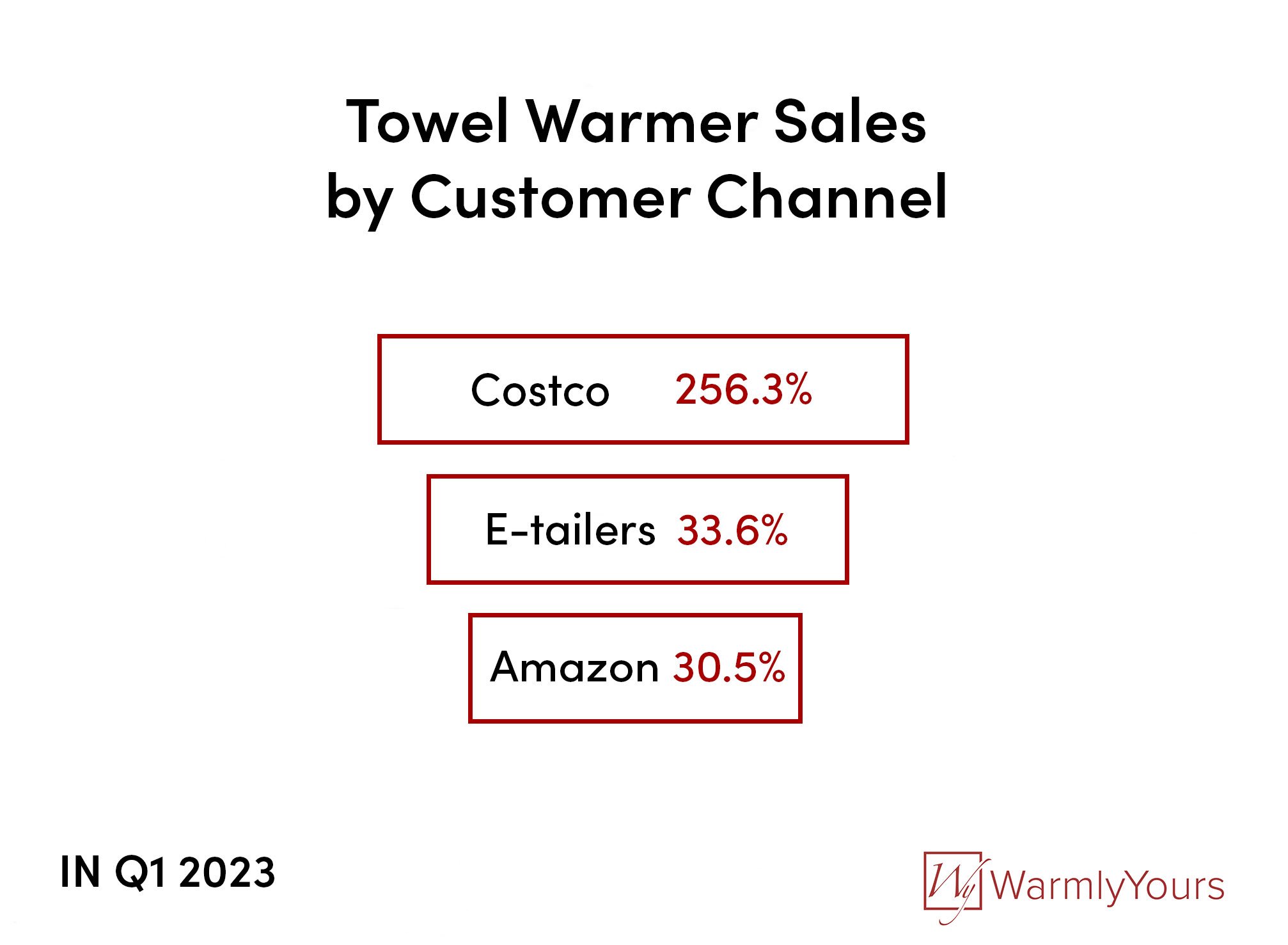 Towel Warmer Performance in the First Quarter of 2023
Towel warmers (up 4.2%) were, by far, the largest volume driver of sales for radiant heating sales in Q1 2023.
Towel warmers have been an integral part of WarmlyYours sales since the company started and this year is no different. Between Q1 2022 and Q1 2023, towel warmers grew from 13% of total consolidated sales to 16%.
This growth has come from direct sales but also has been largely influenced by a number of other customer channels. The largest, by volume, growth for a customer segment was for Amazon which was up 30.5%. Towel warmers have historically done well with Amazon due to their relative ease of installation and visual appeal.
With non-Amazon e-tailers, we saw sales of towel warmers go up 33.6% in the first quarter. Similar to Amazon, towel warmers make a welcome addition to e-commerce sites because they are DIY friendly and are an easy way to add an "impact piece" to a bathroom's decor.
Costco, which sells WarmlyYours towel warmers in Canada, had a whopping 256.3% increase in sales due in no small part to a highly successful promotion.
We expect to see continued growth for all of these channels in the future but we also expect to see gains in homeowner, trade professional, and dealer customer channels as the summer remodeling season continues to gain momentum.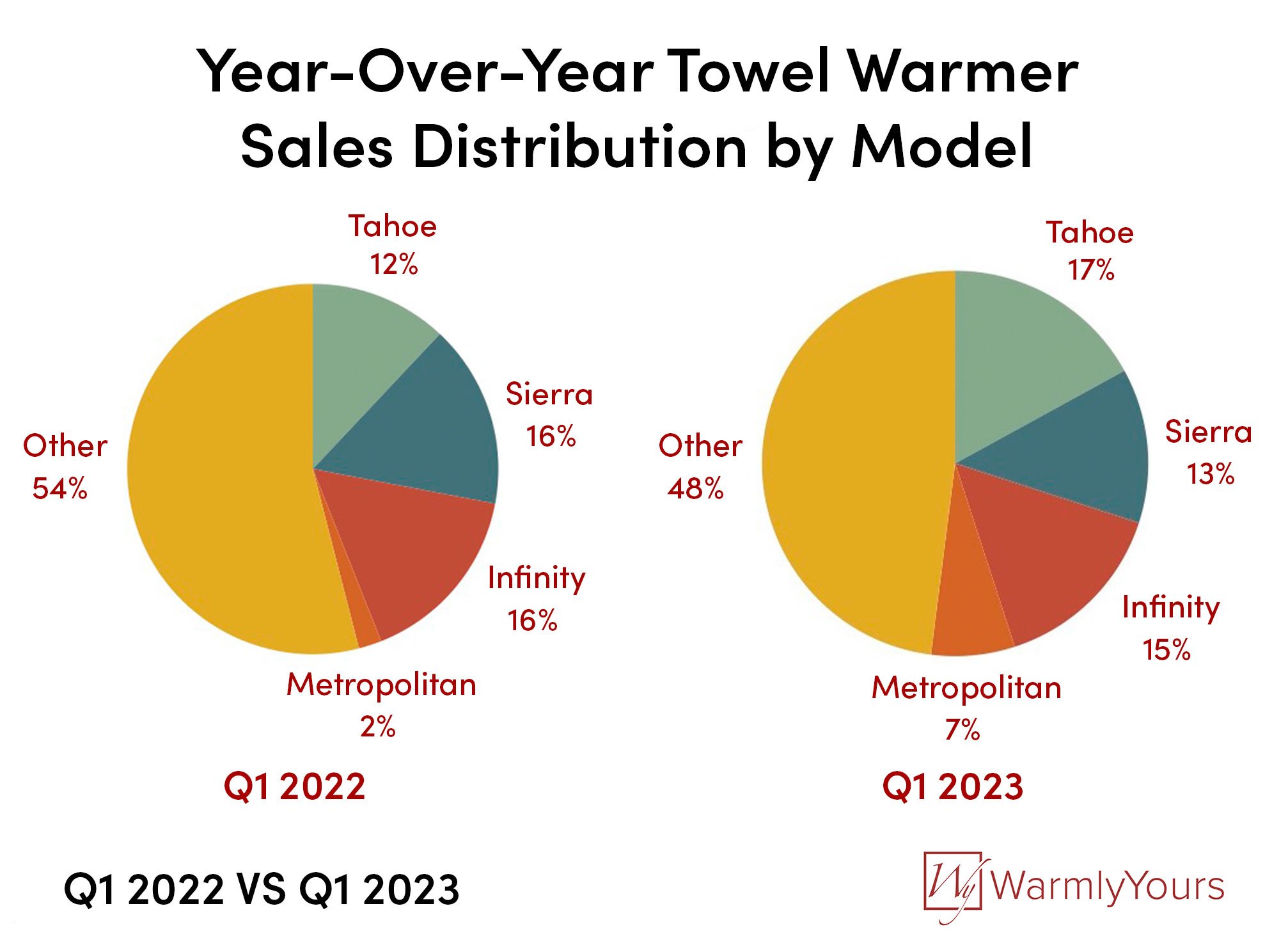 WarmlyYours saw significant shifts in the most popular towel warmer models, in terms of consolidated sales volume, between 2022 and 2023. So far this year, The Tahoe and the Metropolitan have grown from 12% and 2%, respectively, to 17% and 7%. While, concurrently, the Sierra and Infinity have dipped from each making up 16% of consolidated towel warmer sales to 13% and 15%, respectively.
This is an interesting development because this marks the first quarter since it was launched that the Infinity wasn't the highest selling towel warmer model for WarmlyYours. While this model still enjoys a significant portion of sales, the Tahoe, which is available with 6 or 7 bars and in brushed gold, matte black, or polished steel finishes, has emerged as an absolute power house, enjoying popularity with dealers and homeowners alike.
When comparing the Tahoe to the Infinity, there are a number of differences that go beyond the number of bars or the available finishes (the brushed gold variant of the Tahoe 7 is very popular and is likely a significant contributing factor in its growth). The Tahoe models are hardwired only so it's a bit more affordable than the dual connection Infinity, which comes with a plug-in connection that can be modified for a hardwired connection by a licensed electrician and maintain its approvals. Additionally, the Tahoe has a more linear appearance with straight lines and square bars while the Infinity's round bars have a more organic affectation.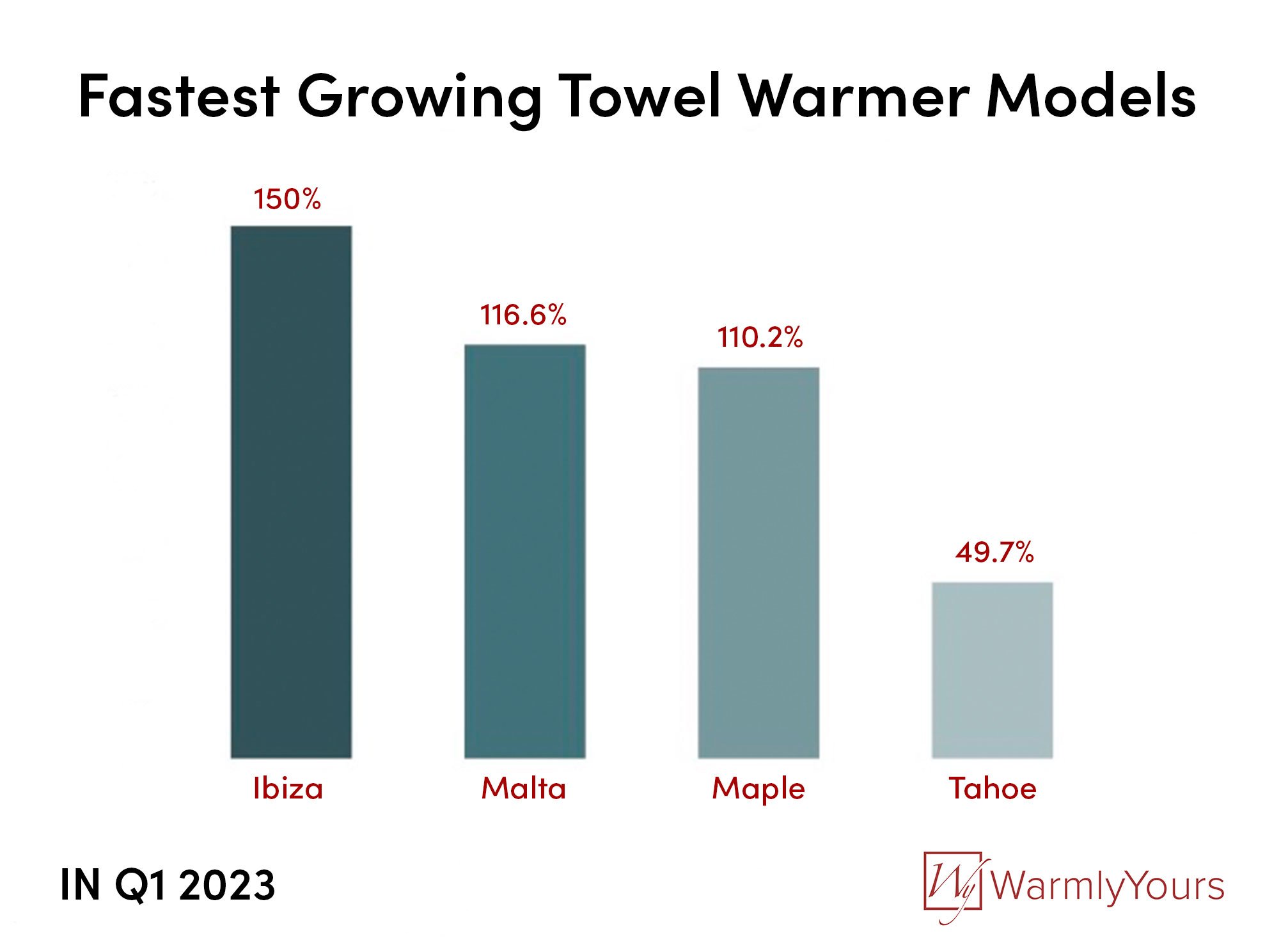 The fastest growing towel warmer models for WarmlyYours in Q1 2023 were the Ibiza (up 150%), the Malta (up 116.6%), Maple (up 110.2%) and the Tahoe (up 49.7%). The Tahoe was by far the largest volume increase (more than the Ibiza, Malta, and Maple combined).
The growth for these models is due largely to their integration into direct sales for WarmlyYours (previously, many of these models were only available through resellers or through ecommerce channels).
The Ibiza is also a unique model in that it is one of two models available from WarmlyYours that are "freestanding" which means that they aren't mounted on the wall.
In Q1 2023, WarmlyYours saw 11.8% increase in sales for our freestanding models (the Ibiza and the Barcelona). Julia Billen, owner and president of WarmlyYours, attributed this growth to several factors.
"Freestanding towel warmers are great options for renters or for people who are trying to identify which location will ultimately be best in their bathroom for a future wall-mounted model. They're also great for small bathrooms where the towel warmer might only need to be used occasionally and it can be moved and stored elsewhere when not in operation," said Billen.
Another interesting towel warmer sales trend that was identified in the first quarter was a massive (63.7%) increase in sales for models with a black finish. Billen said that WarmlyYours expanded their product offering of towel warmers to include black models due directly to customer requests.
"A lot of people wanted black towel warmers for a number of reasons. Practically speaking, black finishes hide a lot of marks like fingerprints or smudges. But beyond that, a black towel warmer creates an impact statement in a lot of bathrooms via contrast and can actually help to provide a sense of warmth, both literally and figuratively, to bathrooms that typically appear very cold visually," said Billen.
The first quarter of 2023 also saw a significant increase in purchases of towel warmers with the dual connection feature. Sales for dual connection towel warmers have gone up 27.9% so far this year, compared with last year. Billen said that the flexibility of these towel warmers has been a key reason for their accelerated sales growth.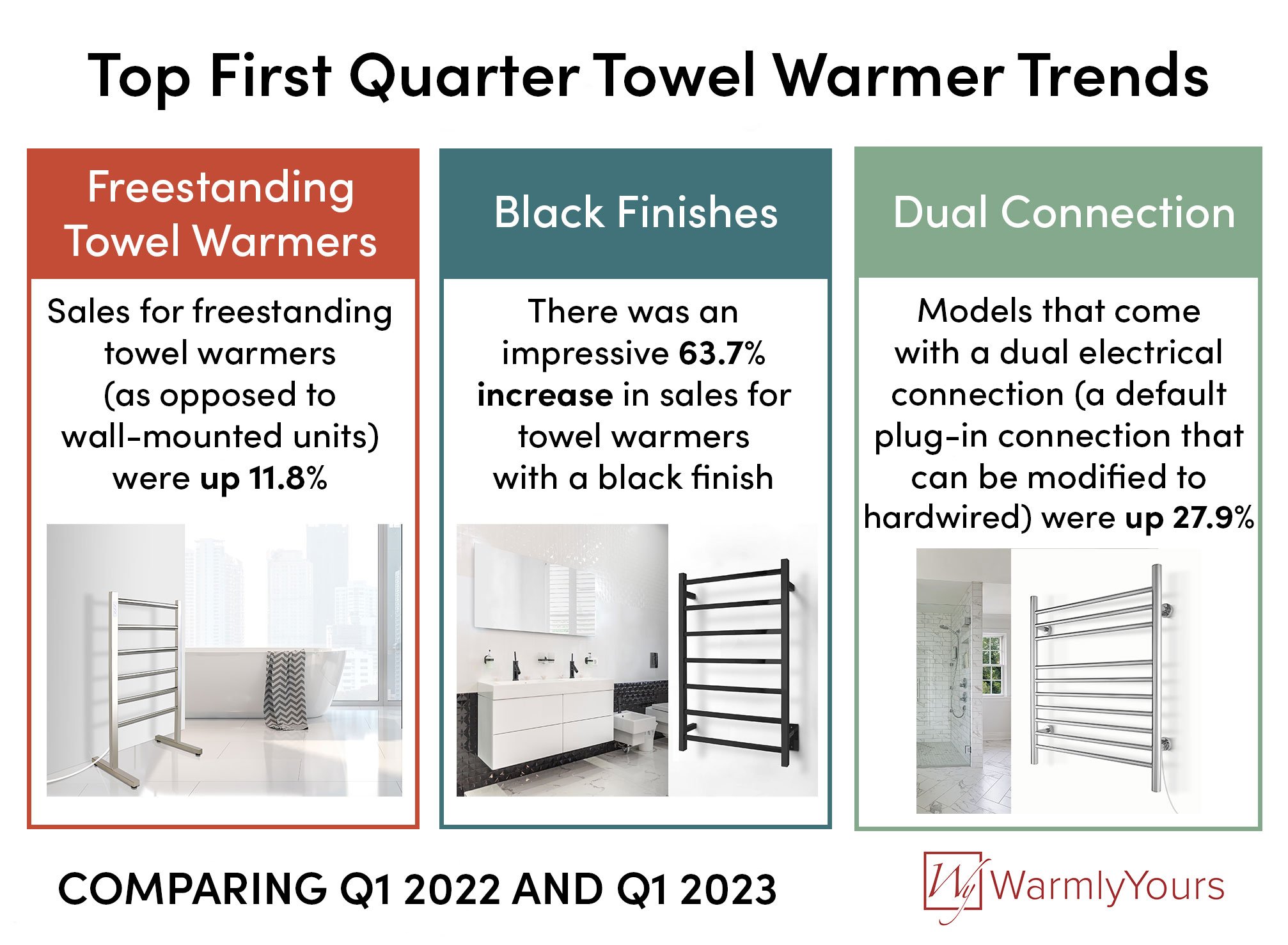 "The great thing about a dual connection towel warmer is the fact that it gives you time to make sure that you've found the perfect location for your towel warmer before you convert it to hardwired," said Billen.
Billen stressed that analyzing these trends via sales data is a crucial part of WarmlyYours's ongoing goal of continuous quality improvement.
"There's a lot of things you can do to try and stay ahead in this industry. You can go to all of the tradeshows, read the best trade publications, or watch what your competitors are doing, but the greatest tool you have at your disposal is your own sales data. Your customers are literally telling you exactly what they want, and even sometimes what they don't want. All you have to do is listen," said Billen.
National Housing and Remodeling Markets in Q1 2023
While towel warmer sales are not as intrinsically tied to the housing market as floor heating is, there is still certainly a positive correlation.
In the first quarter of 2021, the housing market has continued to be plagued by the same issues that have been problematic for the last couple of years. Primarily, there continues to be a supply crunch on available inventory that has increased pricing. For many buyers, particularly first time home buyers, this has pushed them out of the market.
It does appear that homesales activity is facing a pretty significant deceleration.
According to the U.S. Census Bureau, there was a 3.4% decrease in existing home sales between March 2023 and March 2022.
And according to the National Association of Realtors (NAR), pending home sales dropped 23.2% in March of 2023 in year over year sales.
"The lack of housing inventory is a major constraint to rising sales," said NAR Chief Economist Lawrence Yun. "Multiple offers are still occurring on about a third of all listings, and 28% of homes are selling above list price. Limited housing supply is simply not meeting demand nationally."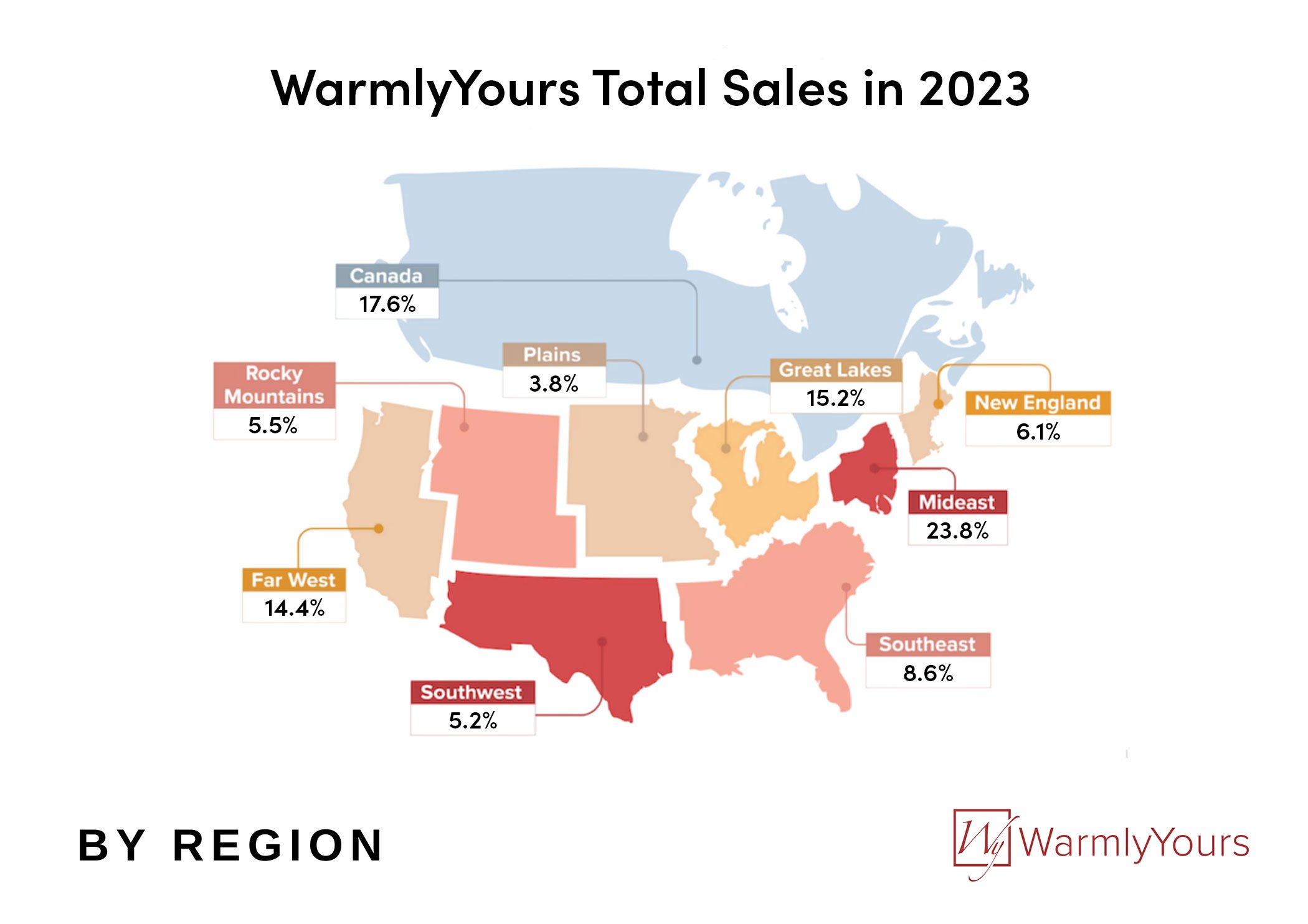 These benchmarks go hand in hand with the renovation expenditure projections from the most recent Leading Indicator of Remodeling Activity (LIRA), a quarterly assessment from the Joint Center for Housing Studies of Harvard University, which expects to see year-over-year expenditures for remodeling and renovations contract by 2024. Specifically they're currently projecting a 2.8% decrease by Q1 2024.
"Higher interest rates and sharp downturns in homebuilding and existing home sales are driving our projections for sluggish remodeling activity next year," said Carlos Martín, project director of the Remodeling Futures Program at the Center. "With ongoing uncertainty in financial markets and the threat of a recession, homeowners are increasingly likely to pare back or delay projects beyond necessary replacements and repairs."
However, not all of the projections are so pessimistic. Abbe Will, associate project director of the Remodeling Futures Program, said there might be a silver lining to these projections.
"Homeowner improvement and maintenance spending is expected to top out at $458 billion in the coming year, compared with market spending of $471 billion over the past four quarters," said Will. "However, strong and steady growth in the number of homes permitted for remodeling projects, as well as a slew of federal incentives for energy-efficiency retrofits may yet buoy remodeling expenditure from steeper declines."
For WarmlyYours, we do expect to see continued growth for towel warmers well into 2023 and early 2024. Additionally, we expect snow melting to help drive significant sales growth in the next couple of concurrent quarters as we head into the busy installation season.
Sources
Relevant internal WarmlyYours sales data
---
Tell us About your Project
Our team of Radiant Experts is ready to help! Just tell us a little about yourself and your project to get started.
---
Did you find this post helpful?
Let us know by giving it some applause.
---
---