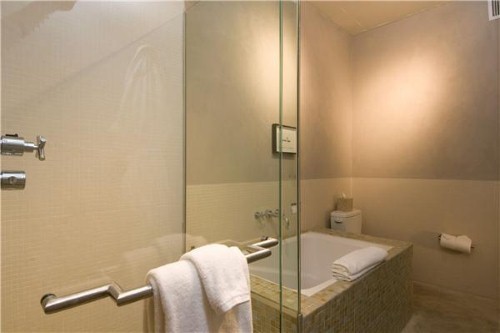 Many homeowners who regularly have guests stay at their place or enjoy entertaining choose to transform a bathroom into a guest bathroom for convenience. This allows them to keep a master bathroom with accessories and fixtures that especially appeal to their personal taste, while offering a similar space that visitors can use while passing through.
However, there is a certain amount of planning that needs to go into creating a guest bathroom, making it a project that merits the input of an expert. As an interior design professional, it's important to understand how the bathroom will be used and who will be utilizing it on a regular basis. For example, the guest bathroom may be tucked away near the guest bedroom specifically for people who are spending the night. On the other hand, it might be in the middle of the home where all visitors have easy access to it.
HGTV reports that the first thing designers should address when renovating a bathroom is the amount of lighting that flows into the room. If the existing fixtures in the space are providing little illumination the room may appear smaller than it really is. A lack of light can also take away from the decor of any living space.
When thinking about adding new lighting fixtures to the bathroom, interior designers might also want to add a mirror to the space. This can help reflect more light and make the room feel larger.
If the guest bathroom will only be used for overnight guests, designers might want to give the room a luxurious hotel feeling with heated towel racks and small items that can be used during the visit, such as a bottle of shampoo or lotion. Warm towels can provide additional convenience and make guests feel more comfortable.
Homeowners who want to go the extra mile might also be interested in radiant floor heating to keep the solid floor in their bathroom comfortable and warm to the touch.
Although it may seem like an easy project, an ample amount of planning needs to go into renovating a bathroom in order to make it satisfactory to guests and homeowners alike. Finishing touches such as elegant lighting fixtures and heated towel racks can go a long way when it comes to making a space truly perfect.
Like this post? Subscribe for regular updates
Make sure you don't miss out on the latest news in radiant heating by subscribing to our blog. We'll send you an email with links to the newest posts from WarmlyYours.
We won't share your information and you can unsubscribe at any time with a single click.
---
Did you find this post helpful?
Let us know by giving it some applause.
---
---