Do you have a cold floor? Tile floors sometimes get the undeserved reputation of being the one type of floor to avoid if you live in a cold area of the country and your home is on a slab. Tile plus slab plus cold climate equals cold feet but it's not just the tile surface that's to blame.

Any type of flooring has the potential to be cold and WarmlyYours has a fix for that. You may already know about our radiant heating systems that are designed to be embedded in a layer of new concrete but what if you don't want to rent a jackhammer and take up your floor? Can you experience the soothing effects of
our radiant heating systems? YES!

Our customers asked for it so we looked all over the world for a product that could warm a room without requiring a major construction project. The WarmlyYours engineering team found it in Africa. The Environ II is a spot heating system that can be placed between carpet padding and the carpet or place it on a floor underneath your new laminate flooring.

The do it yourselfer can do this with the help of a licensed electrician. The Environ II comes in various sizes that can be used alone for small spaces or in combination to heat large areas. It's as easy as unrolling the space age looking silver roll, placing it on your floor or between your new carpet and padding, attaching the floor temperature sensor and hard wiring the system to a standard 110V circuit. As with all WarmlyYours products, it is manufactured to be energy efficient. The four layers of foil surrounding the ultra-thin heating coils allow the heat to be distributed evenly and rapidly.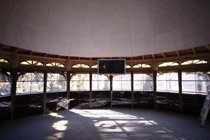 One of our customers installed the Environ II™ in their gazebo where they entertain regularly. They had previously been using a string of space heaters to heat the room but noticed that the space heaters only heated small areas. They could feel the dramatic difference when they were in a heated zone and when they weren't causing their feet to go from warm to cold depending on where they stood.
The Environ II™ provided a much different and more comfortable experience. They said, "You just eventually get curious as to why you are not cold. Heat does not seem to come from 'below'."

The heat provided by the Environ II™ feels like a warm slipper in the winter time. It's comfortable, subtle, and barely noticeable. If you're planning to replace your flooring, you must take a good look at the Environ II. We're sure that you're going to love it and at a price of $10 per square foot, it's simple luxury at a low price.
---
Tell us About your Project
Our team of Radiant Experts is ready to help! Just tell us a little about yourself and your project to get started.
---
Did you find this post helpful?
Let us know by giving it some applause.
---
---