Interior Designers are always looking for products that will add function to the space without taking away from the aesthetic. It's not always been easy to design functional spaces that also look fantastic...until now!
Recently I discovered the LAVA® Glass Infrared Heating Panels! Amazing product with function, efficiency and style!
Let's talk function.
Many spaces have heating elements such as radiators, baseboard fixtures or ceiling vents which are all obstacles to any designer. I have yet to meet a designer who doesn't curse these, myself included. LAVA® infrared heating panels can be used for central or auxiliary heating and mounts to the wall, where YOU want it.
The panels not only allow for energy cost reduction by up to 12%, they also come with programmable thermostats to control the amount of heat used throughout the day.
Pretty with all the Options!
WarmlyYours didn't miss a beat on this one! So many options! The LAVA® has three styles, Glass, Light & Crystal.
Glass - Available in four colors, including mirror. It also is available in four colors that can be mounted either horizontally or vertically.
Light - Ambient lighting and a mirror.
Crystal - Swarovski Crystal Elements available in 2 designs & 3 sizes. BLISS!
The Luxury of Options!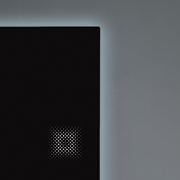 Designers love bells and whistles and LAVA® has plenty. The LED lighting accessory allows for colorful accents and more light. The addition of towel bars turns the panels into towel warmers!
Whenever I am introduced to a new product, I ask myself, "what client/project would this be good for?" The new LAVA® product is a good fit for everyone. Regardless of whether you are looking for art, heat or light. The options seem endless. This designer can't wait to start putting in my client's homes!
A Designer's Dream, dare I say?
--
About our Guest Blogger, Michelle Drenckhahn
Michelle holds a BFA in Interior Design from the University of Wisconsin - Stout & has over 12 years of professional experience as a Kitchen/Bathroom & Remodeling specialist. Her work has received several distinctions including multiple awards, a featured project on HGTV and numerous local and national publications. Michelle has turned her education, experience & extensive construction knowledge into a thriving full service consulting firm specializing in conscious designs, products & business development services, called Spacial Adaptation.
Michelle currently resides in the Twin Cities with her son where they enjoy the many parks, entertaining friends & volunteering for children's philanthropic organizations.
--
More about the LAVA®

LAVA® Heating Panels Win Award
Las Vegas NV, March 2011 - WarmlyYours LAVA® Design Glass Infrared Heating Panel have been awarded Best of Show in the 2011 Best of KBIS New Products Pavilion. The LAVA® infrared heating system outshone many other entries to claim victory. Read More.
Like this post? Subscribe for regular updates
Make sure you don't miss out on the latest news in radiant heating by subscribing to our blog. We'll send you an email with links to the newest posts from WarmlyYours.
We won't share your information and you can unsubscribe at any time with a single click.
---
Did you find this post helpful?
Let us know by giving it some applause.
---
---