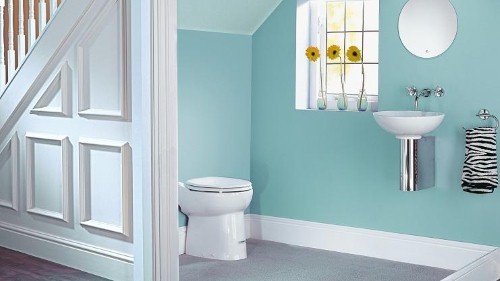 There are a number of ways to redesign, remodel or redecorate your bathroom to new effect. Two popular ways to rethink your bathroom are via green technology (energy-efficient and water-saving toilets, LED lighting, all natural toiletries, organic cotton towels) or spa-style amenities (luxurious robes, scented candles, water jets in the tubs, radiant floor heating), but while these are great ways to approach bathroom design they don't need to be the singular theme in your bathroom.
While your function may be eco-friendly, spa or a mixture of the two, why not give your bathroom a little aesthetic push as well. Redesigning around a visual theme can give your bathroom flair and style to spare. Consider these five great options.
1. The library. While you won't want to bring your most beloved collection of books into the bathroom, there's no reason you can't go for a literary theme. Whether you've put up prints of your favorite authors, found a soap dish in the shape of an open tome, or simply  keep a healthy stack of magazines and journals close by for commode browsing, books and bathrooms go better than one would expect.
2. The ocean. Freshness is key in any bathroom, and nothing feels quite as lively and clean as the ocean. Seagull prints, cool blue and green walls, a few nautical touches or a collection of seashells, all of these can help contribute to an oceanic quality.
3. Cities. This theme is especially fun to spread amongst several bathrooms. Devote your downstairs bathroom to New York City, while your upstairs revolves around London and the master bath takes Paris. Wallpaper with maps, frame photos of classic landmarks, buy a shower curtain printed with the subway system - there are a variety of ways to make each city your bathroom's own.
4. Classic movies. Consider going black and white with your bathroom's coloring and continuing the theme with film stills and vintage posters. Celebrate your favorite dramas, comedies and musicals of the silver screen!
5. Sports. Why not devote a bathroom to your favorite team? Pennants, wallpaper and a stack of Sports Illustrated back issues can help make this the fan's dream bathroom.
Like this post? Subscribe for regular updates
Make sure you don't miss out on the latest news in radiant heating by subscribing to our blog. We'll send you an email with links to the newest posts from WarmlyYours.
We won't share your information and you can unsubscribe at any time with a single click.
---
Did you find this post helpful?
Let us know by giving it some applause.
---
---