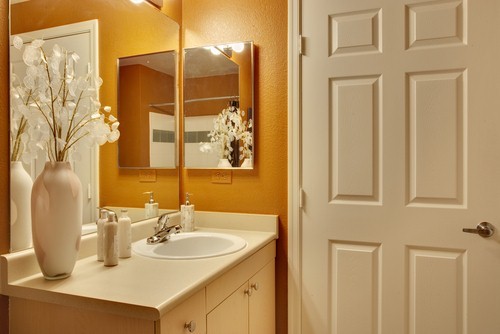 If you're remodeling your bathroom, sprucing up your existing vanity is probably the right way to go. As one of the main focal points of your bathroom, this furnishing is the first thing visitors see when they use your washroom and it has loads of decorative potential. There are a variety of improvements that can enhance a vanity's utility, as well as give it a dynamic face lift. Here are a few ways to get started.
1. Free up space on your counter. A vanity countertop can become cluttered with cosmetics, toiletries and other products strewn about, but there are ways of taking these items and displaying them in an attractive way. Better Homes and Gardens suggests adding a few small trays that can compartmentalize all of these essentials into neat and orderly sections. If you'd like to free up even more space, consider adding a linen cabinet to keep these products out of view, or add a soap dispenser to a wall to create a streamlined aesthetic.
2. Invest in a new mirror. There are countless bathroom mirror options out there, whether it takes up an entire wall or features an elegant frame. If you'd like to make the most out of your investment and create a cozy atmosphere, WarmlyYours' LAVA® Light could be a fabulous investment. This product will provide ambient lighting, as well as a source of infrared heating. This can help reduce your energy bills over time and create a cozy and comfortable atmosphere to walk into each morning.
3. Replace your sink's hardware. Over the years, faucets, dials and knobs can wear down and lose their luster, so these can be quick fixes that can improve the aesthetics of your bathroom. Whether you choose an ultra-modern waterfall faucet or simply change the look of your hardware to a classy shade of bronze, this is a major change that visitors are sure to compliment you on. Of course, you should also pay attention to your towel racks and hooks to ensure that they match your new additions.
Your vanity is a pivotal furnishing in your bathroom, so whether you're adding a cutting-edge lava heating mirror or giving your cabinets a quick change, it will benefit the overall layout of your washroom.
Like this post? Subscribe for regular updates
Make sure you don't miss out on the latest news in radiant heating by subscribing to our blog. We'll send you an email with links to the newest posts from WarmlyYours.
We won't share your information and you can unsubscribe at any time with a single click.
---
Did you find this post helpful?
Let us know by giving it some applause.
---
---