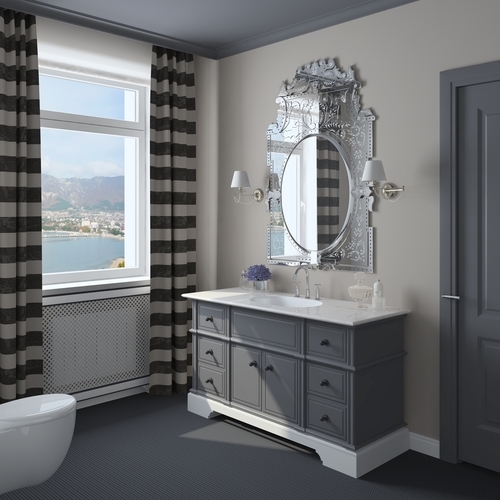 The home is certainly the biggest investment any of us make. It's also a great source of pride and comfort for many people.
Because we want to be proud of and comfortable in our homes, many of us are willing to spend a lot to renovate, remodel and decorate the places we live.
Kitchens and bathrooms are two of the most common rooms to undergo home improvement projects in the U.S. and Canada. According to the National Kitchen and Bath Association, which is made up of designers, builders and other home improvement professionals from both countries, the average cost of a kitchen renovation is more than $47,000. The average bathroom project costs $18,500.
There's no denying that a lot of planning goes into these costly projects. However, many homeowners struggle with making decisions they'll have to live with for a long time. After all, the likelihood of completely remodeling one of these rooms in the near future is slim for most people.
The NKBA recently released the results of its annual survey on the top trends in kitchens and bathrooms.
Grey color scheme
One of the most interesting findings is that the color grey has become much more popular in recent years for both the kitchen and the bathroom. Members who were polled reported grey is used in 55 percent of kitchen projects and 56 percent of bathroom remodels. As a comparison, in 2010, a grey color scheme was much less popular - 9 percent of kitchens and 12 percent of bathrooms, to be exact. 
Transitional style
The survey also found that more and more homeowners prefer a "transitional" style over traditional furnishings and finishes. Nearly 70 percent of those surveyed said they use transitional, which is a blend of traditional and contemporary styles, in new kitchen projects. Sixty-one percent said transitional styles are preferred in modern bathrooms.
Tiled floors
In the bathroom, NKBA members say ceramic and porcelain tiles remain the most popular material, used in 83 percent of all projects. Natural stone tiles also remain popular.
These floors are ideal on top of electric radiant heating systems, according to This Old House magazine. The publication reports this type of heating is up to 30 percent more efficient than traditional forced-air heat and results in a more comfortable environment as well.
Energy efficient products
The NKBA reports homeowners are increasingly cognizant of energy efficiency in both kitchens and bathrooms. Many people choose LED lighting and install touch-activated faucets in both rooms to increase their eco-friendliness.
Like this post? Subscribe for regular updates
Make sure you don't miss out on the latest news in radiant heating by subscribing to our blog. We'll send you an email with links to the newest posts from WarmlyYours.
We won't share your information and you can unsubscribe at any time with a single click.
---
Did you find this post helpful?
Let us know by giving it some applause.
---
---