In North America, forced-air systems are generally the HVAC system of choice when it comes to primary heating and air conditioning. Their popularity means most homeowners are very familiar with them and how they operate. But that doesn't mean that a supplementary system isn't necessary. Unfortunately, this is where homeowners have less familiarity with their available options.
When it comes to supplementary heating, fireplaces are an attractive option that add warmth and décor to a home. However, they're difficult and expensive to install after a home is already built. And, they're known for being heat sinks because, as the chimney exhausts the smoke and gas produced by the fire, it also lets out hot air.
The next supplementary heating option that comes to most peoples' minds is a space heater. For small, chilly rooms, a space heater is a great way to add some heat. Unfortunately, they're not a very safe option, as they're responsible for causing thousands of residential fires every year. Plus, they take up valuable square footage in a room and aren't very pretty to look at.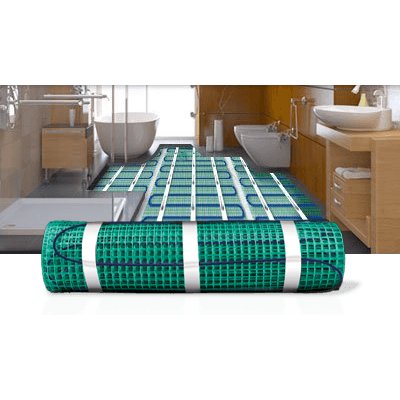 Arguably the best supplementary heating source for a home is an electric radiant floor heating system. These systems work by radiating warmth upward through the floor, meaning virtually no heat can escape. Plus, they have safety features in place that prevent the system from presenting any danger if a short occurs. Best of all, they're known for adding even warmth to an otherwise chilly room at a reasonable price.
Is Radiant Heating Right for Me?
To find out if radiant heating is a good option for your home, check out the questions below. If you answer "yes" to any of the questions, that means radiant heating is a great fit for your home.
Have you noticed that certain rooms of your house are colder than others?
Basements and rooms over the garage are notorious for being colder than the rest of the house. Rooms with cold tile floors (like the kitchen and bathrooms) are also known for feeling chillier than they should. This is where radiant floor heating really shines. By installing an electric heating cable or mat under your floors, you can add the supplemental warmth that's missing to bring your room's temperature up to par. Plus, if you install underlayment beneath the heating system, you can ensure that all of the heat produced radiates upward, so it's not being absorbed by a concrete slab or uninsulated space. WarmlyYours offers radiant floor heating systems that are compatible with most flooring types, including tile, stone, carpet (in the U.S.), laminate, hardwood and more.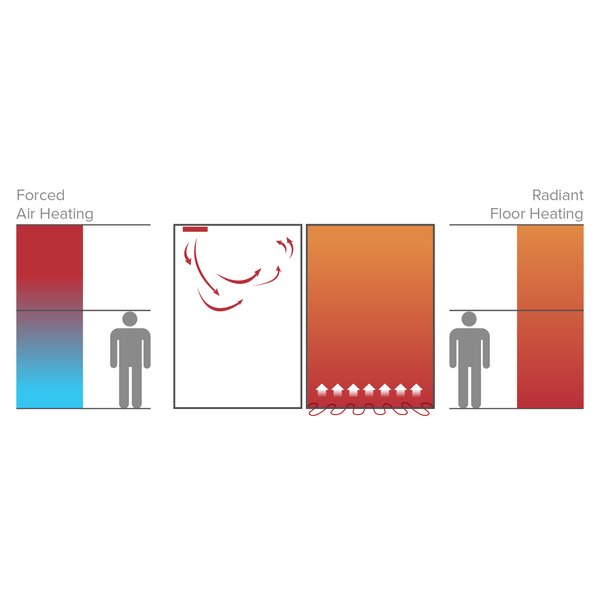 Are you looking for a more energy efficient heating option?
Taking a look at radiant heat vs forced air is important in finding which is best for you. One major downfall to forced-air systems is that they're prone to leakage. The air ducts and ventilation system inherently release some of the hot air, making the system less efficient than it could be. Radiant floor heating systems, on the other hand, allow your home to retain virtually all of the heat produced because it's simply radiating upward through the floor without any blowing air. That means you won't be paying for any wasted heat in your electric bill.
Do you suffer from airborne allergies?
If you're allergic to dust and other allergens that are typically found in homes, a forced-air system is not helping with your allergies. In fact, it's probably making them worse because the air blowing through your vents is also stirring up all those bothersome allergens. Because radiant heating systems do not use air to distribute heat, they won't disturb any allergens, making daily living a little more comfortable for allergy sufferers.
Cons to Radiant Heating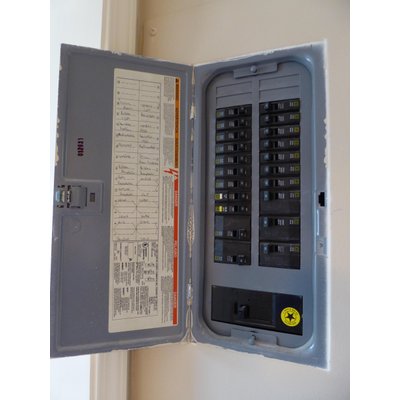 Are there any cases in which radiant floor heating wouldn't be a great candidate for supplementary heat? In general, there are two cases that might make installing a radiant heating system more challenging. Radiant floor heating systems require that the floor be removed prior to installation, so if you've just updated your flooring, a radiant floor heating system might not be the most cost effective option for you. Secondly, if you live in an older home with a limited electrical supply, installing a floor-heating system may require you to upgrade your electrical panel. Upgrading your electrical panel can be a little costly, so if you're not already considering an upgrade, you may not wish to consider an electrical supplemental heating system. To find out if your existing electrical panel can handle the addition of a floor-heating system, just call WarmlyYours Radiant Heating at 800-875-5285.
Otherwise, in the majority of cases, radiant floor heating is an ideal supplementary heating option. To learn more about the available options, visit www.warmlyyours.com. You can check out our various floor-heating options here and get a free, instant quote here. 
---
Tell us About your Project
Our team of Radiant Experts is ready to help! Just tell us a little about yourself and your project to get started.
---
Did you find this post helpful?
Let us know by giving it some applause.
---
---