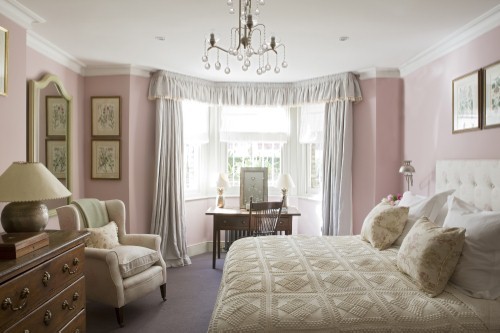 Keeping warm during the winter months can be difficult, especially when you're concerned about living a sustainable lifestyle and reducing your energy costs. However, it can be tough to get some rest and relaxation in your bedroom if you're constantly feeling a cold draft. While turning up the thermostat is a possible option, making slight renovations to your living space can go a long way when it comes to going green and keeping your bedroom warm.
Radiant floor heating is one solution you may want to consider if you want to continue living a sustainable lifestyle and stay warm while you're doing it. Radiant heat can reduce the need to rely on your home heating system and it is relatively easy to install.
Similarly, FamilyHandyMan.com reports that you may want to consider bringing in radiant ceiling panels to keep your bedroom cozy. These panels are ideal for homeowners who want to heat a certain area of a room. For example, installing one of these items over your bed is a great way to keep you comfortable and toasty, even on the coldest nights.
If you have a ceiling fan in your bedroom, you can also put this to good use and install a heater to turn it into an extra source of warmth. A ceiling fan heater can help hot air circulate throughout the room, whether you're relaxing in bed on a lazy afternoon or sleeping. Many models now include remote controls to make them easier to use and program on a regular basis.
Before installing a radiant floor heating system or panels on your ceilings, it's a good idea to verify that there are no cracks around your windows or doors that could be allowing drafts to regularly flow into the room. Doing this beforehand can help you make the most of your renovations by containing the heat once it's generated. A simple caulking around your windows or weather stripping on your door may be all that needs to be done to make your bedroom more energy-efficient.
Finally, don't underestimate the power of blankets, slippers and thick sheets. Bundle up whenever possible instead of immediately reaching for your thermostat. Using your own body heat can go a long way when it comes to saving money and staying comfortable in any room of your home.
Like this post? Subscribe for regular updates
Make sure you don't miss out on the latest news in radiant heating by subscribing to our blog. We'll send you an email with links to the newest posts from WarmlyYours.
We won't share your information and you can unsubscribe at any time with a single click.
---
Did you find this post helpful?
Let us know by giving it some applause.
---
---