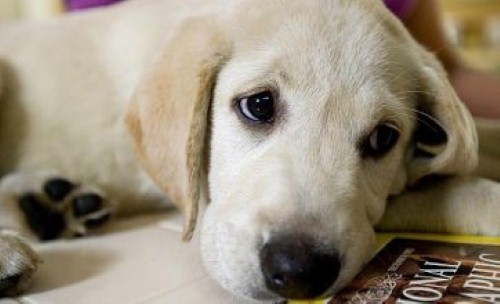 Undoubtedly, you're doing a little renovating and remodeling to your domicile this winter in order to make your Thanksgiving and holiday season guests feel more at home. But have you considered making a few changes to accommodate your four-legged friend as well? For many folks, having a pet friendly home is just as important as having a great living room in which to entertain guests and throw parties. After all, you can't pick your family - except the pets! Whether you're taking the leap with adopting or just want to pamper your pooch and improve your interior design in one fell swoop, consider some of these dog-friendly additions and renovations.
Engineered hardwood flooring
While solid wood has a lot of traditional advantage in the market of flooring styles, engineered wood - which is often made from thinner planks adhered together to create a larger board - offers a number of advantages. First, it's cheaper without losing any of wood's classic durability or elegance. And being resistant to scratching and scuffing means it's perfect for your pets (trimming your dog's toenails helps too). Even better, engineered flooring is compatible with radiant heat!
Radiant floor heating
Leading the pack of green energy initiatives in the home, radiant floor heating is an ideal way to keep you, your family and your pet warm. Luckily, radiant heat systems and engineered hardwood floors go hand in hand, as solid hardwood and radiant heat don't mesh. So not only can you go green with radiant heat in the home, but you can do it with gorgeous new flooring. Furthermore, radiant heat improves air quality because it doesn't require vents or ducts, meaning both you and your pet will be breathing better.
All natural and non-toxic cleaners
Want to take another green step forward for the sake of your pooch and the environment? Investing in all-natural and non-toxic cleaning products means that you don't need to worry about your dog getting into chemicals like drain or window cleaner.
A dog bed
We all love cuddling with our favorite pets, but it's imperative that your dog have his or her own bed. Not only does this cut down on the amount of laundry you'll have to do, it delineates a space that's your dog's alone, which is important.
Like this post? Subscribe for regular updates
Make sure you don't miss out on the latest news in radiant heating by subscribing to our blog. We'll send you an email with links to the newest posts from WarmlyYours.
We won't share your information and you can unsubscribe at any time with a single click.
---
Did you find this post helpful?
Let us know by giving it some applause.
---
---