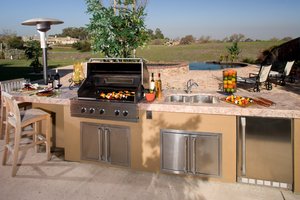 In every home you will find that the kitchen is the heart and central nerve of the home. The kitchen is one of the most beloved rooms in a house, where family and friends can cook and dine together. So we say, "Why stop at having only one kitchen?" How about adding another kitchen…outdoors?
Whether for entertainment or social gathering, outdoor kitchens allow you to expand the heart of the home outside creating a pastoral space where family and friends can get together to enjoy the great outdoors.
Cooking outside can be a great way to lower your energy bill! Cooking in an outdoor kitchen can lessen the heat generated by indoor cooking that warms your home, resulting in lower air conditioning costs. Not only can your energy bill decrease, but also having another kitchen can reduce the mess of preparation indoors so it can keep your home clean and tidy! Outdoor kitchens even help increase the value of your home.
You can easily see that in places with warm climates, such as Arizona or California, outdoor kitchens are much more popular. Now radiant heat is extending the market for outdoor kitchens to traditionally colder climates such as the upper Midwest and Northeast while extending the use year round.
An outdoor kitchen can be every bit as functional as a home's standard indoor kitchen, maybe even more so. Features such as range hoods and portable heaters are making outdoor kitchens year-round propositions in markets as seasonally chilly as Northern Michigan. In addition, WarmlyYours' snow melting systems and our portable heating systems, HeatTrak, are perfect to keep everything toasty while cooking outside in cooler weather. Now, no matter what kind of climate you live in, you are not limited to having one single kitchen that can only be found indoors!
Outdoor kitchens have more benefits and fewer limitations than what many people might expect. With available features that are suitable for a variety of climates, such as our snow melting and portable radiant heating systems, and also great advantages such as reducing your energy bill, outdoor kitchens are becoming a more desirable addition for many homeowners.
So what are you waiting for? It's time to get cooking!
---
Tell us About your Project
Our team of Radiant Experts is ready to help! Just tell us a little about yourself and your project to get started.
---
Did you find this post helpful?
Let us know by giving it some applause.
---
---