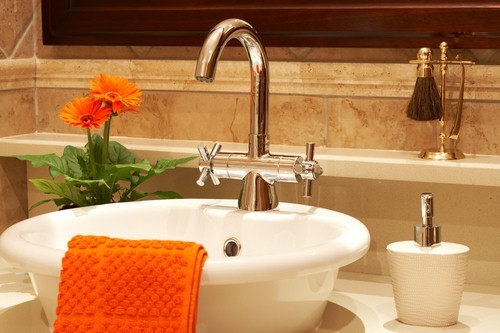 Your bathroom will see a lot of use over the coming months as you begin to throw outdoor barbecues and summer cocktail parties. While your space may not need a major remodel, a few decorative touches here and there can make a huge difference in the room's visual appeal. With spring and summer's versatile color palette, you can utilize a wide variety of warm hues to perk up the look of your washroom. Instead of simply changing your shower curtain and adding a few scented candles, the following spots could be great places to revamp your bathroom with pops of seasonal color.
1. Colorful stripes. A quick paint job can give your bathroom a fresh look that can set the decorative layout of the rest of the space. Vertical or horizontal stripes are a great choice for your washroom, so look for two complementary colors or varying shades of the same hue to give your space additional visual interest. Be sure to map out the room first with proper measurements and plenty of painter's tape to create sleek lines that can enhance the look of the countertops and other smooth surfaces in your bathroom.
2. Linens. Your choice of towels and other linens in the bathroom play an enormous role in the layout. To give them the presence they deserve in your space, consider installing a functional focal point like WarmlyYours' Riviera Towel Warmers. These electric warmers are energy-efficient designs that will keep your towels warm and toasty every time you step out of the shower. The device's beautiful brushed stainless steel finish will give your linens the visual gravitas they need to play a role in your décor.
3. Update your window treatments. According to Better Homes and Gardens, one of the easiest ways to incorporate fresh hues into your bathroom is with the inclusion of new window treatments. Whether you opt for a versatile option like wood blinds or a combination of colorful fabric shades and valances, you can give your washroom a dynamic touch that won't break the bank.
With the spring and summer party season on the horizon, a few of these decorative changes will make a big difference in the atmosphere of your bathroom. The addition of fresh seasonal colors is much easier to pull off than you may think, and it won't require a huge investment in time and money.
Like this post? Subscribe for regular updates
Make sure you don't miss out on the latest news in radiant heating by subscribing to our blog. We'll send you an email with links to the newest posts from WarmlyYours.
We won't share your information and you can unsubscribe at any time with a single click.
---
Did you find this post helpful?
Let us know by giving it some applause.
---
---